Android 7.1.2 adds fingerprint 'swipe for notifications' to Nexus 5X (and probably Nexus 6P)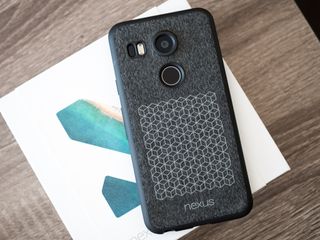 The Nexus 5X and Nexus 6P inherited a few of the Pixel's biggest features when they were upgraded to Android 7.1.1 last year, but one thing the popular devices didn't receive was the ability to swipe down from their rear fingerprint sensors to open the notification shade — a minor but popular convenience on the Pixel.
Now, despite assertions from Googlers that it may not be possible, it seems that the older devices — at least the Nexus 5X — will get the feature when Android 7.1.2 comes around. The discovery was made by Nexus 5X beta testers of Android 7.1.2, which adds the "Swipe for notifications" option to the Moves menu. It's unclear whether the Nexus 6P will benefit from the same upgrade, since the Android 7.1.2 beta is not yet available for the device.
How to use moves gestures on the Google Pixel and Nexus devices
Android Central Newsletter
Get instant access to breaking news, the hottest reviews, great deals and helpful tips
Daniel Bader was a former Android Central Editor-in-Chief and Executive Editor for iMore and Windows Central.
If it weren't possible, there wouldn't be third party apps like Fingerprint Gestures.

Hell yeah. It never made sense that this was supposedly a hardware issue. I made even beta test this update if it has this feature, as long as people says it's mostly stable.

Seems to be working perfectly on my N5x - now I just have to actually remember to use it!

Far out! I didn't know this was coming - now I'm super excited! I really wanted this feature.

Awesome! Now all that's remaining is Night Mode, which Google recently labeled it as a bug that is wasn't working for 6P/ and maybe 5x, and the Pixel Launcher with Assistant. If it's true the LG G6 will come with Assistant, and it'll be a few months after the Pixel honeymoon effect has worn on, could that maybe also jump ship?

This is great and well worth it. Now get me assistant proper. This would go along way to soothing relationships with the Nexus beta testers who got burned when the Pixel launched and were told sorry Not for You. Make it happen Google!

Excellent. Loving 7.1.1 on my Nexus 5X. Wish it on my Nexus 5 as well. Love being able to read AC whilst having the BBC football app open at the same time for sure updates.

I was disappointed when my 6P didn't get this feature. Now I have a Pixel XL and never use it. Meh. I REALLY like Night Mode though! So easy on the eyes at night and morning.

This is a great add on to the Nexus 5x it just keeps getting better and better really can't knock the 5x has been a great phone for me.... long may it continue!! :-)

This would work especially well for Sony devices with the sensor on the side, but when said devices will actually get 7.1.2 is beyond me.

"Not sure if 6P will get it" since the beta isn't available for that device yet? Holy shitballs, because NEVER in history has one device received an update before another. 😱

We must get night mode!! First they gave it to us (7 beta), then took it away (7.1.1), now they must...... Or else I will go blind and die from insomnia!

Fortunately my Huawei Mate S has this feature already even with Android Marshmallow on. Welcome to the past Google.

Just got this update for my 6P and the swipe feature is missing.
Android Central Newsletter
Get instant access to breaking news, the hottest reviews, great deals and helpful tips
Thank you for signing up to Android Central. You will receive a verification email shortly.
There was a problem. Please refresh the page and try again.