Android 7.1.1 is here for the Pixel and some Nexus devices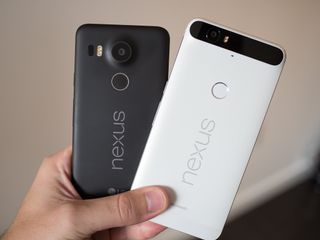 Android 7.1.1 is slowly rolling out to the Google Pixel and select Nexus devices, with Google updating its factory images and over-the-air (OTA) pages to reflect the new builds.
Unified under the NMF26x brand, the build numbers vary per device — the Pixel, Pixel XL, Pixel C, Nexus 9, Nexus 6P, Nexus 5X and Nexus Player are getting Android 7.1.1 at the same time — but the release should contain largely the same content, upgrading the Nexus line with many of the same improvements seen on the Pixel when it shipped with Android 7.1. The Nexus 6 is, unfortunately, still on Android 7.0, but it received the first version of Nougat considerably after the rest.
How to get Android 7.1.1 Nougat on your Nexus or Pixel right now
The improvements may seem minor — official support for app shortcuts, round icons, and image keyboards, among others — but it's great that, but for a few exclusive features like Assistant and certain Moves gestures, the most recent Nexus phones are now feature complete next to the Pixels.
The NMF26 builds also bring into question why some Canadian Pixel owners received an update in late November to build NPF26J which, though it included new Moves gestures, kept the build on Android 7.1. It looks increasingly like the apparent test build was issued to a larger subset of users than initially intended, or that the OTA files, which were made widely available, were meant to stay private. Either way, the NMF26x builds should bundle those two new Moves gestures and a number of bug fixes into a more universal release.
Have you received the Android 7.1.1 update, or sideloaded it onto your Pixel or Nexus device? Let us know in the comments!
Daniel Bader was a former Android Central Editor-in-Chief and Executive Editor for iMore and Windows Central.
I would love to see the fingerprint sensor notification gesture come to the Nexus 6p. Anyone know if there's a certain limitation preventing that ability? Or google wants certain exclusive features on pixel?

I believe it's hardware limited according to Google, but they are working on it for nexus devices

Well considering night mode is making its way to Nexus devices then I would say it's possible

Since when is Night Mode coming to Nexus devices?

The Pixel uses the same fingerprint sensor as the 6P. But the two fingerprint sensors run a different firmware version. Google would need to upgrade the firmware on the 6P fingerprint sensor to enable gestures.

Well then I hope they do!

Download app "fingerprint gestures" from play store. Works pretty good on nexus 5x

Only 7.0 with December update for Nexus 6. Downloaded and installed already for me
Downloading 7.1.1 for Nexus 9 now

As everyone starts spamming that check for update button haha!

The OTA file update for the 6P says for all carriers EXCEPT Verizon. Anyone have an idea as to why? I am on the Beta program.

Wondering the same thing, the 6p was never offered as an official phone with VZW so..?

Hoping the new "Moves" (lift/double-tap to wake) are included...

The new moves are included

Anyone get an actual OTA yet?

Which version of the Pixel XL do you have? Unlocked, Verizon or Europe?

Just got it on my Pixel on Verizon. Still installing... It's 261.9MB and installs in two stages. Been going for about 15 minutes now.

I was in the Android Beta using 7.1.1 on my 5X. I figured I could leave the beta now and the official 7.1.1 would replace it, but now it says it wants to download 7.0 and it will wipe my data. Should I wait and see if that switches to 7.1.1 or do I need to do the wipe / 7.0 downgrade no matter what?

It is always better to wipe when going from DP to Stable channel. Try it and tell me if you were successful.

I'm staying in the beta program but I'll do a reset when I get the official OTA

Wait! Stay in the Beta until it updates you to the RELEASE Version of 7.1.1. Then you can opt out without having to wipe your phone.

I've the same concerns...

I just ended up doing the downgrade to 7.0 which wiped everything and now the 7.1.1 update is currently installing. No biggy and it's kinda nice starting from scratch sometimes. :-)

After my Nexus 6P boot looped while on the Beta program (fortunately, I was able to get a replacement under warranty), I don't want to risk getting that issue again. I'll just wait for it to arrive on OTA. My Nexus 5X has a ROM installed, but am going to revert it to stock with the 7.1.1 update. As for the Nexus 6, I'll wait and see on that one.

It is actually installing on my 6P right now even though it's just a Wi-Fi gaming device these days.

You're such a baller. ;-)

I've wiped and reinstalled 7.0 and I'm setting my apps back up now. Will keep you posted.

Btw round icons are not included in the update. I just upgraded on my 5x.

Round icons are related to the Pixel launcher and not the update

I just enrolled in the beta program to have the update pushed to me. So far I'm not getting the notification (previous attempts were pretty much instantaneous), and manually checking for the update results in nothing either. This is on a Nexus 6P I bought directly from Google.

I tried the same thing on my 5X. It worked for me for the 7.0 upgrade within minutes, so I'm guessing that trick isn't working this time around.

I'm surprised that it is already showing as available for my Nexus 6P this fast, especially since it is just a Wi-Fi device for me these days. Only had to hit the check for updates button once. 1270.1 MB download in case anyone was wondering.

Weird thing is that it says it finished the download, I hit the restart and install button and it counts down to about 8 or 9 seconds remaining then the screen refreshes to say my system is up to date. It's done this twice now. Maybe the third time will be the charm. And it is finally rebooting on the third try.

Good evening, Kevin Harvell
My NEXUS 6P is doing exact same thing.
Original 7.0 Nougat (not tampered), locked

Keep trying. It took mine 3 attempts for it to finally go through and restart.

Yeah Finally! From 4th time! Thank you!
BTW download size for my phone is 635MB.

Wonder if size is dependent on region? Where are you located? Factory image direct from Google is a 1.3GB download it says.

I'm located in Lithuania, Europe.

That seems way too large.... 1.2GB!

I'd share a screenshot if I could.

Mine on OTA was under 1.3 GB.

I got mine an hour ago or so too. Pretty fast! BTW, OTA for me was just under 1.3 GB. Have you tried out the camera. auto HDR+ shots are considerably faster than before. Some icons (like the phone icon) are now rounded. Too bad there's no Google Assistant on this one so far. :-(

Currently my only gripe with the camera is now that the Auto setting for lighting conditions does not seem to want to adjust properly for Tungsten lighting. Have to set it manually to take an indoor shot here. Otherwise too yellow/brown and not natural as it should be in these conditions.

I use Wug's toolkit, unlocked and rooted, the toolkit makes unlocking and rooting "and updating images" a breeze for Nexus devices, I have a Nexus 6 and Nexus 5X both on 7.0, will download 7.1 image once it is available for my Nexus 5X " using no wipe mode", the Nexus 6 should follow.

Is taking for ever to download and install on my Verizon Pixel. Nice to see that the Verizon version seems to be getting updates at the same time as those from G

So when is the final update going to be ready for OTA?

You mean the one pushing out today? Or are you referring to the OTA factory images that are also available via the above link? Only device without a 7.1.1 image available that I seen was the Nexus 6.

The one pushing out today.

will we get the smaller google search bar and weather widget? or is that only for pixel?

No. That is the Pixel Launcher and is not part of 7.1.1 on other devices.

i am happy I bought an unlocked 5X because i hate waiting...now I hope there is no issues lol

I've download 7.1.1 through beta program.
Should I stay enrolled in it or unenroll and wipe the data till I get the stable version update?

Gotta love ADB Sideload :D

I got 7.1.1 update for nexus 5x
Too fast.

My Verizon Pixel XL updated yesterday, that new background update system is so dang slick.

The 7.1.1 OTA update appeared on my Nexus 6P this morning. I'm hopeful they resolved the battery issue I've seen since updating to 7.0 a couple of months ago.

Just updated my Nexus 5X to 7.1.1 "I am on Verizon", seems to be running fine. They added restart to the power button, but I already had that using the quick Reboot button using root, they also fixed the storage partition issue, did not show the correct storage amount in 7.0.

I'm on Beta program .. do I downgrade to get the update or I will still the update ...

Also the memory leak issue for the 5X that was in 7.0 has been fixed.

The dialer has "when making or receiving a call" also changed in 7.1.1. for the better.
Android Central Newsletter
Thank you for signing up to Android Central. You will receive a verification email shortly.
There was a problem. Please refresh the page and try again.