Android 7.0 Nougat for the Nextbit Robin is just around the corner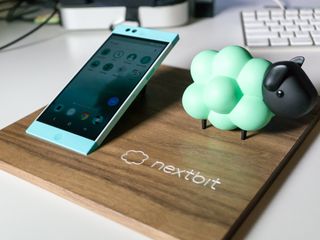 Good news, Robin owners. According to a forum post, Nextbit appears to be in the final stages of finishing out a stable Nougat build for the Robin. The final build is rolling out to current beta users right now and if it passes with flying colors, the update could soon rollout to everyone else.
Beta users, look for Build number Robin_Nougat_88. You'll be on Android 7.0 with January's security patch after the update.
Wondering why the update to Nougat on the Nextbit Robin is such a big deal? Well, not only will you have the Robin's seemingly unlimited backup feature, but you'll also have all of the goodness of the latest version of Android, including multi-window capabilities, direct replies from the notification shade, and customizable quick settings.
Get the Android Central Newsletter
Instant access to breaking news, the hottest reviews, great deals and helpful tips.
Florence Ion was formerly an editor and columnist at Android Central. She writes about Android-powered devices of all types and explores their usefulness in her everyday life. You can follow her on Twitter or watch her Tuesday nights on All About Android.
As my daughter's Robin is biting the dust... Battery starting to degrade and housing cracked by power button from being sat on and bent.

Sitting on most phones would probably damage them

blame the garbage of the processor sd 808 is. my XPE is the biggest power hog I had and since I had to go through million charging cycles in 3 months combined with constant overheating of the processor (for no reason), battery had to degrade rapidly. I think it lost 30%. now almost a year later, it's probably around 50% of the capacity.

808 is very bad for heat but performance wise isn't terrible for such a cheap phone. Probably got them on discount.

I don't sit on my phone, but I do put it in my front pocket and after about 6 months it is warped.

Are you blaming Nextbit on that? tell your daughter to stop putting her phone In her back pocket and sitting on it. Same thing I told my son with his iPhone 6s.

Nah... Not blaming nextbit... But all plastic build is not the best. You get what you pay for.

The update is out for everyone, typing this on my nougat updated Robin. I'm not a beta tester either, the update was quite large 1.1gb. But it installed quickly.

Hey now! Any camera improvements in the last few updates? Had one about six months ago and wasn't impressed. Liked the phone itself though.

Hit 'em with the Hein chef!!

Oh no, the VORTEX! Bye for now!

Richard... This is your Dad...

The camera app seems to be updated but I don't notice any difference in picture quality. They have not put out a change log so I have no idea what has changed other than what I can see. It looks like the settings section is different and better. You no loner have to tap on wifi to see what network you are connected to, it's right there right on the main settings page. That type of stuff, although that might be part of nougat. I'm not sure if the battery improvements that were promised were part of this upgrade either, but nougat should help squeeze out a little more juice.

Yes please share your impressions and thoughts!

I'll update after a few days of using it.

Battery is no better than before, in fact it might be even worse. It's only been a few days though. I'll give it a week and see if it improves.

It's $149 on Amazon right now no tax, ships March 28th. Picking it up as backup.

It's not the most robust phone.
The thin flat plastic design is twists and bends pretty easily. Not the end of the world though. Nougat will be great. I can put the Pixel Launcher on it.

Ummm, Nextbit owners, open About Phone -> System Update, and do a refresh....

Can someone at ac fix the mobile site, every time I hit reply I get the stupid social media ribbon.

Any news on a Robin successor?

Updated my Robin last night. meanwhile my unclocked Galaxy S7 is still on 6.0.1. I'm looking forward to their next phone now that they are part of razer. I like the robin, it's different and i've had zero issues with the phone.

I'm not sure what razer has in mind, but I doubt their next phone will be anything like the Robin. It's highly likely it won't be as cheap as Robin they were giving these things away for a while. It might some glitzed up gaming phone with neon colors and a high price tag aimed squarely at people that like razer products.

It's actually 7.1.1 with March 5 security...Beta tester here😊