Android 10 gestures now work with third-party launchers on the Pixel 4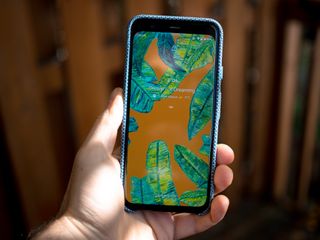 (Image credit: Daniel Bader / Android Central)
What you need to know
Navigation gestures will now work with third-party launchers in Android 10.
Previously, users would have been met with an error message and forced to use button navigation when using a third-party launcher.
So far, the fix has only been rolled out to Pixel 4 phones.
The gesture navigation system in Android has been controversial, to say the least. The new gestures introduced during the beta routinely came under-fire for breaking the gesture to access the overflow menu.
Google has also ruffled some feathers by excluding other manufacturers' gesture navigation systems from the setup process, and for dropping the two-button navigation with the pill entirely.
However, one of the biggest infractions came from the lack of support for gesture navigation when using third-party launchers, which was a flaw present in Android 10 at launch.
That was a big disappointment for fans of popular third-party launchers, such as Nova or Action Launcher, who would be met with an error message when attempting to use gesture navigation. It was even worse for the hard-working developers of those apps who were left powerless waiting for Google to step up and fix the issue, and fix the issue they did.
Recently, an update pushed out to the Pixel 4 smartphones has now enabled the use of third-party launchers with gesture navigation. Unfortunately, the fix hasn't been rolled out to other phones — even the Pixel 3 smartphones haven't received it yet.
Hopefully, it won't take long for Google to start rolling the update out to more phones soon. This update is especially important after we found out on October 17 that, in order to use the new Assistant, it will require using gestures.
Google's latest
(opens in new tab)
Google's latest and greatest
Google unveiled it's latest flagship phone recently with face unlock, dual-rear facing cameras, and a new way to control your phone hands-free with Motion Sense gestures.
Get the Android Central Newsletter
Instant access to breaking news, the hottest reviews, great deals and helpful tips.
I had my Pixel 2 XL on the Android 10 beta and the gestures worked fine with Microsoft Launcher until they artificially restricted it in the final, non-beta version, so I'm glad to see the restriction being removed.

I just wish that they would let users adjust WHERE the back gesture will apply to. Like maybe the bottom 1/4 of the screen or heck, even just 1/2 the screen! This way people can access the Hamburger menu with it's swipe gesture as well. I did this on Android 9 with my S10+, to give it a psuedo feel of Android 10. Had Swipe up gestures for Back, Home, and Recents (Samsung's default way of doing gesture controls) and then I was able to add the Back gesture on the sides of the screen in an area I felt was comfortable for my thumb so I can also access the Hamburger Slide menu. Worked GREAT! Now I'm on the Beta of Android 10 for the S10+, and it's along the ENTIRE sides of the screen! If they are planning on doing something later on about the Hamburger menu gesture, they shouldn't have rolled out the current Android 10 gestures just yet. They should have waited until they figured out the Hamburger situation first. Then roll it out simultaneously.

i hope these gestures can be turned off, at some point in time I will need to update my phone when it goes belly up and if the gestures can't be turned off, then i will just go back to a normal non-smart phone.

The gestures on the Pixel 4 are sorely lacking. Download Navigation Gestures and install it. It takes an ADB command to get it fully functional but it isn't difficult. You can set any kind of gesture you want. Just change from the Google gestures back to the 3 buttons and then hide them. The new navigation gesture will replace it. It's better in every way. You'll never go back.