Amber Alert GPS review - if you can't hide yo' kids, at least track 'em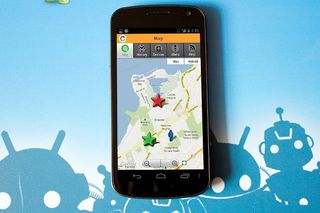 With back to school season around the corner, some parents may be getting antsy about having their young 'uns out in the big wide world. Luckily, thanks to phones and stand-alone GPS units, mindful moms and dads can track the little buggers every moment of every day. Amber Alerts, the long-standing organization built with the express purpose of preventing child abduction, has launched their own companion Android apps.
Style
Amber Alerts for Android isn't particularly pretty; the UI is very bare bones, though functional. The map view and interface is from Google, so it's accurate and polished. The icons overlaid by Amber Alerts aren't particularly well-done, as pop-ups from tapping icons don't stay hovered where they should but rather follow your view as you pan. The predator details are full, however - complete with picture, conviction, home address, name and height. Simple tabs along the top bring users to a map, recent update history, a devices list, alert customization, and a help menu.
In terms of overall concept, the kid-tracking is great, but showing the last known location of convicted sex offenders isn't particularly reassuring.
Function
Amber Alert GPS works as advertised, providing live location updates for associated phones and GPS units. There are two apps: one for teens with few options, and another for parents for tracking. There are plenty of options on both for setting refresh intervals, enabling notifications for predator proximity, and exceeding certain speed limits (great for making sure your kids are driving responsibly). Breadcrumb marks can be left behind on maps so parents can see where their kids are coming from.
Detailed alerts aside, there's also a detailed history log, showing battery level, speed, and GPS accuracy. The parent-side app also includes a full log of which settings have been changed and when.
Set-up can be a bit of a hassle, especially when you start registering multiple authenticated trackers and devices to monitor. It usually involves bouncing around a whole bunch between associated e-mail accounts and the Amber Alerts web interface.
Pros
Free
Highly granulated alerts
Cons
Ho-hum interface
High refresh intervals can kill battery
The bottom line
It's hard to say if Amber Alerts would actually put a worrying parent's mind at ease, particularly if the map is showing nearby registered predators. I was actually surprised to see how close one was to my place, and it did the opposite of put me at ease - though I'm sure any parent would rather know than not know. Google Latitude can accomplish more or less the same function of tracking kids with Location History enabled, even if it's missing some handy stuff like speed alerts. Parents that have already bought a GPS unit from Amber Alerts will likely end up using this app anyway, but it's hard to say how amenable teenagers would be to having their movements tracked by parents every day by smartphone.
In any case, the app does what it says it does, and since it's free, there's not much of a downside.
Android Central Newsletter
Get instant access to breaking news, the hottest reviews, great deals and helpful tips
Simon has been covering mobile since before the first iPhone came out. After producing news articles, podcasts, review videos, and everything in between, he's now helping industry partners get the word about their latest products. Get in touch with him at simon@futurenet.com.
How would this compare to Life360 (which I am using now)
It is also free and has the same features.

Guess its different because life360 only works with a phone not an actual gps unit as well

Your kid's phone will be non-functional or found in a sewer grate when the kid is grabbed by the peado. Don't expect this to provide protection. Tracking is one thing, protection is quite another. http://www.criminalcheck.com/

Is this is the part where gun nuts start shooting people wrongly added to the list or anyone who looks like the photo?

Great choice for title lol!, Hide yo Kids.. hide yo wife.

Sounds, good but it is the most confusing website ever. I stil haven't found an option to register and create an account, however the mobile app section says it is $3.99 a month to track each smart phone. So it is not free by any means. The website confuses the hell out of me. No option to register, kinda ridiculous. It says go to app section and click on portal membership button and there seems to be none, or I am blind, lol.

I think, to track a phone, you must pay a small fee... to track a purchased GPS receiver, you must pay a larger fee(GSM data telecom service for the tracker)... you can use those items via SMS or via internet portal. But to download an app and use it, its free.

This is super simple. I've completed the process and am thoroughly impressed with this solution. Absolutely awesome. Steps:
1) I installed the 'Teen' app on the smartphone I wanted to track. I opened the app on the phone and registered through it (simply entered an email address and password of my choice).
2) I installed the 'Parent' app on my smartphone (and the wife's smartphone). I logged in to the app using the email address and password I registered with in step 1.
3) It worked! I could track the smartphone.
4) I decided to check out what, if anything, I could do on the website so I logged into it using the username and password I registered with in step 1. Totally impressed with what I found. All free. I will promote this. Great service!!

it would be nice if you included a link to some GPS units that could be sown into a childs coat or backpack etc... my young children will not have phones before they are 14 or older and a 14 year old is most likely smart enough to disable the GPS unit or to dumb to keep the phone charged...

http://www.amberalertgps.com/shop-device/

You could just do what I did: Install Tasker on the kid's Android and program it to snatch the GPS location (turning GPS on if necessary) and send it back to both parents' phones when it gets the text "Where are you?" from either parent. Works pretty effectively, plus it can also max out the ringer volume when Mom or Dad call - no more "I didn't hear it because I forgot to turn the ringer back up!" excuse. That said, I hate feeling like Big Brother with my 13 year old, but she's a pretty little slip of a thing, and I happen to know there is a predatory person in his early 20s just around the corner. When he finally slips up and steps over that line, rather than just abetting other predators (incident just last year), I don't want it to be my baby just because I didn't know what was going on. I know it's limited protection at best, but it lets me try to keep an eye on where she is when she's out riding her bike.
Android Central Newsletter
Get instant access to breaking news, the hottest reviews, great deals and helpful tips
Thank you for signing up to Android Central. You will receive a verification email shortly.
There was a problem. Please refresh the page and try again.