Amazon Music now a prime choice for Android Auto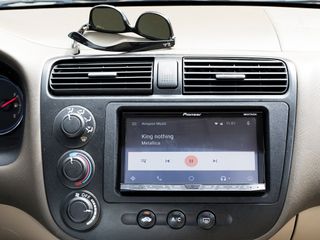 Amazon Music is now available for Android Auto, bringing one of the better cloud music options to Google's in-dash infotainment system. It joins the likes of Google Play Music, Slacker, I Heart Radio, Spotify, TuneIn and others as part of the growing ranks of music apps available for Android Auto.
The short-short version is that if you're an Amazon Music fan, you'll find yourself at home here. The top-level menu brings Recently Played, Prime Stations, Playlists, Shuffle My Library and Shuffle My Offline Songs. You still don't get proper album/artist listings — again, that tap limit would come into play — but you still have a decent number of options.
Prime Stations (for Prime subscribers, natch) with all the expected popular artists and genres. The Now Playing view is pretty sparse — forward and back for tracks, and a shortcut to the queue. No skipping forward or repeating, no stars, now thumbs up.
All things being equal, Amazon Music is a simple but effective options for Android Auto.
Image 1 of 10
Image 2 of 10
Image 3 of 10
Image 4 of 10
Image 5 of 10
Image 6 of 10
Image 7 of 10
Image 8 of 10
Image 9 of 10
Image 10 of 10
Nice title! I see what you did there! Posted via the Android Central App

Got the update Friday morning & cruised to work playing my Amazon playlist. I've had AA for almost two weeks and couldn't wait for this to arrive!

Much easier to put in a mount and play phone or tablet over Bluetooth, no tap limit and no obsolescence when your car is 5 years old! Posted via Android Central App

I wonder myself...everythng is already voice activated between my N5 and the 2 vehicles I drive.
And widgets make the buttons easy to use if needed. Posted via Serenity

Obsolescence? AA is as upgradeable as any other device. I happen to like the way it integrates with my vehicle and don't want to fiddle with more Bluetooth or devices. Plug it in and go. Posted via the Android Central App

I totally disagree. I had a Honda Fit with the dashboard mounted phone via bluetooth and I can honestly say my new 2016 Golf with AA is much better. It almost brings a tear to my eye.

You don't seem to understand how Android Auto functions. It gets around the obsolescence issue by not actually relying on much of the vehicle at all. All the muscle and interface is done by the phone. All the car does is provide a screen, audio out, microphone in, and touch inputs. Presumably, with time, AA will gain access to more functions, like car diagnostics and such, and THAT may not be available in older cars, but it won't be obsolete.

3 years later and STILL that stupid tap limit is imposed on us. Thanks Google.

do we need to get the app from the amazon store for this to show up? i haven't seen it as an option for music choices for some reason

Download the Amazon Music app from the Play Store (if you don't already have it on your phone). If you have AA and the latest version of the Amazon Music app, it should automatically appear in your AA list of music audio options.

i don't remember another update, but surpringly it worked when i plugged into my car at lunch. i must have glossed over the update or something, because it sure didn't work before. pandora was there too, which is one i was waiting for

Now I'm willing to pick up a head unit for my cars. What AA compatible receiver are you using?

Until they find a way around that "tap limit" nonsense... I'll stick to ye olde iPod.

I see someone is excited about the new gadget lol ... Posted via the Android Central App

Definitely getting there.
Does Amazon support offline playback? If they do I probably wouldn't hesitate to drop my Google Music subscription for prime, especially with the other benefits of prime.
Also does someone sharing prime account get same features? Like spouse would also have music etc in their own account?

Very good questions! I wish I knew the answers.

I have a Google Play Music subscription and also Amazon Prime. I find that I don't really use the Amazon offering that much, but I use GPM every day. The Amazon app is very clunky and I can't save music offline to an SD Card. I also love the integration with Android wear. I use GPM on my watch with Bluetooth headphones while working out. Posted via the Android Central App

It does support offline playback; a feature I've used quite a bit while travelling. I doubt it saves to the SDCard though. You can also share your Prime Music with your spouse's account so that your music profiles can be separate while still both enjoying the benefits of Prime Music. As long as you both don't use more than 10 devices, you can both benefit from offline music.

Amazon site specifically says that household accounts don't share prime music benefit. Too bad. I would have tried it with the special price for prime. Posted via the Android Central App

Great addition but I personally remain uninterested in Android Auto until Audible and SiriusXM add support. I've heard rumblings about the former, that it should be released any day now, but I have not heard peep about the latter. Indeed, when I spoke with SiriusXM recently -- they contacted me for the umpteenth time about reactivating my expired subscription -- when I told them that I was waiting for Android Auto support, they had no idea what I was talking about.

I think it would be really awesome to have Android Auto, but I can't justify spending almost $1000 on a new head unit for my car. I am a mechanic and wouldn't have any problem installing it myself, but its too much money just for Android Auto. For those of you like me there is a great app called Auto Mate - Car Dashboard. It works a lot like Android Auto, but on the phone screen instead of the head unit. I have seen people taking old Nexus 7 tablets and using them as permanent car computers with this app because you can set it as the launcher when you hit the home button. Posted via the Android Central App

the base model from pioneer is much less, and even though it's a low res resistive screen, it works very well and i've been pretty impressed. the nexus 7 method seems like a lot more work and custom fabrication to get it to be as well integrated as an actual head unit.

I agree, the nexus 7 method is a lot more work to fabricate into the dash, but a lot of the ones I've seen are just using a RAM mount with the existing usb input on the head unit. I know the cheapest Android Auto unit from pioneer is not as expensive, but it isn't compatible with my existing Pioneer IPbus satellite radio tuner. In fact, it doesn't have satellite radio capability at all. To get that feature, which I need, would require a $1,000 upgrade. I'm just not willing to spend that much money to gain Android Auto functionally. Posted via the Android Central App
Android Central Newsletter
Get the best of Android Central in in your inbox, every day!
Thank you for signing up to Android Central. You will receive a verification email shortly.
There was a problem. Please refresh the page and try again.