Amazon Fire TV gains HBO GO streaming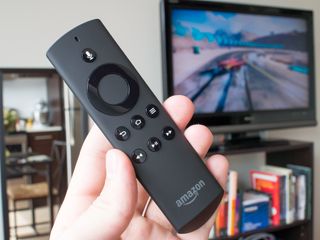 Amazon has announced that HBO GO will now be streaming to Amazon Fire TV customers. Customers with HBO's subscription can now bring that experience to the Fire TV set-top box starting today and Amazon's more affordably priced Fire TV Stick will also gain HBO GO streaming capabilities in spring.
And Amazon is celebrating the launch of HBO GO on Fire TV by offering a special discount on the set-top box. Fire TV is now priced at $79 through Amazon's promotion, which lasts through December 28.
Source: Amazon
Get the Android Central Newsletter
Instant access to breaking news, the hottest reviews, great deals and helpful tips.
I wonder if this includes Comcast customers. Might have a reason to ditch the Roku 3 if it does.

I was just going to post the same! was wondering if their agreement (HBO shows on Prime) might help it happen.
Loving the Fire TV interface compared to my Roku 2! About %80 faster.

I just tried to activate HBO go on the fire TV and comcast doesn't even show up on the drop down list of cable providers when you go to activate it online. What a joke. Netflix will bury HBO as long as they are still slaves to the stupid cable companies.

Same problem here on PS3. Comcast is a joke. Posted via Android Central App on The Nexus 5

Thanks. That answers that question. My Chromecast still gets use because of HBO go.

Nice! Really enjoying my Fire TV stick. Just need VUDU now.
Also, the awesome trivia bluffing party game "Fibbage" is reason enough to get a Fire TV stick or box!

Now if only Comcast would let it work on playstation.. Smh.. Posted via Android Central App on The Nexus 5

I need Dish Network for my Xbox One though. That is all my streaming box and gaming for my dorm. Posted via the Android Central App

Am I the only one experiencing
T
H
I
S W
H
A
T T
H
E
P
R
E
V
I
O
U
S A
R
T
I
L
E
About cheap phones? This isn't the first time either. It seems whenever you guys at AC use that format it starts out fine but then the whole article turns into a huge string like the above and there is no way to comment let alone read the article. Just a FYI. Posted via some candy It goes all bad starting at criteria.... Saw this same thing on another post not long ago. I do believe I'm using the AC beta so maybe that's why? Can anyone replicate?

Happens on chrome too, the format hates mobile and has sucked since inception... Looks nice on the desktop and all but it's too heavy for mobile even when it works, comments rarely show up either... That kinda article sorely needs an alternate formatting option.

Thanks, was hoping it wasn't just my device. Posted via some candy

Yeah, chrome on an android site, lol.

Woohoo!! Just in time for my Fire TV stick to come in 4 days.

This is only for fire tv. I think fire stick is still a few months off for hbo go support.