Alternatives to Google Maps on Android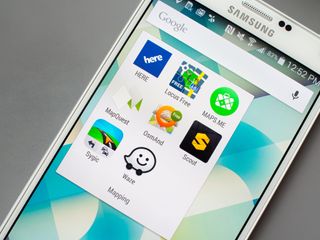 Just because Google Maps comes pre-loaded on your phone and tablet doesn't mean that it's the only choice for you to use when it comes to mapping. Google has put a lot of time and money into making Maps one of the best navigation apps out there, and has incredibly detailed mapping data and extra features like Street View and satellite imagery. It doesn't, however, have some often-requested features like true offline map downloads and multi-stop navigation. There are several other apps out there that do have these features, though, and many of them are even free. Let's see the alternatives for Google Maps on Android.
Read now: Alternatives to Google Maps on Android
HERE Maps
Nokia's HERE Maps is probably the leading choice when it comes to a Google Maps replacement on Android. With highly-detailed maps that rival or exceed Google's depending on where you are, as well as a large database of points of interest and now internal mapping of popular buildings, HERE really stands out. Going a step further, HERE lets you download complete maps for entire countries if you wish, meaning you can rely on the maps even when you're in places without a data plan. Since exciting beta HERE Maps has added even more new features, and is worth looking at if you're not satisfied with Google Maps.
Download: HERE Maps (opens in new tab) (Free)
Waze
Although Waze is actually now owned by Google and some of its features have been integrated into Google Maps, the original Waze app still lives on in the Play Store. We doubt anyone would say that Waze is a beautiful app, but the information it provides to drivers is top-notch. You'll get information on gas stations (including prices), rest stops, food, construction, slow-downs, accidents and police activity along your route so you can dodge the slow routes and get where you need to go. Many people will be happy with the Waze data that's now available in Google Maps, but if you want to contribute back or see all of the data Waze has to offer you can keep this one installed.
Download: Waze (opens in new tab) (Free)
Scout GPS Maps, Meetup & Chat
Scout GPS is an interesting app that offers mapping but also social integration with chat and meetup functionalities built right in. You get OpenStreetMap maps with traffic, points of interest and parking information baked-in, but also have the ability to coordinate with friends so that it's easy to find each other. The idea is that you won't have to switch between apps to let people know when you're on your way or close to arrival, and while not everyone uses their mapping apps that way it could appeal to you.
Download: Scout GPS (opens in new tab) (Free)
MapQuest GPS Navigation & Maps
MapQuest is often thought of as an early mapping platform that has been fully supplanted by Google Maps on the web, but the MapQuest app on Android is still alive and well with millions of downloads. The MapQuest app offers high-definition maps, solid point of interest listings, multi-point step-by-step navigation and ETA sharing. That's just about all you'd need from a mapping app, and MapQuest has it all with pretty respectable performance to boot.
Download: MapQuest (opens in new tab) (Free)
MAPS.ME – Offline Map & Routing
MAPS.ME is an app built on the crowd-sourced OpenStreetMap database, and offers its own set of features building on the mapping data. You'll get complete offline map support fro 345 countries and islands, according to MAPS.ME, including offline search and directions. Beyond those basic features MAPS.ME also includes bookmarking, orientation tracking when you move and location sharing. It's also free, which is always great to see.
Download: MAPS.ME (opens in new tab) (Free)
GPS Navigation & Maps Sygic
Sygic Maps is powered by TomTom, and while the map data itself isn't fantastic the app does offer all of the features you're likely looking for. There's complete offline mapping and turn-by-turn navigation support, as well as points of interest from TripAdvisor, parking spot suggestions, lane guidance, voice guidance and speed limit warnings when driving. Sygic Maps is free to use, but does offer in-app purchases for some premium features like traffic data and access to speed camera locations.
Download: Sygic Maps (opens in new tab) (Free, In-app purchases)
OsmAnd Maps & Navigation
OsmAnd Maps is another free app that takes OpenStreetMap data and adds in its own interface and features. You'll get point of interest information from Wikipedia, as well as turn-by-turn directions for driving, biking and walking. There's both a day and night view of the app, as well as multiple options for changing the look of the maps. Naturally there's full offline support as well, including the choice of downloading complete maps or just road maps to save on storage space.
Download: OsmAnd Maps & Navigation (opens in new tab) (Free)
CoPilot GPS
CoPilot is one of the more popular paid mapping apps out there, offering full offline support and all of the features of a basic standalone GPS unit you'd normally install in your car. The mapping data is pretty good, but we have to say that performance in the app overall is quite bad compared to what you get from the other choices listed in this article. At $10 for the U.S. and $45 for Europe you'll really need to like what CoPilot does, but it is another option to compare the free choices to.
Download: CoPilot GPS (opens in new tab) (Free, in-app upgrades)
What's your favorite mapping app?
We've listed eight great options here if you want to take your mapping seriously and haven't found Google Maps to be right for you. But we know there are even more out there that some folks have found to be worthwhile — let us know in the comments what your favorites are, whether they're listed here or not!
Andrew was an Executive Editor, U.S. at Android Central between 2012 and 2020.
iGo is the best out there , it looks old but it just does the job perfectly , it's expensive and recently not available everywhere , but works completely offline , fast to reroute , flexible with many types of maps and additions , I have tried most of apps on the list and no one comes close to iGo

I absolutely agree. I'd probably give Google Maps another try if they decided to offer full offline support, but I doubt iGO will be uninstalled from my phone and tablet any time soon.

I really like Navfree. I've been using it for quite a while now.
https://www.androidcentral.com/e?link=https2F2F...

I'm heading to Barcelona on the 2nd and need a good mapping app (best if it could give me directions offline). What would you recommend? Posted via the Android Central App

I recommend OSMAND+. it has both offline download and navigation for vehicles and by foot. I'd also checkout City Maps to Go Pro for local city maps and guides. Both of these work great offline and I use them on my WiFi only tablet all the time.

Here maps would probably be your best bet with its offline and global maps. Posted via the Android Central App

Here has replaced Google Maps for the most part for me. I have had no issues with it and the offline maps are perfect for long trips. I used to use Waze all the time until it would keep having me exit an interstate just to get right back on at the top of the ramp. I hope that makes sense. It would say "exit here," and then at the light at the end of the off ramp, it would instruct me to go straight to get back on the on ramp for the same interstate. That drove me nuts.

How is its navigation? If traffic conditions change on route, will it let you know and re-route if better option available? Can I add stops along a route, like to a restaurant or gas station?

The navigation has been great for me. I have never tried to add a gas station or something to my route so I can't comment on that. For the traffic re-routing, I haven't seen it do that, but I live in the Chicago area and traffic is just a constant and I have yet to have mapping software get me around it with any reasonable time savings. YMMV

If you are driving and there is a delay, the system does notify you. Usually the warning has been "traffic building ahead" and has a new ETA with difference in minutes (at which point I check my "Routes" and see if there are better ones available). And while on the way you can tap on navigate (though if you're driving, it'll try to stop you since it's unsafe, so the passenger would indicate they're making the change) and you can name/search for what you're looking for and the program asks if you want to add a stop or if that's the new destination. Since we're hands free now in San Antonio, I can't legally touch the screen to make changes/points of incidents, so I've had to change to the waving option and voice commands to report and navigate (which in my current version I can only navigate Home or Work with voice, which I've preset). But I had it on my iPhone and then when I got my Android, it was the first download I made.

I would love to switch to Here. The only thing stopping me is the lack of Google Now support. I don't even know if it's possible to integrate that. I've used Nokia maps before even the first android phone was born on my Nokia N82 and N95. Even back then it had features that Google maps still doesn't. Mainly offline maps and finding points of interest like Gas stations or restaurants on your route.

I dig Here's look, but I don't find it as functional as Google Maps; for example, I have to create a separate 'list' just for my Home and Work addresses, and when I tried using it the other day I found it impossible to just click on 'Home' as my starting destination to another location. Maybe it was just me, tho, and I'm sure it'll get better as time goes on.

I like HERE Drive for the offline feature I been using that for a couple of years on WP and now in my android, I'm crossing the border once a month without international data roaming and SEARCH and NAVIGATION works perfect totally offline. Also I like the High Speed Warnings.

Sygic guides me together with here, scout, waze and route 66 Posted via the Android Central App

A combination of Google maps, copilot premium Europe, and Alpine quest cover all the options for me. Posted via the Android Central App

In the UK there isn't any map app that could be compared to Google Maps for its features and brilliant Traffic. It is more accurate than all the useless paid map app that idiots spend money on. For offline navigation on a phone here maps is unbeatable.

For those cities where it is available, Citymapper is a fantastic tool. It easily beats Google Maps for public transit. It is not so great, however, for walking directions as the GPS and it's ability to represent the hardware's compass aren't terribly accurate. But yeah, if you're catching a bus or taking the Tube/Subway/other then it's great. Also, there are "Get Me Home" and "Get Me To Work" buttons front and center. Very easy. Posted via the Android Central App

Used to LOVE Waze. Deleted it once they added the warnings for red light cameras without the option of turning those warnings off without muting the app entirely. In Miami, there's red light cameras in almost every intersection. So, here's what my commute sounded like... "Red light camera reported ahead."
"Red light camera reported ahead."
"Red light camera reported ahead."
"Red light camera reported ahead."
"Red light camera reported ahead."
"Red light camera reported ahead."
"Red light camera reported ahead."
"Red light camera reported ahead." Pretty much every 1/4 mile of my 20 mile commute.

You obviously didn't use your "Settings".

I still find it interesting that Waze has not yet been merged into Maps, seeing as how Google acquired the company in 2013.

For offline maps, I prefer CoPilot to Here.

I'm not sure how CoPilot is considered a basic GPS option. Much like its enterprise version, you are able to enter up to 50 destinations and have them optimized with or without a fixed final destination as well as online search options. It cost me $6.99 with no monthly charges. Posted via the Android Central App

It's funny that you suggest Waze as an alternative to Google Maps since Waze is little more than a skin for Google Maps platform!

Route 66 navigate- the ability to download maps and view offline and to backup maps, as well.

Google maps! Posted from my Nexus 5 on T-Mobile via the Android Central App

Here maps is no rival. It just not up to the challenge. Posted via my G3

Navigation isn't just about directions any more, most apps have that down. It's about awareness and, for that, you can't beat the real time updates you get in Waze. Road openings/closures, accidents, congestion, potholes, debris, localized weather like ice and fog, police. Trusted users edit maps with things like daily updates on construction. Waze "knows" where you're going too by booking into your calendar. I's the right tool for a drive commuter. There's a bit of fun in the mix too with Elvis style voice guidance. IFTTT fires it up and shuts it down automatically as the phone pairs with the in-vehicle Bluetooth. All hands off. Still, I always break out Maps when exploring somewhere new and looking for POIs, or if I'm on foot and using public transport. I tried the HERE beta and wasn't impressed. Might be time to give it another go.

Has anyone loaded here one of the offline maps to use on a tablet? Posted via the Android Central App
Android Central Newsletter
Thank you for signing up to Android Central. You will receive a verification email shortly.
There was a problem. Please refresh the page and try again.