Allo's next trick: Turning your selfies into emoji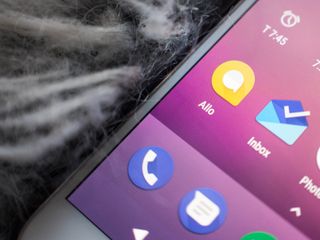 Feel like your feelings could better be expressed through emoji that look like you? Well, you're in luck if you're an Allo user. The latest update comes with a feature that turns your selfie into a reusable sticker.
The feature was announced in an official Google blog, and then confirmed in an interview between Google's Jason Cornwall, Communications UX Lead at Google, and FastCo Design. Starting today, you'll be able to shoot and save your own emotive stickers to use within Allo conversations. Google's image-recognition algorithm will analyze your face and map each of your individual features to a preset selection of images illustrated by artist Lamar Abrams, who is best known for the Cartoon Network series Steven Universe. Then, you can choose the emotion that best suits your mood.
"The goal isn't accuracy," Cornwell said about the ability. "It's to let someone create something that feels like themselves, to themselves." Google estimates that there are 563 quadrillion possibilities. Once you create your stickers, you'll have 22 different moods to choose from.
The FastCo Design article continues with some background on Google's objective behind the sticker-making feature:
Unfortunately, I don't see the update available in the Google Play Store at the time of writing, which is quite a bummer. A sticker-making feature that uses Google's Machine Learning abilities is rather impressive, and I'm curious to see the end result in real time.
You can read the rest of the article, which includes background on how the stickers were designed, at FastCo Design. As for the app update, keep checking in the Google Play Store (opens in new tab).
Florence Ion was formerly an editor and columnist at Android Central. She writes about Android-powered devices of all types and explores their usefulness in her everyday life. You can follow her on Twitter or watch her Tuesday nights on All About Android.
Yeah until it can handle​ actually text (not sending a link)I got nothing for Alo

That would be a good trick..

Man thank goodness, this is the one killer feature I've been waiting for to get me to move over to Allo full time. .....

Seriously what are these idiots thinking

=( Just put end to end encryption without incognito and put sms option alreadyjdsaldjsakld

I assume this thread is going to be full of people making fun of this feature. But there are a LOT of people in their mid-20s and under who would love this, and any messaging service would much rather develop those people as long-term users than someone like me.

Shit, I want this. I can have all sorts of stupid fun with it.

Any time you say you can have fun with something, I start to worry. :-)

My wife and our family live on Allo. Can't leave the smart replies etc. I'm in my 30's and this sounds fun to me lol. Its a quality app honestly

I'm with you. I only have a few friends who also use it, but it's a good, functional app so far, and I'm glad that Google is demonstrating some commitment to it.

If they aren't naming it with the portmanteau "selfiemoji", they're missing a beat.

SMS would be a really neat trick...

I almost forgot about Allo thing

Next trick...sending a dam text message.

"Our goal isn't accuracy." Meaning the emoji will look nothing like you.

And still no SMS support Why Google

Turn Allo into a true Hangouts replacement and iMessage competitor already. Give it a desktop app, SMS, and Google Voice Integration...then it will be useful enough to warrant a switch.

Exactly, all this fluff (be honest it's all that right now). Is not going to drive adoption. Until they actually get serious about this its an also ran at best. Google you are doing your darnedest to get people off Hangouts. Give us something that's a worthy replacement for it. As it is now Allo is not that.

Looks like a cool thing I can only send to myself as 0 people I know use Allo.

I side loaded the apk from apk mirror and it works really well. With my hair off my face it made me male stickers. Not funny. So I took my hair down and it made some selfie stickers for me. I have sent them to my husband who uses Allo with me.

And yet those damned fools at Google insist on their "Sms is old school" philosophy. Screw you, Allo! You had so much potential.
Android Central Newsletter
Thank you for signing up to Android Central. You will receive a verification email shortly.
There was a problem. Please refresh the page and try again.