New BlackBerry with hardware keyboard to launch during CES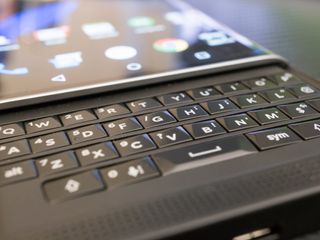 (Image credit: Android Central)
We knew it was coming, but BlackBerry's long-awaited 'Mercury' handset is set to be announced at CES.
A teaser of the keyboard-sporting BlackBerry handset, which is now designed, overseen and built by TCL, Alcatel's parent company, was shown by Steve Cistulli, President of TCL, prior to the start of CES.
In mid-December, BlackBerry and TCL formalized their relationship, officially making the Canadian outfit a software company. TCL will still release BlackBerry-branded handsets, for which the former telecom giant will build the Android software.
According to previous rumors, the new keyboarded "Mercury" will feature an unusual 1620x1080 resolution with a 420 ppi pixel density, which works out to a 4.63-inch display size. There's also expected to be a Snapdragon processor of some sort (perhaps the 625), 3GB of RAM, and 32GB of internal storage.
Get the Android Central Newsletter
Instant access to breaking news, the hottest reviews, great deals and helpful tips.
Daniel Bader was a former Android Central Editor-in-Chief and Executive Editor for iMore and Windows Central.
It actually looks pretty sleek. The SD 625 is kind of scary though....
Why not just throw a 821 in there and call it a day. Don't screw around with something less then that.

It's pretty clearly a mid range device, a mid range SoC makes sense.

Battery life with a 625 will be really good.

I'd rather have the 625, since battery life is fantastic on phones with that chip. I think the business sector will appreciate that as well.

I'd disagree. I just swapped from a S7 edge (820 chip) to a Moto Z Play (625 chip) and the performance is actually better on the Moto. The exception of course would probably be gaming, but for day to day use (internet, email, FB, music, video) the 625 is very capable and has GREAT battery life (2-3 days out of my Moto, vs 1-1.5 on the S7) Of course the Moto has a much slimmer version of Android on it - so I'd be more worried about the software here.

Long time BlackBerry user. I bought a Priv, and traded up to a Galaxy S7 Edge within 6 months. (Never turned back)

I am on the opposite site. Gor an S7 Edge to replace my Passport because I changed job (no more typing several 6-7 paragraphs emails when out of the office), but only lasted 6 months until I decided to get the Priv. I prefer the standard candybar shape, so I am looking forward to this phone. Also love the dtek software that reports what is accessing my location etc. I suppose with Nougat it is similar?

Same here wasted my time with a Z10 and then upgraded to an N5. Swore not to buy a BB ever again.

Cool. Not something I'd ever buy, but I'm glad it exists.

Can't wait for the full unveiling.

I'm excited too about BlackBerry in general.

Same here man, I still got love for Blackberry. Haven't used an Android version yet, maybe this one could be it if priced right.

I remember buying the BlackBerry Classic because I really missed the physical qwerty. It was easily the worst phone experience for me. It had constant double-typing, a poor display, outdated processor with extremely slow performance, sub-par camera all for around $500. I don't miss BlackBerry and I definitely don't miss the physical qwerty.

I'd give it a chance. Not once on the Priv have I experienced the double-tap phenomenon, but I did on the Passport. I've been using the same device since December 2015. Therefore, I'd conclude it's a BB10 issue.

I would love a physical qwerty keyboard, but I'm not willing to go to a sub 5" display, slow processor, and low internal storage to do it. Once I left my BB behind for my first Android I haven't turned back.

Compared to my father's Samsung device, the Android experience on my BlackBerry is fair better. The only issue so far is BlackBerry needs to build a multi-tasking app that would allow two applications to be opened on the same screen. BlackBerry Android experience is much better than the Samsung Android experience, imo.

If it comes with 7.0 it will have multitasking. Nougat multitasking is better than Samsung's as well.

Agree. Why design something that looks and feels great only to cripple some of the most essential features?

The 625 is by no means slow.

I believe this will be BlackBerry's best ever phone. Will purchase it the week it comes out.

It will be fine! I'll buy it.

Another let down from Blackberry because they refuse to up the ante on memory and storage. Looks great, but that's it.

It looks interesting. I heard it's coming to Verizon. I seen 2 different rumors of a Snapdragon 625 or 821.

I'm so excited! Love my keyboards, they so nice! :D Yey A droid a day keeps the Apple away

no no no! 5.2 inch snapdragon 65x based keyboard slider with a decent battery please! you almost had it right with the Priv, the curved screen and flagship CPU were unnecessary and made it too expensive. if someone doesnt make something soon im going to have to shoehorn new components into the shell of my old desire Z to get a decent keyboard phone! (ill actually probably just buy a cheap second hand priv)

Unnecessary? Have you seen the performance of the Priv? It is slow as molasses and shuts down apps left right and center because of poor memory management. I have one sitting on my desk and I'm typing this on my S7 Edge. The difference is night and day. It needs at least an SD820, no less than 4GB of memory, and a very large battery to be a viable handset.

My priv works just fine with no problems and I typed this partially on my virtual keyboard & physical keyboard! gotta tell you, I love having the choice of which one to use. This new phone better have the touch enabled keyboard it's great to use as a scroll function.

Please, make it a Landscape Keyboard, more ergonomic for the hands and faster typing, like the original Droid series were. Wish all phones had a case attachment for a landscape keyboard.

Looking good. While specs are mid range the truth is my use probably won't have me see a difference. SD slot and long battery life with Nougat is more than enough for me! Give me that touch sensitive hard keyboard please! Price it right BlackBerry..i mean TCL !

Ooh so excited! Please be available unlocked and not priced crazy! Totally looking forward to this!

I'm good. Pass on this one.

Well, I still miss my Z30! BlackBerry 10 was waaay better than android or ios. If only they would have made it free to other manufacturers... I'll wait to see if this device makes the Priv cheaper (here in Spain you can't buy it new for less than 600€!)

Seems like a nice phone, looking forward to the unveiling and future BlackBerry releases 👌

Was hoping they would make it with better specs

If the camera is good and the price decent, I could switch from my PRIV.

Do people still actually buy Blackberry's?

Cant wait for this device

Great now I will have something to upgrade to after my Priv in like a year after it drops to half the price and Crackberry reports it may also be on Verizon, but maybe they'll make the bands on the unlocked one work with VZW this time as well like the Pixels, it took them way to long to get Marshmallow on the Priv

This might be the first BlackBerry offering that will make me give up my BlackBerry Passport on BB10. Looking forward to trying it out.