Adobe will pull Photoshop Touch from Google Play on May 28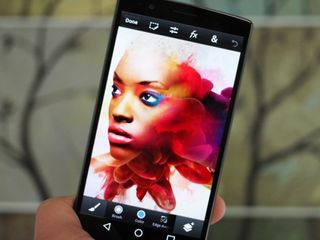 Adobe will pull Photoshop Touch from Google Play on May 28. The company believes that their new mobile apps will better meet the needs of their customers going forward. While these tools are currently only available on iOS, Adobe announced that they are currently developing new apps for Android, which they will debut soon. For current users of Photoshop Touch on Android, Adobe says the app will continue to function on their devices, but will receive no future support:
There is no word yet on whether or not Adobe will also discontinue Photoshop Express for Android as well.
Source: Adobe (opens in new tab)
Glad I didn't pay $5 for it!

I paid $5 and also $10 for the tablet version. This replacement better not be some instacrap filter app.

I paid 10 for the tablet version myself! I hope folks who paid for this app will get a discount or the new version free. Not cool Adobe... j

Don't count on it. Between their 'creative cloud' BS and forcing users to pay per month rather than being out to buy software outright, I'm betting whatever replaces this app will be on a per-month basis also.

I've paid $5 for premium features of PS Express...so I hope they don't nuke it! It's actually one of the best image editing apps I've found, for touching up images to make them look their best. Never cared for the features of PS Touch.

I'm in the same boat as you. I've had it on all my phones and use it as the primary photo editing software. I truly hope they don't remove it from the Play Store.

Well I did and I never seen any real use for it. Poorly built UI and bad navigation. Didn't really live up to the Photoshop name. I am a professional graphic designer and I never used the app. Although I wanted to the app just didn't offer any real functionality over other image editors.

"Poorly built UI and bad navigation"
"I never used the app"

I purchased the app but because of the poorly built UI and bad navigation I never wanted to use the app. I gave it a valiant effort but it just didn't cut the cheese for me....a waste of money.

So you're saying you never used the app on a regular basis. But you did actually use it enough to realize it had a "poorly built UI, and bad navigation", correct? I can understand the reason BEN1481 pointed out the contradiction, but there's a difference between never using something, and using it enough to realize it doesn't work for you.

Geez! I often forget how anal some of the users can be on AC. I noticed the contradiction and I thought I made the correction. Proper correction for "tlingitsoldier". I did in fact, use the app...I used it just enough to know that the UI was poorly built and the navigation to navigate around the app was horrible. I absolutely love Photoshop but after purchasing the app I was greatly disappointed with the mobile version of the app which is called Photoshop Touch. What a poor decision to spend $5.00 on.

I really wasn't trying to be pedantic about it. I'm sorry if it seemed that way. I was just trying to point out that what you said made it easy for that contradiction to be brought up, and was wondering if you were basing your opinion of the app on your usage if it, or what you had read about it. To be honest, I'm not familiar enough with photography or applications to know whether something is poorly designed, other than just basic design as a regular app. I hope you don't take my comment as an insult, as it was absolutely not intended as such.

Meh i'm not losing sleep over this. Snapseed does plenty enough for me and my needs. Posted via the Android Central App

I am sure this is all geared toward selling creative cloud subscriptions. Expect future apps to require such.

This is true. Maybe one day Adobe will have a real competitor. One day...

I realize it might defeat their intent, but does the APK for the phone version work on tablets and vice versa?

Nope. The tablet version is actually better.

Good to know - I might snag the tablet version, then. Thanks!

Not that much better to buy it. I'm sure you can find an apk somewhere on the internet. Especially since it's not supported anymore.

Pulls android app from play store.
"Our new apps will provide a better experience"
New apps aren't available for Android.
Lol wut?

I have had PS Touch and PS Express in my wishlist for what seems like forever, waiting for them to have a sale, glad I never bought them.

Same here. Isn't it ironic they are pulling the app yet still asking $4.99 for it in the play store. Posted via the Android Central App

PS touch is pretty good IMO. I've used it to knock up spur of the moment comedy photoshop pics many times on my nexus 7. I'll have to back up the APK I suppose! Posted via the Android Central App

Beta testing for new apps is now live, here's the post and group: https://plus.google.com/111472736443383170578/posts/d6hwvRw9fu9

Here is the link for the group if that doesn't work, Photoshop Mix is really good, not had much chance to try out the other apps yet but they look very handy. https://plus.google.com/communities/115649485021140879434

As far as I have seen, none of the 4 beta apps do the same things as PS Touch. Personally, I am glad that I purchased it. I need layers, opacities blend modes, effects, transforms, and a load of other features that are so far only in PS Touch. Most folks just need filters and adjustments though. All of that said, the new beta apps are really neat and could be super-useful for me in the future too. I just won't stop using PS Touch.

What are the tools available on ios? I only ask because I am sure we will get similar "tools" on Android. Posted via the Android Central App

They hardly supported the app anyway, I don't see why they need to pull it. I guess that's the best way they can get folks to buy the new apps. Posted via the Android Central App
Android Central Newsletter
Get the best of Android Central in in your inbox, every day!
Thank you for signing up to Android Central. You will receive a verification email shortly.
There was a problem. Please refresh the page and try again.