Adobe debuts Premiere Rush CC, an 'all-in-one' video editor for all your devices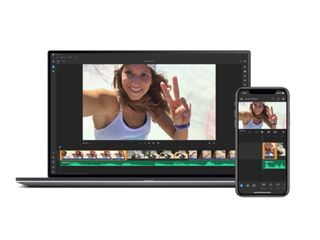 Adobe today launched Premiere Rush CC (opens in new tab) to the masses, bringing pieces of Premiere Pro, Audition, and After Effects into one cross-platform video-editing suite. Initially, Premiere Rush CC is available on desktop and iOS devices, while Rush for Android is planned to launch in 2019.
Premiere Rush CC began life earlier this year as "Project Rush." The suite's goal is to make it easy to edit videos no matter what device you're using. That includes the ability to pick up where you left off, as Rush will automatically sync what you're working on to the cloud. If you start editing on your desktop and need to hit the road, for example, you can continue your project on your phone.
As for features, Premiere Rush CC combines a number of different editing tools you'd find in other Adobe apps, in one package. A simplified editing workflow, motion graphics templates, AI-powered audio auto-ducking, and more are available here. The app also supports automatic optimization for social media content, along with one-click publishing to platforms like YouTube, Facebook, Instagram, and Behance.
Adobe also laid out what it has planned for the future as well. In addition to future Android support, Premiere Rush CC is also slated to pick up speed controls, performance improvements, and additional ways to make publishing videos to multiple platforms easier.
Premiere Rush CC is priced starting at $9.99 per month for individuals and is available across different Adobe Creative Cloud plans. There's also a Premiere Rush CC Starter Plan, which makes the app available for free with the ability to create an unlimited number of projects and export up to three projects.
This comes alongside a slew of other announcements (opens in new tab) Adobe made today at its Max 2018 conference, including Photoshop CC for iPad, AI enhancements across its Creative Cloud apps, and a new version of Acrobat DC.
See at Adobe (opens in new tab)
Get the Android Central Newsletter
Instant access to breaking news, the hottest reviews, great deals and helpful tips.
Not interested in video rental software.

Totally agree. Give me Affinity for Android already

Available for android in 2019?? (at which point adobe will no doubt launch with additional ios features not found on the 'newly released' android version... ). Wow. 5 years ago I honestly thought that treating android as an afterthought was financially foolhardy, but here we still are...

Now you know what Windows Phone users had to put up with!!!!!

Yes was excited until I read that part. So dumb. Seriously, as if the Android platform can't handle it or something. Is rediculous really

Register to support our after they spend all that time and money on it. It's the only way they get it.

"Let's release an editing tool for youtube, but not on the platform most of them use." Brilliant Adobe.

Umm... how do you know most youtubers who use Adobe software use Android? I'd argue most youtubers willing to spend this much on a low end video editor will be on the platform for big spenders.. which is ios.