Action Launcher 3 update adds Android 7.1's launcher shortcut feature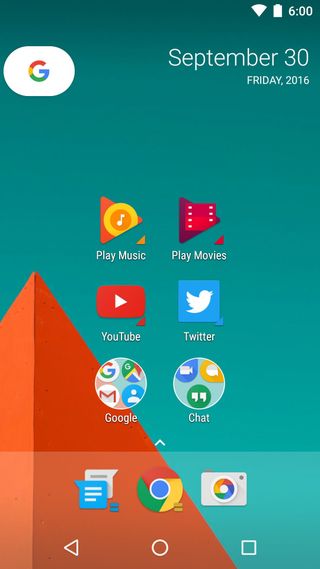 Ready to try out some of the features from the Google Pixel's home screen launcher (without sideloading a leaked APK that doesn't quite work right)? Action Launcher has just been updated with a new "Quickcuts" feature, which recreates the launcher shortcuts feature from the unannounced Android 7.1 Nougat release. Spotted in certain Google apps by enterprising hackers, these shortcuts let you perform a gesture on an icon to access shortcuts to different areas of that app — similar to 3D Touch on the iPhone.
Simply swipe on an icon and release over the shortcut you want to jump straight to that section of the app.
And now it's possible to get this feature without waiting for the Pixel phones to land — or for your handset to get an Android 7.1 OTA. Developer Chris Lacy tells us that functionality is limited to a few Google apps right now, but that Quickcuts for other popular apps are hard-coded in.
This latest feature addition gives Action Launcher 3 all the features of the leaked Pixel Launcher, days ahead of the debut of Google's new phones. And you can bet that if anything new crops up next Tuesday, the developer will be quick to react.
The update should now be rolling out through the Play Store, so hit your updates tab to see if it's ready.
Alex was with Android Central for over a decade, producing written and video content for the site, and served as global Executive Editor from 2016 to 2022.
I wish Google would update the launcher on the 6p and 5x with it.

Looking story short Nexus is toast

Cool and very useful.. id be using the play movies quick cut straight away.. and impressive work from the Dev updating before Google..

Try out the ap15 launcher. It's brilliant.

I was looking forward to this :)

This might just be enough to switch me from Nova! I wonder if the Dev coded for Textra..

I have been Nova prime user for the past 2 years. This latest Action (Plus) launcher ( beginning a few weeks ago) got me to switch over and stay for the 1st time. I can set it up like I had Nova including gestures plus the added pixel features have me convinced to stay...for now.
I recommend people give the newest Action Launcher a whirl. It might not convince you to permanently switch over from Nova but if you give it a fair evaluation you'll see its pretty good. Much better than it was IMO.

He has made a lot of progress lately. It's pretty smooth too. The ONLY thing that makes me go back to Nova is the painting of the widgets. With Nova on the 7 Edge the widgets cover the full screen like it should, not so on Action Launcher... There is always a gap between the widget and the edge of the screen... Like an empty band... About 1/4 inch wide... Which to me is disturbing... I actually have them both installed. Get the urge to switch... I do... Both are good. Just different styles. Ill leave it at that.

It depends if textra coded for the pixel launcher. If they haven't they surely will once 7.1 is released. Any app that enables this will work with action launcher.

I use Nova prime now. I may test the waters now that action has done all of this updating

Nova Prime is hard to beat. Wonder if this launcher is better...

I wouldn't say better. I paid the $5 to get all the features. It's got some handy stuff and things I like, but enabling the double tap to lock takes away fingerprint unlock option. I'll stick to Nova for that feature alone. Maybe they'll fix it like Nova did.

I own both and have been using action launcher exclusively for a few months now.

hmm, i can wait a few weeks until my Moto Z getting Android N Hope N doesn't destroy my 50+ hours batterylife

I have a Z force and unless you only use your phone 2.5 hours a day you wont get 50+ hours. I only manage about 5 hours sot on mine, 6 max if i use it a lot in a day

I put the pixel launcher leak into the rom I use as the default and it works well but can't edit some things. Action launcher 3 works nice. I love that I can hide apps from the drawer that I have already on my homescreen and the swipe up to drawer is great. Very good implementation of the pixel leaks and customization. Was using stock touch wiz for awhile never was a fan of Xposed touch wiz or Xposed Google launcher for customization either.

There are dozens of great launchers in the play store. I always find AC's obsession reporting every minor tweak to this particular launcher a bit puzzling. Is there a financial investment that needs to be disclosed here?

I wouldn't say that they report the minor tweaks, as there are a lot of maintenance updates to AL3. But I think that the AC staff get generally excited about the feature upgrades due to the frequency, usefulness, and typically solid execution. I don't end up using every new feature, but I do feel like AL3 is a great launcher that gets better all of the time. Chris Lacy also does a good job introducing the features when they become available.

This and Nova are basically the top dogs when it comes to Third Party Launchers

To be fair every once in awhile they do an article on the best launchers out there. The reason you probably see a lot more articles about this one is because Action and Nova are easily the ones pushing what people want to the forefront and the most downloaded hands down. I've purchased a handful of launchers over the years and the only two I go back and forth between mostly are Action and Nova with Nova being mostly the main one I stay with 99% of the time. I like to try the new things that Action has since I purchased it. But based on past experience I'm probably going to end up going back to Nova, but we'll see. Nova's is just so smooth, easy, consistent, beautiful (with the right icon pack), and so natural that I forget that it's a launcher and not just my phone's system. If Nova designed their own phone and UI completely, with Samsung level high end specs, it'd probably be the most popular phone in existence. Imagine buying a Note 7 that had Nova as the UI right out the box. The phone would skyrocket to iPhone level sales easily over a short time. There are still millions of people who don't know about launchers, and unfortunately just deal with TouchWiz (which has gotten better, but is years behind in lots of basic features) or whatever their phone has- never getting to experience something beyond just better and more satisfying. In addition to the outside, the user experience is a huge factor of a phone's ability to be successful long-term. Samsung is extremely popular especially now but a Nova like experience would make that phone astronomically better even though it's already amazing. If Google was smart they would hire or buy the Tesla team. Whatever launcher Google has Tesla takes it perfectly to the next level, still keeps it easy to use so that the non geeky or geeky can use it. That said I'm still going to give AL3 a shot again.

I don't think it's an obsession I think they just recognize a good thing.

I've been using this launcher for the last day on my Nexus 6p. Love all the pixel implementation and have been using the quick cuts a lot since the update earlier today. I still like Nova bit I'm using this launcher for now.

That's great but apparently some people seeing this article haven't tried paid version of action launcher yet.
As we know it already has mind-boggling features like showing widget instantly by swiping icon, so new addition isn't a huge deal. It's already epic! I don't want people call it "3D touch like.."
Rather I found current "shutter" (call widget) is more useful.
Every my iOS-bearing friend was astounded when I demonstrate this. Now each icon can doubles widget-shortcut or app-folder but I really hope it "triples"(both), say, according to swipe up or down. I don't know if there's such API for devs that discern direction of swiping icon though.

Windows phone 7 feature...

Still don't understand how unread icons are not available on this but available on Nova. That is the main feature that keep sucking me back to Nova.

Chris Lacy: killing it again! Another reason why I only use Action Launcher 3.

Been using Action Launcher 3 ever since it came out. Best launcher in my opinion. I'm glad they're keeping the updates coming!

I have both installed but use Nova primarily because of unread counts. I find them really useful. If someday they add unread counts I would consider long term switching from Nova prime.

Install the 'Unread Count' app add-on from the same developer in Google Play.

This looks nice, have to try it out. I've been using Action for a couple of weeks. Before that I was pretty happy with the Google Now launcher or the stock launcher on my OP3. Overall Action is a great replacement for those. Tried Nova, not for me.

Alright fine, I'll download action launcher again. Geez. :-D

I use Nova launcher, I'm very happy with it

Love nova on my phones, AL on my tabs but I think I'll take this for a test drive on my phone this weekend before my business trip Monday.

So I decided to try action launcher and have to say never have I parted with 5.99 so easily.

I am going to try out Action Launcher and see how it stacks against Nova Launcher. Going into it with an open mind as new stuff/features are cool!

I used to be a Nova launcher and Action launcher guy but since i got my 6p Google launcher is just as good for me but i will try action launcher again

Talon has been updated to support this already.

i hope nova launcher will have features like these soon, although it's already expected from them ☺
Android Central Newsletter
Get the best of Android Central in in your inbox, every day!
Thank you for signing up to Android Central. You will receive a verification email shortly.
There was a problem. Please refresh the page and try again.