Action Launcher 3 brings Android 5.0 stylings, performance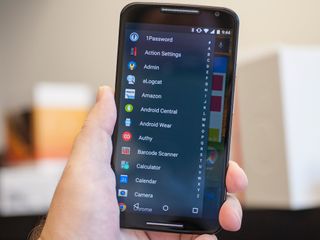 Premium features will require a new in-app purchase, but they're well worth it
Chris Lacy's Action Launcher has been one of our favorite alternative launchers of late, thanks to its speed, design and innovative options for widgets and folders. Today marks the release of Action Launcher 3, a top-to-bottom redesign of the app that moves the codebase to Android 5.0 Lollipop adds some new visual features and streamlines some old favorites.
Action Launcher 3 also blurs the lines a little bit between being an update and a completely new app, as Lacy is giving those who purchased the Pro version of Action Launcher 2 a path to keep their paid app without having to make a separate purchase. It's all a little clunky, a little confusing, and a little controversial.
While you're waiting on the update to go live in Google Play (which should be any time now), we'll explain what's up.
Image 1 of 8
First things first. For those who purchased Action Launcher 2 Pro, it'll still continue to function with a newly released version of Action Launcher 2. So if you've purchased Action Launcher 2 Pro, you're good to go — you just need to install the new version of the old app. You will, however, need to migrate over your home screens from AL2 to AL2 Pro. And as Lacy points out, the best way to do that is to use the SD card backup feature in the settings.
What we've come to know as the free version of Action Launcher 2 (insofar as the Google Play Store listing is concerned) will now become Action Launcher 3, with an in-app purchase to unlock the new premium features. For those who feel like they'd paying twice to keep the functionality they had before, that's the reason for the slightly convoluted path for Action Launcher 2 Pro. It also lets Lacy keep the current install userbase, so it's not like starting from scratch. It's not a great solution, but it's still pretty fair.
So what do you get in Action Launcher 3? The Quickdrawer remains in lieu of a traditional app drawer, and it's as fast and convenient as ever. You'll need to update to the premium features for more options, though, including Action Launcher's Covers and Shutters (think widgets that launch from folders and individual apps with a simple swipe). Google Now's just a swipe to the left. (And then a step to the right. With your hands on your hips and, erm, never mind.)
The Action Bar has (by default, anyway) given way to a more traditional Google Search widget. This is customizable as well, though. You can switch back to an Action Bar if you want, which will put a Google Play shortcut and overflow menu back on the screen. (You lose search, though.) Or you can do just a plain search bar, or opt for none at all.
The premium features also include the ability to change the color of your layout based on what wallpaper you're using — and that'll even remain true if you're using the excellent Muzei wallpaper app. Very cool. There are a few other gems as well — including being able to see your notifications by swiping down anywhere there's a blank space on your home screen — but, again, you're probably going to need to pony up for the premium features. (And if you really want to support Action Launcher, there actually are a couple of donate options, as Lacy explains on Google+.
Which I've already done. And I'm glad I did. Give it a shot.
Get the Android Central Newsletter
Instant access to breaking news, the hottest reviews, great deals and helpful tips.