Action Launcher 2.0 released with latest features, new free version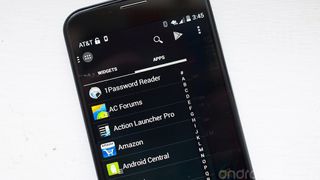 Pro version just $1.99, 50% off, for a limited time after launch
Popular third-party launcher Action Launcher has made a notable jump to version 2.0 today, bringing with it new features and a slightly different business model. Version 2.0 brings Quickdrawer, Covers, Shutters, Quicksearch and Quickpage out of beta for everyone to use, and also introduces a free version of Action Luncher.
Previously you had to go all-in with a $3.99 purchase of Action Launcher, but you can now get a taste of what it's all about for free and simply pay to unlock the "Pro" features at a later date. Those who have already purchased Action Launcher will have their version turned into an unlock key, and be prompted to download the most up-to-date version of the "free" app to get the latest features.
To celebrate the release, the Pro version is 50 percent off for a limited time as well, meaning you can pick up all of the latest features for just $1.99. You can take a quick video look at the latest version after the break, or head to the Play Store to download Action Launcher at the link above.
Source: +Chris Lacy
Andrew was an Executive Editor, U.S. at Android Central between 2012 and 2020.
looks pretty slick...may have to check out the free version.

It IS pretty slick - I bought it 3 weeks ago for $4 which is a lot for a launcher but it's a really great one.

Agreed, but what features does the pro have that the free doesn't?

The free version is new and were released today. I think it's a trial. Posted via Android Central App

1-Swipe: access the Quickdrawer and Quickpage from any app on your device, whether Action Launcher is running or not.
Enable 1-Swipe - access the Quickdrawer and Quickpage from other apps!
Use icon packs
Change the icon scale
Change individual icons
Hide apps from the Quickdrawer
Use Shutters in a folder
Change the widget used in a Shutter
Change the Quickdrawer and Quickpage backgrounds
Remove the upgrade incentives throughout the app
Access to future features such as displaying the unread/notification count

It's pretty much the only launcher with any real unique features. Far and away my favorite. derp

I would say that Aviate is about the most unique launcher, but not as polished as Action. Well worth the purchase.

It may be unique, (aviate) but I can set my phone up better than an algorithm in a program. Plus, I've never found a use for most location based settings, except when I need to navigate somewhere. Mehh

Larry Page is his frequently called contact.. lol..

I love this launcher on my phone. Not as great on my tablet, but then there's the bigger screen to deal with of course!

Funny, I use it on both of my tablets but I've switched to Aviate for my phone.

Tried this launcher about four times....I just can't get into it. Editor in chief of Futureproff.com

It's a bit like meth, try it a 5th time, you'll be hooked for life.

I bought this a couple months ago. May install this later tonight.

Warning. Launcher doesn't show in app store via device, just yet. You need to use a computer to send the installation to the device. The Pro version is now just an unlocker, and will nuke your device if you upgrade pro to pro. The pro contains a link to the new 'free' launcher, which is the base, but the link is dead. /found out hard way.

I got it to download via my phone just fine.

Just make sure you have another launcher that works. derp

the pro version was pushed out prior to to the free. and it required the free as the base. I happened to be one of the lucky few (read the reviews from today, https://www.androidcentral.com/e?link=https2F2F...) that hit it at that time. /noderp, punctual, autoupdates.

Yep I hit it then too. I froze the stock launcher (guess that was a dumb idea) so now my device is stuck at the boot animation. I'm gonna try to uninstall TIBU with adb to see if I can avoid a factory reset. Posted via Android Central App

Great intuitive launcher. Posted via Android Central App

So I wonder how many people have tried calling "Larry Page"? Anyway, glad to see Chris is doing well enough with Action Launcher that he can change things up and offer a free version for people to try. I know he's caught a lot of grief over time about how much Action Launcher is. Though it's not priced much differently than most other launchers full versions are. Keep up the great work Chris! www.STLTechTalk.com

Did he finally add the scrolling dock? Posted via Android Central App via bad azz VZW LG G2 ROOTED!

It also needs an gel-like way to add additional homescreens Posted via Android Central App

I knew I should have held off for a sale someday. Posted via Android Central App

awesome update but how the hell do you add apps to the quickpage, in that gray square? when i try it just moves the app above or below the square

The square is a "recents" widget

o ok yea i see that now. thanks!

I just dragged the widget or app across the main screen to the right, and it put them into the box

Really buggy, I don't have time for this! Resets my doc when I make setting changes and widgets are acting weird on resize.

Maybe I'm blind but I don't see an option or feature request to add custom icon to folders? That would have kept me from purchasing had I remembered to check before buying (I know, picky). Otherwise it's a great looking/feeling launcher. Posted via Android Central App

On you folder there is a 3 dot menu on the bottom right corner. Change the folder to a cover, now whatever app is the first one, it shows up as the icon. Press the folder to open that first app, swipe up to open the folder. Works pretty awesome.

Do I delete the free version?I brought the pro version and accidentally downloaded the free version. Posted via Android Central App

The Pro is just a verification key essentially. You need both installed. I haven't used it since one of the recent betas. Been using the GEL to change things up. Installed the Pro version first and it verified I was a Pro owner, then directed me to download the free version. www.STLTechTalk.com

broke knock on on my G2 and was too late for a refund

Nova Launcher does that as well I believe. www.STLTechTalk.com

I've always been impressed by Action Launcher's features, but they just don't fit into my usage style/scenarios.

I bought it the week it was released and loved it since!! Usedbon all devices for the entire time I had them! Its clean quick and slick if you put only one home screen it makes things even quicker Posted via Android Central App

Installed on my TMO LG G2, lost tap on tap off function when I'm on the home screen. Please don't take my knock on away!! Sorry, have to uninstall. That's a shame it looks smooth!! Posted via Android Central App

Love the update but lost my Android Central widget it's not in the drawer? Posted via Android Central App

Restart your phone, see if that fixes it.

I'm rather disappointed that the ability to use icon packs is considered a Pro feature. It seems like such a basic feature.

It's one guy, and I'm pretty sure he quite his job to dev full time for this one app, so I think you can cut the guy some slack.

You should try unicon if you're rooted and have xposed framework installed, it'll change your icons to whatever icon pack you choose system wide rather than just the launcher Posted via Android Central App

So I tried it again and there have definitely been a lot of changes made. Its becoming more if a skin seeing how I can interact with it from other apps. I like it....we'll see how long this last. Editor in chief of Futureproff.com

New version is nice, BUT UPGRADE WAS NOT SMOOTH. I lost all of on screen my widgets and has to set them up again. Do a backup just before you update and I wish you better lunch. The upgrade is worth the pain.

I am now giving action launcher a blast and i like it-although alot of features are for pro only which makes sense from a developers perspective so wont moan about that. Its smooth and responsive so a well done to chris keep up the great work. Posted via Android Central App

this launcher is amazing , i'm using it on my Note 3 SM-N9005 and i can't find anything i would criticize , but the list made by TopTipsAndroid is amazing check it out guys http://www.toptipsandroid.com/2014/01/12/top-11-android-launchers-home-s...

Would really like to get it need a good phone I'm Disabled sonic really need one for me
Android Central Newsletter
Get the best of Android Central in in your inbox, every day!
Thank you for signing up to Android Central. You will receive a verification email shortly.
There was a problem. Please refresh the page and try again.