Acer Iconia B1 hands on and initial walkthrough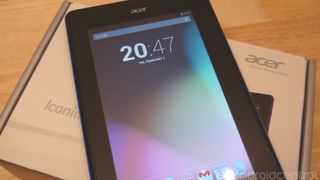 A whole lot of plastic. That's what £99 buys. And sadly that's one of the biggest downers on the new Acer Iconia B1. But, we'll come to that shortly. When the Iconia B1 was first announced, the biggest draw to the tablet was its sub-£100 price tag, and the fact that for this money you were getting a tablet from a recognized OEM. We all yearn for cheaper tablets, and Acer has delivered, but as you would expect some sacrifices have had to be made. Acer isn't kidding anyone though, squarely aiming this at first time users and children. But, is it a total washout? Click on and we'll take a first look at Acer's new budget tablet offering.
The one area where no sacrifices have thankfully been made, is in the software. The Iconia B1 runs Android 4.1.2 Jelly Bean, so while not the very latest version, it's a lot closer to it than some other devices that cost a lot more money. Sadly though, no amount of Project Butter is going to make for a silky smooth experience on the Iconia B1.
And that's because one area where sacrifices have been made, is the internals. The Iconia B1 houses a 1.2GHz Mediatek dual-core processor, and just 512MB of RAM. It isn't a complete disaster, but there is a noticeable lag when navigating throughout the UI, jumping in and out of apps, even when rotating the screen. For someone buying this as their first Android tablet, this may not be so obvious or difficult to live with. But, anyone who's ever touched a Nexus 7 will notice almost immediately.
One other key sacrifice made in creating a Jelly Bean tablet for this price point, is the screen. The 7-inch display sits at 1024x600 resolution, which isn't a complete surprise, nor the most disappointing thing about the tablet. Sadly, harking back to days of old such as the Iconia A100, the viewing angles on the Iconia B1 are just horrible. Ignoring the cheap feeling plastic exterior, ignoring the slightly laggy user experience, the viewing angles are the single most disappointing aspect of this tablet. And, sadly, that is something that even a first time tablet buyer will notice.
So, is it a step too far? Is it still too much to expect a decent tablet at sub £100 money? Perhaps, but we're not going to judge the Iconia B1 entirely on our first hours with it. So, we'll hang on to it, put it through a proper review, and see what it's really like to live with. In the meantime, enjoy an initial video walkthrough of the Acer Iconia B1.
Android Central Newsletter
Get instant access to breaking news, the hottest reviews, great deals and helpful tips
I've purchased one of these for my 10 year old niece. I've got a Nexus 7 and it certainly doesn't compare in terms of fluidity and quality. However, for a 10 year old or a first time user who is pretty much going to use it for web surfing and maybe some fairly basic games/apps, it's a steal.

Just like sabre1982 said, a seasoned Android user might not be happy with this tablet but I have two boys and I purchased them 2 Acer A100 tablets for Christmas used and they are perfect for them to play games on. That is a smart market to go after with this inexpensive tablet.

the reviewer is so sad that I almost feel his pain of seeing Android on such device

I've got one of these, its very good. Its well made and the finish is excellent. It's quick, the screen is fab and jellybean is great.
I prefer it to my tab 2 and half the price.

i want to root my b1 a71for install fonts and other apps.
but that is not allow. help me' pls. that is great to use tablet b1 a71. i like it.

This has worse specs than the Acer Iconia A110, which was released last year. What the hell? You'd expect a newer product to have better specs than the older version.
Android Central Newsletter
Get instant access to breaking news, the hottest reviews, great deals and helpful tips
Thank you for signing up to Android Central. You will receive a verification email shortly.
There was a problem. Please refresh the page and try again.