Accessibility features in Android 5.0 Lollipop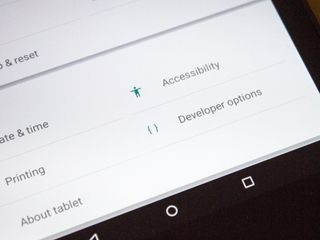 Much of Lollipop's accessibility features are unchanged from KitKat, but there are a few new bits inside
With Android 5.0 Lollipop comes a whole bunch of accessibility features for those who need to use them. While many have been carried across from previous versions of Android, there are some new things inside that will open things up to a new audience who perhaps struggled to use the platform before.
This is just the base of what's going to be on Android devices from Lollipop and up. Device makers can build upon this as they desire. But, read on to see an overview of what's what in Android 5.0.
A video walkthrough
The features
In one handy list, here's an overview of everything you'll find in the Lollipop accessibility menu. The old and the not so old.
Services
Talkback: Google Talkback will give you verbal, audio, and vibration cues by acting as a built-in screen reader. It's perfect for the visually impaired and can be activated with ease from inside the accessibility menu. For more on Google Talkback check out our complete guide here
Switch Access: A new addition for Lollipop, it allows you to configure hard buttons to perform certain tasks to enable better navigation for the visually impaired and makes a pretty powerful tool when paired up with Talkback.
System
Captions: Enables the system wide closed caption system for videos. Having been introduced in KitKat it's still possible some users haven't had chance to try it out yet. It allows videos to display captions based on the parameters decided upon here, and you can change the text size and color within set parameters.
Magnification Gestures: Magnifies the entire system UI. Activate by triple-tapping on the display inside any apps on the device, pan around using a two-finger drag and zoom in/out further using pinch-to-zoom.
Large Text: - If you just want the text bigger, everywhere, activate it here. You don't get to choose how much bigger it is, but it does exactly what it says it will. You can fine tune the text size further in the display options.
High Contrast Text: Instead of making text bigger, this will highlight items that are naturally more difficult to read for visually impaired people. White text (regardless of the background color it sits on top of) will be outlined in black and lighter colors such as grays are made black so they're easier to see.
Auto Rotate Screen: Duplicated from the Display menu. Sets the display to rotate to landscape mode whenever you need it to. However not all apps will work in landscape mode, sadly.
Speak Passwords: Exactly what it says it does. Use only if you really, really need to use it and please use it with caution even then.
Accessibility shortcut: This will allow you to quickly enable accessibility features, even while the device is locked.
Text to Speech: This allows you to choose the text-to-speech engine of your choice, where Google's is the default. Even then you've got languages galore to choose from and even the ability to pick male/female voices and the quality of sound you want to hear. Downloading a UK English female voice in high quality was around 280MB by example.
Touch and Hold Delays: For those with dexterity issues, how long you need to press and hold to complete actions could be an issue. This allows you to alter the duration required to three different settings.
Display
There are some new options for Lollipop designed to assist those with visual impairments related to color.
Color Inversion: Google currently labels this as experimental and says it may affect device performance. In any case what it does is flip the entire device color scheme to the inverse. It works across the whole system UI and inside all applications. You can quickly turn this on in the quick settings by pulling down the notification bar with two fingers, then tapping on the icon.
Color Correction: We touched on this when the first L Preview dropped, though for whatever reason Google has since reduced the number of options from 6 to 3. In any case, there are options to change the display mode based on different types of color blindness: Deuteranomaly (red-green), Protanaomaly (red-green) and Tritanomaly (blue-yellow)
Screenshots taken and shared in any of these display modes will not reflect the changes you've made, so anyone else will be able to view them without any color correction. As such we've tried to capture them on camera which you can see in the gallery below.
Image 1 of 5
So, that's a quick run through of everything Google will be including in Android 5.0 Lollipop. Your phone – either pre- or post-Lollipop update – may have more to offer, and that's even better news. But Google's doing a better job than it has before with Lollipop, that's for sure.
Get the Android Central Newsletter
Instant access to breaking news, the hottest reviews, great deals and helpful tips.
Excellent article, and some great new accessibility features! I'm especially looking forward to the high contrast text and the colour inversion mode. Posted via Android Central App

Color inversion may help save on battery life if you can make backgrounds black and text white. Posted via the Android Central App

Only if the display is an amoled.

Actually, color inversion DOES save TREMENDOUS battery power. I use reverse rendering on my galaxy s3, iphone 4, and both my macbook and imac. If you're reading plain text, it does save tremendous battery power. I don't think it matters what kind of display it is. It's only really useful for reading plain text on websites and ebooks and stuff like that.

Captions are great for hearing impaired people like me Posted via the Galaxy Note 4

In my opinion somewhere that Android lags behind iOS is in accessbilities Posted via the Android Central App on Hammerhead running C-Rom

What are some features that iOS offers but Android lacks? I'm not as familiar with accessibility features as I should be. Posted from my Nexus 5, behind seven proxies

I think his comment were purely subjective.

Well that's what an opinion is! (: Posted via the Android Central App on Hammerhead running C-Rom

iOS has assistive touch built in, allowing control of hard buttons and gestures using one finger on the touch screen (for people with dexterity problems).
They are always 1-2 years ahead of Android with introducing accessibilty features.
One feature that iOS does lack is the ability to use a mouse... Many people can reach the screen but can use a mouse device e.g using their head, which android supports. Would be great if the cursor size was adjustable though!

IOS has implemented an interesting rotor feature which is context sensitive. Once you trigger it and bring it up on screen, you can quickly switch between different options using the rotor. From what I read, from a coding point of view, Android provides less handles and properties for handling different screen content. So it remains easier for anyone to develop more accessible apps on IOS than Android. I hope this changes quickly since I am an Android fan.

My LG G2 has color inversion, and very customizable color change options. Including some stuff that seems useful but I still don't see listed here. I am assuming many other manufacturers have also implemented these features already. Finally Google bakes them in by default. I would have liked to see Google get ahead of this to make sure nearly everyone has some options to make using a smartphone easier.

great write up!
not going to object to lollipop update, though being on amoled, I'm hoping for a dark theme, and not necessarily the color inversion option which will not only change white to black but red to green, blue to orange etc.
it would be great to benefit from the software enhancements in 5.0 + project volta, PLUS a dark theme

Is this for Android? Except for the color blindness option, all of this are EXACTLY how they are on iOS. Even triple clicking to turn certain accessibilty features on/off.

Good. Ideally all accessibility features should be accessed the same way across all platforms to make it easier for those who need them. Incidentally the triple tap magnification gesture has been around since about 4.2.2, it's not one of the new features. Posted via Android Central App

And everyone should have blond hair and blue eyes.
European roads should switch to driving on the right side.
Women should learn to put the seat up when their finished!
Eff, be together, not the same.
Different needs for different folks.... But yeah, tequila and standards are great!
We should create an alchy accessibility option that doesn't let people like me speak on forums while drinking!!
And empose that on all platforms too!
Blah, blah!
Boobies Giggitty

Congratulations, you just won my biggest douche award. Drink or not, only a true arse hole could equate thinking all accessibility features should work the same way so a disabled person can use it without needing to relearn them with Nazism. I'll go on the record though as saying I have blond hair and blue eyes, but prefer brunettes or red heads (dat Karen Gillan doe). And I'm British so if anyone changes sides it should be the yanks. Once again, arse hole. Posted via Android Central App

GIGITTY, short for gig-a-bytes, (ouch), WONGA

possible correction: I think switch access is for people with physical disabilities? Usually switch access refers to physical buttons used by people with limited dexterity or mobility. p.s. check out http://inclusiveandroid.com for Accessibility and Disability related information related to android p.p.s. one has a visual impairment - or is vision impaired - if you use the term visually impaired you are calling people ugly - i.e. that vase is visually appealing

Looking forward to the colour correction feature Posted by my Nexus 7 (2013)

Has anyone received the new "LOLLIPOP UPGRADE" in the U.S. yet, ( or anywhere else for that matter. I waited several months for the 4.4.4 , so I'm curious how fast this rollout will be. Seems I hod the 4.4 only 2 months & heard about the "L" upgrade???!! WONGA

I'm glad there is some more fully featured color blindness modes :) Posted via Nexus 7 2013 or verizon Galaxy S5 or maybe one day through my moto 360

The section on Switch Access needs a major correction. As with Switch Control on iOS, that feature is primarily intended for people with physical and cognitive difficulties who rely on external adaptive hardware to control the options on a touch screen. The fact that this feature has been added in 5.0 is a big deal, and could have the same impact on the people who need this technology as TalkBack and VoiceOver have had on those with visual impairments. Switch Access could use better usability from my initial trial of it, but kudos to Google for a good start and for including this feature in 5.0.