8 things to know about the Galaxy S6 edge+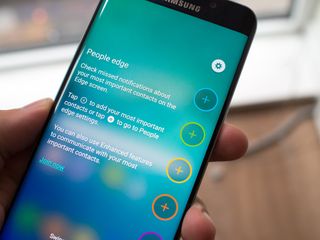 Perhaps the Galaxy Note 5 has picked up more attention because it's changed so much from the Note 4, while the Galaxy S6 edge+ is a relatively known quantity, but it still deserves some attention. Sure it's just a scaled-up version of the Galaxy S6 edge that launched months ago, but it also packs the new specs and features that came with the Note 5 — which definitely gives something to be excited about. Here's what you need to know about the Galaxy S6 edge+
Read now: 8 things to know about the Galaxy S6 edge+
It's a bit bigger than the GS6 edge
The "plus" is the addition to the name, and that gives you a good indication of the phone being a bit bigger than the original Galaxy S6 edge. With nearly identical designs the bump from a 5.1-inch screen to 5.7-inches is the only real change, but it's a noticeable one when you hold it in your hand.
It's a bit tougher to reach across the Galaxy S6 edge+ than its smaller variant, but the edge screen activation area can now be moved up and down the edge to better accommodate where you want to hold it. Of course you may just have to rely on using both hands for some tasks, but you get the upside of a larger screen and battery to go with it.
This is the same great camera as the Galaxy S6
There's been no shortage of good things said about the camera experience on the Galaxy S6 edge, and the S6 edge+ has the same setup. You get a 16MP sensor, but this isn't just about the number of pixels — it has great low light sensitivity, is supported by OIS (Optical Image Stabilization) and a simple camera interface that makes taking pictures quickly and accurately a breeze. Add in the ability to launch the camera at any time with two presses of the home button, and you've got a winner.
The Galaxy S6 edge+ does have a few extra camera software features over the Galaxy S6, though — including RAW capture in the "Pro" mode, better software video stabilization, and the ability to set manual shutter speeds — between 1/24000 and 10 seconds — in the Pro mode.
Multitask all you want with 4GB of RAM
It was a pretty easy guess that phone makers would start to move toward 4GB of RAM in phones, and Samsung has done just that with the Galaxy S6 edge+. Bumping up from 3GB in the first GS6 edge, you now have just a little more room to work with when it comes to playing intensive games, running multiple apps at once and keeping background tasks active while jumping back and forth between them quickly.
But perhaps most importantly, having 4GB of RAM inside the Galaxy S6 edge+ means you have that extra bit of headroom to know your phone is ready for the future. Whether it's bigger and better apps or full software updates, one or two years down the road you can know that you have enough RAM to handle what's coming next.
Though the screen is still 5.7-inches, you can see more
Unlike previous big-screened phones from Samsung, the Galaxy S6 edge+ actually keeps the same display density as the smaller GS6 edge. This means that items displayed on the screen are the same physical size as they are on the GS6 edge, so you just get more of them on the larger screen.
It's a bit easier to see than explain, but the end result is clearly a bonus — more items can be seen at once in Gmail or Hangouts, and interface elements shrink down a bit so you can see a bit more of the important content on the screen. It can take some getting used to if you've used a previous Galaxy Note device with a big screen, but this higher density means you're really getting the most out of the 5.7-inches you have to work with.
There's quick charge, both wired and wireless
The Galaxy S6 edge+'s 3000 mAh battery may not be removable, but there are good options for charging it. Samsung's latest fast charging technology will boost your battery quickly when plugged in so long as you have the proper charger (like the one in the box).
There's also wireless charging built-in, and going a step further than the Galaxy S6 edge the S6 edge+ supports fast wireless charging on compatible chargers. You can still expect wireless to be slower than an old-fashioned cable, but you just can't beat the simplicity of just placing it on a charger for a quick power-up.
One-handed usability options
The Note series has packed additional features to help you manage the large screen by adjusting how things are displayed, and now that the GS6 edge+ has a large screen it too has the options. Jumping into the settings you'll also find two one-handed operation modes that will help manage the screen size.
First up is "Reduce screen size," which is activated with three presses of the home button. It shrinks the screen down (proportionately) to roughly half its usual size in a window, and pulls it over to either the left or right side as you choose. The window stays this size until you tap a button to restore it, so you can hopefully do what you need to do while you can reach the whole "screen" area.
Next is "One-handed input," which is a setting that permanently shifts areas of the interface down and to the right or left corner. The dialer keypad, Samsung keyboard, in-call buttons, calculator and lock screen pattern area are all shrunken to be easier to use, and they stay that way until you go back to the settings.
Both features make it a little easier to deal with the large screen, but they're both a little clumsy and are only useful for a handful of interactions with the phone. There are still lots of things that will best be dealt with using both of your hands, or at a later time when you have better control over the phone.
The S6 edge+ is ready for Samsung Pay
Just like the Galaxy Note 5, the GS6 edge+ is ready to go when Samsung Pay becomes available to the public at the end of September. The new payment system aims to let you leave your wallet at home, by storing all of your credit, debit, gift and loyalty cards securely in your phone. With a combination of NFC and MST (Magnetic Secure Transmission) technology, your payments will be accepted pretty much anywhere you can currently pay with a phone or card.
You'll have to wait until the end of September to use it in the U.S., but know that when you get a Galaxy S6 edge+ you'll be ready to go if you want to be one of the first to try out the new payment technology.
The S6 edge+ is downright expensive
The Galaxy Note 5 is in itself a hefty price jump over the Galaxy S6, and somewhat surprisingly the Galaxy S6 edge+ commands a higher price than even the new Note. The GS6 edge+ will set you back somewhere between $720 and $890 for the 32GB version, and you'll pay $100 extra if you prefer 64GB of storage.
Sure it's helpful that the carriers offer some sort of financing to spread out the cost of the phone over several months or even two years, but the total cost is the same — and that's a high price to pay for this shiny and curvy phone.
Android Central Newsletter
Get instant access to breaking news, the hottest reviews, great deals and helpful tips
Andrew was an Executive Editor, U.S. at Android Central between 2012 and 2020.
Lol Andrew, you're getting paid by Samsung too many articles /s. Posted From my Nexus 6/Nexus 7 2013/Surface pro 3

So what's the count now? Jerry's being paid by Moto, Andrew's in Samsung's pocket, Russel's palms are being greased by OnePlus, and Phil used to be working for HTC until they laid him off during their restructuring. ...I really hope a /s isn't even required here.

Well nowadays on this site I'd say the /s is required I've been on this site long enough to remember a time where you didn't need it and the only real troll was yarell Posted From my Nexus 6/Nexus 7 2013/Surface pro 3

Sadly, you are probably very right.

And he wasn't even a good one, he was way too obvious about it. Posted via the Android Central App

That's what made it funny tho Posted From my Nexus 6/Nexus 7 2013/Surface pro 3

I know but he needed to rotate his canned responses a bit more, they got kinda stale. I wonder if he got booted again? He was on here not too long ago... Posted via the Android Central App

He's been trolling around three other websites with the same exact comments. Old and tired. Posted via the Android Central App

Hmm I thought it was only AC Posted From my Nexus 6/Nexus 7 2013/Surface pro 3

No he actually wrote some articles for another Android site. At least one or two. But he trolls a lot of them.you guys think I post a lot, imagine it times 5 Posted via the Android Central App

Yeah, I had thought he was a dummy account of one of the regulars around here for a while, but then I saw his comments on some other Android blogs that I look at infrequently. I really hope no one around here has that level of dedication to a bad schtick.

I've seen him on You-tube videos of Samsung device versus other devices and also yahoo and msn comments sections about everything and anything Samsung. At this point, I honestly think hes getting paid by Samsung so spam as much as he can.

Samsung is the GOLD standard, nothing else matters! Posted via my 1 year old One that's begging to be replaced.

Those prices are outrageous

Well when you factor in the value of all the carrier apps added, it does help justify the price.

Haha! Posted via the Android Central App

Not really when u compare to the s6e at launch, I just looked it up and I paid 849 for my 64gb s6e on sprint. That's practically the same but for a larger battery, screen and more ram

Almost $1200 CDN for a 64gb edge+. If I'm spending that much money, I'm getting a nice laptop instead. Posted via my 1 year old One that's begging to be replaced.

Especially when you consider that it is the exact same phone that was released six months ago, with 1gb extra storage and a bigger battery, and a bigger screen, the rest is a 6 month old phone

$990 for the 64GB version?!? No thanks.

864 on Verizon for that 64gb. What carrier is that? Posted via the Android Central App

Pretty much "8 things why youre crazy enough to buy this when Note 5 is a better option" Posted via the Android Central App

Or you can just come to your senses and get a better software experience on 300 to 400 dollar phone than a 900+ dollar phone I'm ready for the hate Bring it Posted From my Nexus 6/Nexus 7 2013/Surface pro 3

No hate from me, no way this phone is 500 dollars better than Moto X Pure Edition. Posted via the Android Central App

$500 better is in the eye of the man with the debit card. If this was an updated note 4,continuing on that same path, to me it could be worth it. Unfortunately the note 5 isn't that Posted via the Android Central App

True, thankfully there are many options available today unlike two or three years ago. It is a good time for smartphones, plenty of competition. Posted via the Android Central App

Agreed. Sammy, comes up with the craziest prices for their phones.

Totally agree. Definitely waiting for the Nexus. Why pay all that for a phone that's loaded with a bunch of apps I don't want or can't remove, slowish to get updates, and basically hides Lollipop. The fact that they are able to lower the price on the S6 & S6 edge pretty significantly means these things are way overpriced. Lower the price by $200-300 at least, and make apps I don't want removable and then we can talk.

No hate here. Just the opposite in fact. 1k for a smartphone is insanity. Posted via the Android Central App

I agree, the moto play looks pretty good to me, even cheaper, even bigger battery and supposedly an amazing camera that will turn out to be average but who cares its a $300 phone

if I had to get a 2015 Samsung it'd be this one ... over $1000 after taxes is just ridiculous though. I'll grab a pure, moto g and Chromebook for that price.

I can agree on that Posted From my Nexus 6/Nexus 7 2013/Surface pro 3

$200 price drop within 90 days. Mark my words........and it'll still be overpriced.

Correct! I am looking at $300 - $350 total reduction of the 64GiB version by the US Holiday season. Even at those prices they won't be able to move enough to make money.

oh they'll make money, they'll probably fall short of their own expectations though, but make no mistake, Samsung is making money. there are just so many options now, and for half the price you can get a great device, so the high end smartphone market is a difficult one. people also don't see the need to upgrade as often as they used to. this would hold true no matter what features Samsung included this year. would they have sold more or less if they added or removed certain features? who knows. but those are facts and just like TVs, laptops and tablets, the inevitable cycle is slowly creeping in.

Lol... Kinda off topic. My wife gives me that look 1-2 times a year when I get a new phone. Just the look but let's me do it anyway. Not tat she really has that much of a choice but she could make a stink. When it comes to the TV I use the most though, I am not allowed to replace that until it dies. It is almost 17 years old now and just keeps ticking. I told her that I would give a phone buy up and spend the money eyes on the TV, but nope no dice. It has to die, or no flat screen. Posted via the Android Central App

You should let her know how much electricity that old TV is wasting! Posted via the Android Central App

I still see the s3 in stores, and it's still overpriced

I have had the S3, S4, S5, and all the previous Notes. I even have a Samsung smartTV. These new phones are sorry disappointments. They truly are downgrades from the previous models. None of the features that made the previous models grear are available. You can't even expand the memory. Samsung really dropped the ball. If the next generation is just as bad I am ditching Samsung for another company.

I've had the the S2, S3, S4, S5, Note2, Note3 and Note4. As well I have the Samsung Smart tv. Myself am disappointed in the direction which Samsung is taking with their newer smartphones. I like having a removable battery for the days I use my phone more. Sorry, but sd card expansion is much safer than a cloud for putting my pictures, videos, documents. Posted on my Samsung Galaxy Note 4 on the AT&T Network.

Ya, they're downgrades with far more powerful SoC's, GPU's, internal memory, better cameras, better displays, and higher build quality. Lol !! Essentially you think they're downgrades because they don't have a cheap plastic removable back for battery access or expandable storage. A downgrade in functionality? yes. Everything else the N5 is packing is superior to its predecessor

That price is outrageous. The only phone I'm going to recommend is the Moto G 2015. Posted via the Android Central App

I always do it by price point when asked. Then give 1-3. That's just me though, I try not to just give stock answers Posted via the Android Central App

I hear you Posted via the Android Central App

I'd never pay that much for an android phone. I did it once for the 64GB iPhone 6 Plus and still had some regret, but at least iPhone's hold their value better. Posted via the AC app

Just left best buy after handling both new samsung phones and the pics of the S6 edge plus and the note 5 don't really do them justice. Both are great phones and I'd be happy to own either one. If I could find someone to buy my s6e 128gb model for close enough to what I paid for it I'd jump on the s6e plus 64gb model I really need more storage but could find a work around... it sure is a knock out in person though. Posted via the Android Central App

Same exact feelings here, the photos are only thing, but hold it in ur hand, especially the gold one and wow. It's a beast. Ram management seems better (only tested for 2 mins but still), and the extra ram and slightly higher clock speed with a bigger screen make it a worthy upgrade from my s6e 128. Lucky for me tho, I can trade mine in and jump without paying anything but tax :) Posted via the Android Central App

Exactly what I did. Sold my older phones, plus a $300 credit from AT&T for a separate matter, and I receive my Note 5 by Friday, pretty much for free. The Edge+ really is gorgeous though. Almost went with it instead. Posted via the Android Central App

You all are lucky I just switched to tmobile 2 months ago so if I want to jump I have to give them back the S6 edge and 300 bucks to jump. Or pay them 720 bucks. So if I could get 625 for the phone I'd pay the extra 100 for the S6 edge plus. Just posted my s6e 128 model for sale on a couple of places so wish me luck lol. Posted via the Android Central App

That is a ridiculous price. With carriers doing away with subsidized phones, it's hard to see these prices sticking about. My gaming laptop costs less than that. Posted from the LG G4 "Spigen + Anime" Edition. Wait, what?

It's not really that much if you use your phone as much as some people do. I can't think of any device I depend on or use as much as my phone... so I want it to be a phone as nice, dependable, and as powerful as I can get, and I like many others will pay a premium for it. Posted via the Android Central App

There's only one glaring issue. The Moto X Pure can do 98% of what the S6 Edge+ could do at nearly half the price. We're not going to include specs here as on a phone, the UX matters more than just raw specs. Posted from the LG G4 "Spigen + Anime" Edition. Wait, what?

One of the biggest reasons I like samsung is they always have the best displays. Like I said I use my phone alot which means I'm looking at the display alot. So the best display means alot to me. It's all personal preference and what the person buying it perceives it's value to be for their own reasons. Posted via the Android Central App

That was the whole reason I got my first Samsung phone (the now ancient Epic 4G) -- the display. Been hooked on their displays ever since.

You're right. Samsung's AMOLED displays are the best in the mobile industry. Second to none and without an equal at this point

You guys are spot on nobody does displays like samsung and they've gotten better with every year . When I look at the panel of my gs3 and then the one on my gs6 edge it's almost laughable . The difference between the two. Which is what hook me on samsung in the first place . Now they have the build quality to go along with the best screen in the business , it's what make it hard for me to even consider any other phone no matter the cost difference. These phones have become to personal to our lives ,there more then just something to talk on . Don't get me wrong I've tried other phones but for me they don't have that it factor . And buying something simple cause it's cheaper means I'm just settling for something I really want and then second guessing myself for the next year . No knock on the other phones hey buy what you can afford but for me samsung is the gold standard love them are hate them Posted via the Android Central App

I'll let you guys know how cool the display is after I test drive the Note 5 that I'm fixing to win. Posted via the Android Central App

I do like their current displays as I think their previous ones are over saturated for my taste. Posted from a metal Nexus

I saw your OG comment about the TV, BTW. That wasn't my point. My point is that I can splurge $5000 on a 4K TV that has all the bells and whistles that I can't list on a receipt but I can also buy a $2500 TV that's also 4K but doesn't come with every bell and whistle, but has most of it. It depends on whether the extra is worth it to you. Personally, I don't think so, but to each his own. I personally think the X Pure is better value because it does most of the things the Edge+ could do at a far lower price while also having similar specs. It's not the best phone nor is it the most advanced, but considering the price, it's better value, to me anyway. Though with carriers doing away with subsidized phones, the value equation becomes more important to consumers. I can afford an $800 smartphone, but do I need to splurge that much cash when there is another phone out there that has near-identical specs, a similar experience and costs a lot less? It's a question I ask every day and it really depends on your preference. Posted from a metal Nexus

Look at it another way. When I got my s6e with tmobile it was 30 a month the next best android phone was the LG g4 which was about 25 bucks a month. That's only 5 dollars a month more for the s6e which in my opinion is a much better phone... now if it was 50 dollars a month more for the s6e I might balk at that price, but 5 dollars a month difference is negligible and I don't consider it splurging. Posted via the Android Central App

That is true. However, I'm looking at it from another viewpoint. The G4 was $600. Now, it's around the $450 mark. The Moto X Pure is $399.99. I think $400 vs $820 (AT&T) is a pretty big difference to many. While monthly payments will alleviate the pain, the bottom line is that you're still gonna have to pay the entire price of the phone. Really, though, it depends on your wallet and whether you think the phone is worth the premium. I don't think Samsung's latest phones are terrible. The complete opposite, actually. I just don't see those prices sticking about for much longer. Of course, my G4 was paid for upfront, so I'm coming from a different viewpoint completely.

You hit the nail on the head most finance there phones anyway . How else would 17 year old afford new iPhones even year . Personally I pay cash for my phones but usually have a nice trade are I sell out right and I buy most my phones from best buy when they have a promotion . Right now the note 5 has $200 off plus my trade out of pocket less then to bills . The difference between 500 and 700 phone when making payments is less then $8 . There's no way in hell I'll deprive myself the phone I really want to save 8 bucks haha I've never been that cheap . I'm little puzzled by all the rave about the moto pure for $399 . The moto g has been around for three years now and is much cheap . That's a good phone just saying if you really want to go on the cheap Posted via the Android Central App

With that being said it boils down to someone's personal preference and what features they are willing to pay more, or less, for. We both got our points across about different perspectives in a healthy debate that didn't deteriorate into fan boy trash talk. So it's a win win for both of us... good debate :) Posted via the Android Central App

Heh, thanks. It was a pretty good debate, as we shared some key points from different sides. I dislike fanboy trash-talking because I feel that it always goes on forever and there is really no settlement to it, so I'm happy that our debate has gone pretty well. :) On a side note, AT&T still has subsidized phones, and the Edge+ is $299.99 with a 2 year contract.

I fill the same way to each his own . Most will finance the phone anyway . Last year the note 4 was $850 and folks at my local best buy waited in line to pick up there phone . And don't even get me started talking bout the zoo at best buy when the iPhone is released. I personal love the latest premium phones and don't ever considered anything else but that just me . That's the beauty of android there's always a moto e for you guys that want to save a few bucks . Me I'm waiting on Friday mourn for my note 5 . My only regret is I got my edge 6 before I knew the plus was coming there the same price ...damn . By the way the n5 is $140 cheaper then the n4 if it'll make you fill any better Posted via the Android Central App

Lol yeah I feel the same way about getting the s6e before I had even heard of the s6e plus was coming out. That is my only regret about the s6e because it is an awesome phone. I just would rather of had the s6e plus because if the bigger screen and would have purchased it if the s6e and the s6e plus had been released on the same day. I been trolling official samsung posts on Facebook saying the exact same thing. You should be able to buy a flagship and expect for it to be the top dog for at least 6 months before they release a new version. Posted via the Android Central App

S6 Edge + is just a larger piece of crap compared to the S6 Edge piece of crap. Posted via the Android Central App

Is it just me or is this article basically a copy/paste of the "10 Things You Should Know About the Galaxy Note 5" one Posted via the Android Central App

After my shaky experience so far with S6 , I'm laying of a new Samsung phone for quite a while until I see things improve. My concerns with the S6 Edge Plus Are: - Ram Management: My S6 has 3GB but doesn't use it. It kills all my apps in the background and my games constantly have to reload. I don't see the S6 Edge Plus making any better use of 4GB if the same aggressive RAM management is being used. - Battery life: My S6 has poor battery life, unless you turn the screen brightness way down, and turn off all the bells and whistles of Google's services and even Touchwhiz. The S6 Edge Plus has a much bigger screen, yet a minimallly larger battery. Sounds like a recipe for disaster. - Price: I bought the S6 32GB for just under $700, which was expensive. Not even 2 months later discounts of $200-$250 were everywhere. I expect the same to happen with the S6 Edge Plus. - Performance: The S6 can be great one moment, and then take 10-20 seconds to simply redraw the Home screen or load Messages. It's wildly inconsistent, and it baffles me that a processor with 8 cores can stutter like this frequently. It's inexplicable. I do love the quality of Samsung screens, and that is the only thing that keeps me interested. But there are big tradeoffs and if Samsung would get it's act together, there really shouldn't be.

I JUST WANTED TO LET ALL THE S6 EDGE + THAT IF YOU ARE LIKE ME AND LOVE THE S PEN. I FOUND A WAY TO GET A WORKING SPEN. VERY SIMPLE USE THE TIP OF A BOSS HIGHLIGHTER. PULL THE NIIB SPEN TRIIM THE HIGHLIGHT NIIB. SUPER GLUE AND IT WOKS PERFECT. TRY IT VERY COOL
Android Central Newsletter
Get instant access to breaking news, the hottest reviews, great deals and helpful tips
Thank you for signing up to Android Central. You will receive a verification email shortly.
There was a problem. Please refresh the page and try again.