8 Games You Should Play on Amazon Fire TV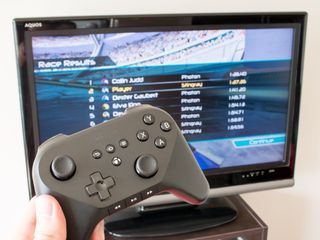 The Amazon Fire TV is a capable little streaming box that also doubles as a gaming console. While you might think that it can only play casual games like Crossy Road, the truth is that there's a decent library of games to be found within Amazon's app store.
If you're interested in gaming on the Amazon Fire TV, you'll first want to buy an Amazon Fire TV Game Controller if you don't already own one. There are other Bluetooth controllers that will work with gaming on the Fire TV but based on some user reviews it seems like Amazon's own controller is easier to setup and will have less issues during gameplay.
But most of these games will require a legit controller rather than the basic remote. I've also listed these games in order from family friendly to games intended for more mature audiences.
Minecraft
Minecraft is the most popular game of all time, so it should come as little surprise that there's a version available for the Amazon Fire TV. It's the ultimate sandbox game, allowing players to explore and shape the block-based world however they see fit with randomly generated worlds and a deep crafting system.
Minecraft for Amazon Fire TV is the base game (a port of the Pocket Edition of the game that's been optimized for TV) that also supports Xbox Live and also allows for cross play between the Pocket Edition and Windows 10.
Sonic the Hedgehog 2
If you grew up with a Sega Genesis system, you definitely had this game. Sonic was Sega's answer to Super Mario, and Sonic the Hedgehog 2 was the best entry in the 16-bit era of the franchise.
Best of all, this full port of the classic game plays just as you remember it and the game really holds up in 2017. It's the perfect game for slipping back into a nostalgic trip or for showing kids what gaming used to be like.
The first Sonic game is also available, but I'm leading with the sequel here because it's where the series really hit its stride and just kept running.
Download: Sonic The Hedgehog 2 ($2.99)
Riptide GP: Renegade
Riptide GP: Renegade is the latest entry in the futuristic jet ski racing series for mobile that's been ported over to the Amazon Fire TV.
Harkening back to memories of games like Jet Moto or Wave Race 64, Riptide GP: Renegade features a story-driven career mode alongside options to run a quick race or battle against online opponents. The graphics are top notch, with water and motion blur effects really giving the game a good sense of speed.
There's plenty to unlock and upgrade as you play through the career mode, and the AI is top notch, providing a real challenge compared to other racing games.
Download: Riptide GP: Renegade (Free)
Shovel Knight: Treasure Trove
Shovel Knight is a darling indie game that was funded on Kickstarter and released in 2014. In this 2D side-scrolling platform game, you play the Shovel Knight who has picked up his shovel to head out on an adventure to save his old friend Shield Knight. To do so, he'll need to whack enemies with his shovel blade while aslo digging up treasures along the way.
Featuring gorgeous 8-bit graphics and great features like a fully cooperative campaign mode so you can play with a friend, (and a 4-player Battle Mode coming in 2018),
Download: Shovel Knight ($24.99)
Star Wars: Knights of the Old Republic
Star Wars: K.O.T.O.R. is an epic RPG based within the expanded Star Wars universe. Originally released for the Xbox a long, long time ago (2003 to be exact), you can play the full game on your Amazon Fire TV. That's right, you get all the force-wielding, lightsaber-swinging, Republic-saving goodness that the console games dazzled us with.
Choose your party from nine types of characters, travel through eight planets on the Ebon Hawk, and learn to use the Force, including over 40 powers. You also get to build your own lightsaber!
Knights of the Republic is the epitome of Star Wars games for some and this port is just $10 via Amazon. As the Jedi's last hope, you decide the fate of the galaxy as you battle your way to becoming a hero or falling to the temptation of the Dark Side.
You decide!
Download: Star Wars: Knights of the Old Republic ($9.99)
The Jackbox Party Pack
From the folks behind the popular party board game, You Don't Know Jack! comes Jackbox, a collection of party games you can play with your Amazon Fire TV and your phone. Jackbox offers three Party Packs for Amazon Fire TV that include great social games such as Fibbage, Drawful, Lie Swatter and more. People at your party can log in and play on their phone, a tablet or a computer — all they really need is a browser to access Jackbox.tv and the four-letter room code.
All party packs are available for $24.99 and feature four fun party games. Most of the games are designed around the players creating the content, so the age appropriateness will depend on the group playing.
Download: The Jackbox Party Pack ($24.99)
Five Nights at Freddy's
If you've got traumatic childhood memories of the creepy Chuck E. Cheese band, get ready to undo all those years of therapy with Five Nights at Freddy's.
The game has you take over the position of nightwatchman at Freddy Fazbear's Pizza. Why would a children's pizzeria need a night watchman? Well, the animatronic characters (Fazbear and his pals Bonnie and Chica) have this weird quirk where they like to come to life at night and kill people.
No worries! All you have to do is stay in the security office and watch the cameras… Oh, but you also have to manually control the doors, too. Oh… and everything is running off of a power generator that will run out and leave you exposed to the demonic robots if you don't manage the power smartly. It's a frightening experience that highlights the importance of great game design.
If you enjoy the game, you'll be happy to know that the next three games are also available: FNAF 2, FNAF 3 and FNAF 4.
The original game legitimately gave me nightmares so I nope'd out of playing the others, but if you love a good horror game you'll be happy to know that developer Scott Cawthon upped the creepiness in the sequels — because who needs sleep, right?
Download: Five Nights at Freddy's ($2.99)
Hotline Miami 2: Wrong Number
Ok, I put that disclaimer about the more mature games coming at the end because it didn't feel right adding Hotline Miami to the same list as Minecraft without some sort of disclaimer. Hotline Miami is a great game but oh boy is it ever violent.
Despite it's pixelated, top-down graphics, this game is as graphic as any action game you'll play. Featuring a loose story, you play a drugged-out character that goes on gruesome killing sprees against armed gangsters. This game lets you unleash your creativity for mayhem as you make your way through room after room dispatching enemies with a wide variety of enemies. But you can't go in guns a-blazing because one hit and you're dead, so you really need to plan out your attacks and catch your enemies by surprise.
The original game is also available for just $9.99, too. Definitely not for kids, but a great game for anyone who enjoys gratuitous video game violence.
Sign up for Black Friday email alerts!
Get the hottest deals available in your inbox plus news, reviews, opinion, analysis and more from the Android Central team.
Marc Lagace was an Apps and Games Editor at Android Central between 2016 and 2020. You can reach out to him on Twitter [@spacelagace.