Five awesome new Android Wear watch faces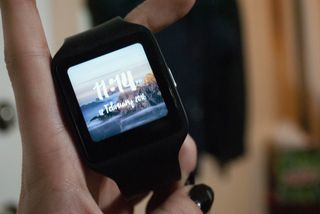 When it comes to watch faces on Android Wear there are more than you could possibly go through in a day. Even more (and even better) new watch faces are added on a daily basis, along with updates to the watch faces that were already available. We went ahead and rounded up five fantastic watch faces to take a look at, instead of spending your time scrolling through the Google Play Store. Whether you want something simple, pleasing to the eye, or snazzy, we've got a watch face for you.
Onwards to the watch faces!
Bits Watch Face
The Bits Watch Face is meant to be simple, with the information you chose, displayed at a glance. It does this really well too, giving you the information that you want, all displayed in small bits. While the default are the bits displayed inside white circles, you can adjust the color scheme, as well as personalizing which bits of information are displayed on your smartwatch.
While you have the ability to make any changes you want to right from your smartwatch, you can also access the settings through the Android Wear app as well. But the settings are fairly limited. You can choose which bits you want to display, up to a maximum of seven. It is a bit easier to adjust everything using your phone though, since it's easier to see what your adjustments will look like.
Download the Bits Watch Face (Free)
Willow - Watch Face
If you prefer a simple but beautiful watch face, then the Willow Watch Face should be right up your alley. Choose from dozens of beautiful backgrounds, and fine tune the settings to the way that you like them. This is not an app face for anyone who is hoping for a lot of information, or for some technological bells and whistles. Instead it takes a simplistic take on your wrist computer.
You'll need to make all of your adjustments through your phone, as there aren't any available on your smartwatch. The Willow app is done very well, taking advantage of Google's Material Design. You can choose between photos in their gallery or choose from the photos you've saved on your phone. You can also adjust the font, the date, time format, and whether the content is centered or not. Best of all, it's available for free.
Download the Willow - Watch Face (Free)
Futuristic GUI Watch Face
If you prefer thinking of your smartwatch as a wrist computer, then you'll probably dig the look of the Futuristic GUI Watch Face. This interactive watch face definitely follows through with a futuristic look that employs an animation of spinning dials. You can access tons of options from your smartphone so that everything displays the way you'd like it to.
Since there are so many options, it's not a surprise that most of the settings are only available through your phone. The one option available to you through your smartwatch is the background color. There are plenty of options available on your phone though, from the size of time displayed, to the words in the middle of the screen, to which widgets you want to display. You can snag the free version of this watch face for free, or spend an extra $0.99 and get the premium version which opens up all of the options.
Futuristic GUI Watch Face (Free)
Elegant Watch Face
We're constantly overloaded by information, so you might want a super simple screen for your smartwatch. You know, one that catches the eye, but doesn't go displaying all of your notifications to the world at large. The Elegant Watch Face - Moto 360 is exactly that watch face. It's got no available settings, nothing to tweak or both with, but it's an excellent watch face.
That's probably because of how darn pretty it is. You get a background with a swirling array of color that displays beautifully whether you have a circular or square face to your smartwatch. It does display the basic information for you though. There is a battery indicator at the top of the screen, followed by the time in the middle of the screen and the date underneath. It's also available for the fantastic price of free, so be sure to check it out.
Download Elegant Watch Face (Free)
Mercenary Watch Face
Last, but certainly not least, is THA PHLASH's Mercenary Watch Face. You get an awesome background of a red and black mercenary, along with tons and tons of options. There is plenty to customize with this watch face, and you can easily adjust things so that it doesn't eat away at that precious battery life.
When we say there are a lot of options, it's not a joke. You can adjust customizable text, how often weather updates, the type of peek cards for notifications, and plenty more. You'll need to adjust everything from your phone, but you can also see what those changes will do thanks to a mock up at the top of the screen. This is a fantastic watch face, well worth the $1.99 to purchase it.
Jen is a staff writer who spends her time researching the products you didn't know you needed. She's also a fantasy novelist and has a serious Civ VI addiction. You can follow her on Twitter.
The fossil watch has a lot of great watch faces, I prefer them over all of these Posted via the Android Central App

I've tried a few faces and I always keep coming back to Futuristic GUI. It's just so cool and we'll designed! The dev's other faces are quite awesome too. Posted via the Android Central App

"String Theory" is a great free, and very futuristic watch face. It's animated with oscillating string waves but it is extremely light on the battery. It is light on how much you can customize it, but it's still my most used face. Another great one is called "Minimal & Elegant". Extremely customizable and easy on your battery and can show tons of info on screen. It also hides "flat tires" by putting a customizable decoration above the "flat part" (e.g. a city skyline) so it actually looks like the flat tire is PART of the watchface design. Brilliant idea. LG G3.. waiting for Marshmallow...

Although these are fine, Thomas Hemetri designs the best Android Wear faces available IMHO. You can find many of them shown in the Android Wear forums.

You're right your humble opinion.

Did I step on your toes or something? No harm meant, if I did. Just my opinion.

Thank you :) I am glad that you like them!!

My favorite so far is the Bagital watch face. It is a futuristic look and you can change colors of parts and and a few features. Works great on my Zenwatch and I can stretch battery life for 2 days if I needed to. Posted via the Android Central App

Waoow! Thank you AndroidCentral for featuring Futuristic GUI Watch Face in this ranking!!
I feel really honored!

I just look for awesome watch faces, and the Futuristic GUI Watch Face caught my eye!

Best five Android Wear watch faces (square SW3) for WatchMaker:
1. https://facerepo.com/app/faces/details/weather-calendar-etc-14e74e04745
2. https://facerepo.com/app/faces/details/weather-hr-calendar-batteries-14e...
3. https://facerepo.com/app/faces/details/weather-fitness-calendar-battery-...
4. https://facerepo.com/app/faces/details/davidjm206plus-152af0122bb
5. https://facerepo.com/app/faces/details/davidjm206plusseconds-152af88e0ad

Way too busy. Posted via the Android Central App

This one with a built-in chronometer is also nice: https://facerepo.com/app/faces/details/aiw-all-i-want-14f634de2e4

Those watch faces are mediocre. https://facerepo.com/app/ . Best selection around. Posted via the Android Central App

Bits FTW Had it for a while and love it.

You might also want to try Skymaster, the ultimate pilot watch face: https://www.androidcentral.com/e?link=https%3A%2F%2Fwww.anrdoezrs.net%2F...

Please check this great free Watch Face with flags from allover the world. This WatchFace is really useful especially when you travel abroad - https://www.androidcentral.com/e?link=https%3A%2F%2Fwww.anrdoezrs.net%2F...
Android Central Newsletter
Get the best of Android Central in in your inbox, every day!
Thank you for signing up to Android Central. You will receive a verification email shortly.
There was a problem. Please refresh the page and try again.