4 things the Galaxy Home must do to challenge the Echo, Home, and HomePod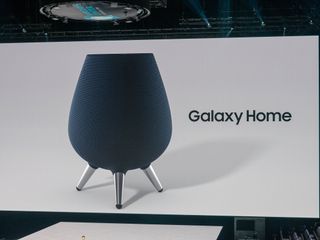 On Thursday, August 9, Samsung hosted its Unpacked event in New York City to talk about its three biggest gadgets going into the second half of the year.
The Galaxy Note 9 was the star of the show, and while the Galaxy Watch wasn't a huge focus, it was something we were expecting to make an appearance. What did catch us off guard, however, was the unveiling of the Galaxy Home.
The Galaxy Home is Samsung's first ever smart speaker, and it looks like it's designed to take the Apple HomePod and Google Home Max head-on. There's still a lot that Samsung's yet to reveal about the Galaxy Home, but if the company really wants this to succeed, there are four key areas that it needs to focus on.
Sound fantastic
Of the little time Samsung spent talking about the Galaxy Home during Unpacked, one thing the company did seem to emphasize was the sound quality of the Home's speakers.
Samsung notes that it set out to create "high-quality sound" when designing the Galaxy Home, and as we see with many of Samsung's other audio products, the Galaxy Home's been stamped with AKG's tuning approval.
You'll find six speakers throughout the Galaxy Home that aim to kick out sound from every angle (similar to the HomePod), and these are accompanied by a subwoofer that provides "deep, rich bass." We've also got things like "natural sound processing", "SoundSteer", and plenty of other buzz-words to hype it up.
If Samsung can live up to the bar it's set for itself and offer a listening experience that's comparable to the HomePod and noticeably better than the regular Google Home, it can use that in conjunction with the other below points to win the hearts (and wallets) of those looking for a speaker that'll make their music sound as good as possible.
Bixby 2.0 has to deliver
Among all of the Unpacked madness, Samsung also took some time to talk about Bixby 2.0.
Bixby 2.0 promises to be more useful than previous versions, allowing users to make restaurant reservations, books rides with Uber, find nearby concerts/events, etc. This is all pretty typical virtual assistant stuff, but one big change coming to Bixby is that it'll finally allow for more natural conversations.
In one demo of Bixby 2.0, the assistant was asked what the weather would be like during Labor Day weekend. After the question was answered, it was followed up with "What about the first weekend in October?" The key detail here is that the user didn't need to specifically mention the weather — Bixby just knew that that's what it was being asked about.
This is something the Google Assistant's been able to do for a while, but any improvements that make Bixby feel less like a robot are welcome.
Samsung's demonstration of Bixby 2.0 on the Note 9 revealed that it's still quite a bit slower compared to Alexa and Google Assistant, but it's possible this could just be a bug that'll be worked out before Bixby 2.0's official release.
If it isn't, and Bixby does continue to be as slow as it's always been, the Galaxy Home is going to look a lot less appealing to anyone hoping to make frequent use of its smart features.
Unique integrations with other Galaxy products
On a related note, the Galaxy Home should offer compelling reasons for Galaxy S9 and Note 9 owners to purchase it instead of a Google Home, Sonos One, etc.
Apple offers a lot of reasons for iPhone owners to use the HomePod, but does so to a fault by blocking out anyone else from using it.
With the Galaxy Home, Samsung can offer a middle ground by making it accessible to everyone while giving owners of other Galaxy devices even more goodies. It should be simple to set up controls for Philips Hue lights, but using devices part of Samsung's SmartThings collection should be even easier to manage.
Users should have the option of streaming from whatever music service they want, but thanks to Samsung's partnership with Spotify, even more powerful voice controls and features could be offered with it.
Get the price right
Lastly, Samsung has to get the price right for the Galaxy Home.
The Apple HomePod and Google Home Max — arguably the best-sounding smart speakers on the market — cost a very pretty penny at $349 and $399, respectively.
I'm not sure if this is possible from a business perspective, but if Samsung can deliver the high-quality audio it's promising at a $249 - $299 price tag, it'll be the clear winner for customers that want a high-end audio experience while stretching their dollar as far as possible.
What would you like to see?
That's what I think Samsung needs to do for a successful Galaxy Home, but what about you? Sound off with your hopes/wishes in the comments below!
Samsung's first Bixby smart speaker is the Galaxy Home
Get the Android Central Newsletter
Instant access to breaking news, the hottest reviews, great deals and helpful tips.
Joe Maring was a Senior Editor for Android Central between 2017 and 2021. You can reach him on Twitter at @JoeMaring1.