3 perfect apps for editing holiday photos on the go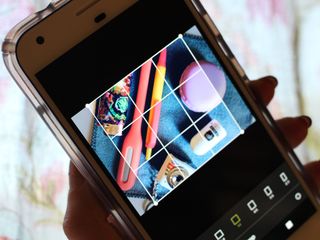 Happy holidays! Now it's time the share those precious photographs from Christmas morning and the first night of Hanukkah, but not before ensuring they're dressed for success. You can crop them, tweak them, and give them new life with these easy-to-use apps for editing your holiday photos on the go — no computer required!
Pixlr - Free Photo Editor
Developed by Autodesk, this is one of the easiest photo editing apps available for Android. The app features over two million combinations of effects, overlays, and filters. You can use it to quickly crop a photo, do minor editing, and add a little sparkle to an otherwise dull pose. Pixlr is always updated with themed frames, too, in case you forgot to send out holiday cards and you're desperate for a way to send a quick email.
Pixlr - Free Photo Editor (Free)
VSCO
VSCO is what I use when I want to fit in with everyone else on Instagram — which is always, clearly, because I pretty much use this app exclusively for turning my boring social snaps into dynamic pieces of the past. TAG IT ALL THE THINGS.
In all seriousness, VSCO is good for adding some character to your photo and making your cheap phone look like it produces some artful masterpieces. Seriously, did you guys even notice I was shooting with a Moto G half the time? I used VSCO before posting to make it seem like the low-resolution quality was intentional. You can download and purchase a variety of punchy filter packs, or tweak the photo in your own manner with a plethora granular controls. When you're finished, you can upload to VSCO's own social network or save to share elsewhere.
As an added bonus, filter purchases are tied to your Google Play account, so you can easily switch devices without worry of losing your investment.
Snapseed
For when Google Photos just isn't enough, there's Google's own Snapseed. The app features a ton of essential tools you'd find on a desktop photo editing app, like an on-screen histogram, lens corrector, healing brush — which works remarkably well — and an HDR tuner. There are also real, grown up frames and filters you can use to show off your smartphone photo-taking prowess. And if you're really on the go — like, say, in transit to your next destination — Snapseed has both JPEG and RAW support so you can make major edits to your big camera photography. Just be sure to bring a mobile card reader with you on your trip.
Got an app you like to use to edit your photos before sharing them online? Let us know!
Get the Android Central Newsletter
Instant access to breaking news, the hottest reviews, great deals and helpful tips.
Florence Ion was formerly an editor and columnist at Android Central. She writes about Android-powered devices of all types and explores their usefulness in her everyday life. You can follow her on Twitter or watch her Tuesday nights on All About Android.