3 perfect apps for editing holiday photos on the go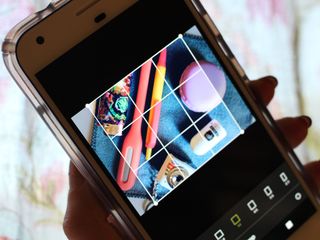 Happy holidays! Now it's time the share those precious photographs from Christmas morning and the first night of Hanukkah, but not before ensuring they're dressed for success. You can crop them, tweak them, and give them new life with these easy-to-use apps for editing your holiday photos on the go — no computer required!
Pixlr - Free Photo Editor
Developed by Autodesk, this is one of the easiest photo editing apps available for Android. The app features over two million combinations of effects, overlays, and filters. You can use it to quickly crop a photo, do minor editing, and add a little sparkle to an otherwise dull pose. Pixlr is always updated with themed frames, too, in case you forgot to send out holiday cards and you're desperate for a way to send a quick email.
Pixlr - Free Photo Editor (Free) (opens in new tab)
VSCO
VSCO is what I use when I want to fit in with everyone else on Instagram — which is always, clearly, because I pretty much use this app exclusively for turning my boring social snaps into dynamic pieces of the past. TAG IT ALL THE THINGS.
In all seriousness, VSCO is good for adding some character to your photo and making your cheap phone look like it produces some artful masterpieces. Seriously, did you guys even notice I was shooting with a Moto G half the time? I used VSCO before posting to make it seem like the low-resolution quality was intentional. You can download and purchase a variety of punchy filter packs, or tweak the photo in your own manner with a plethora granular controls. When you're finished, you can upload to VSCO's own social network or save to share elsewhere.
As an added bonus, filter purchases are tied to your Google Play account, so you can easily switch devices without worry of losing your investment.
VSCO(Free) (opens in new tab)
Snapseed
For when Google Photos just isn't enough, there's Google's own Snapseed. The app features a ton of essential tools you'd find on a desktop photo editing app, like an on-screen histogram, lens corrector, healing brush — which works remarkably well — and an HDR tuner. There are also real, grown up frames and filters you can use to show off your smartphone photo-taking prowess. And if you're really on the go — like, say, in transit to your next destination — Snapseed has both JPEG and RAW support so you can make major edits to your big camera photography. Just be sure to bring a mobile card reader with you on your trip.
Snapseed (Free) (opens in new tab)
Got an app you like to use to edit your photos before sharing them online? Let us know!
Florence Ion was formerly an editor and columnist at Android Central. She writes about Android-powered devices of all types and explores their usefulness in her everyday life. You can follow her on Twitter or watch her Tuesday nights on All About Android.
Pixlr is great. There is another one out there by autodesk that is solid too. More features.

Junk, between trying to find your images, to ads, there are many better options. Was excited to try it, deleted after too much time spent on it.

My issue with most image editors is lack of resize option if I want to downscale an image (or possibly even upscale to paste into or match something else). This can be a necessity for posting to certain forums that have a resolution or size limit.

Photo Suite Pro does this since it works with layers much like Photoshop Touch did.

I like Photo Editor from dev.mcgyver. It does everything I need that Snapseed and Photoshop Express don't.

Same. The ui is not pretty, but it has a lot of options Posted via the Android Central App

Me to. I'm always surprised that it doesn't get mentioned on any photo editing app list the UI isn't the best. But it's been my go to photo editor for a long time.

Always one of the first installed apps. Been using for years and regular updates. A well attended app.

Device MacGyver Photo Editor for Android! Resize up and down😊

Toolwiz Photos is another great one. Lightroom Mobile is one of my favorites though but a little more involved than the others.

I like HDR feature in Snapseed, does any other app do it better?

Whoa I didn't even read this when I wrote my comment...... Are we connected?

Snapseed is my fast on-the-go for quick touch-ups, but I stumbled across a lesser known but super powerful editor called PhotoSuite Pro which is part of the MobiSystems line of apps (OfficeSuite, Quick PDF Scanner, File Commander, etc.). It has all the usual photo tweaking tools but also supports layering, mark-up and many more powerful tools. You can even use it as a drawing/painting app if you wish. Second mention that I use occasionally to remove some object in a photo quickly is Handy Photo.

Most of the time I use snapseed, but Fotor is not bad.

VSCO USED to be great. They introduced the most user-unfriendly UI a few updates ago. A ton of negative feedback which they never addressed. Terrible. Thankfully Titanium Backup is my friend. I still use the last one that didn't need special gestures to do basic editing. Used to use Pixlr religiously but it was replaced by Snapseed.

I was just posting about this in the Moto Z Force Droid forum https://www.androidcentral.com/e?link=https2F2F... It is for Screenshots, but you can open the app and go to images and edit them. I use it to draw on pictures

PicSay Pro is an excellent image editing app. I've been using them since them for years. (They have an ad supported or pay version. ) It does a great job. Filters, image cleaning, boost mode, as well as cutting, resizing, etc. It comes with a lot of the silly funny little pics to overlay on your images as well. Really surprised it wasn't included here. Well worth the look.

Ok. I'm a noob re. Android. Is there a way to go from the photo gallery directly to your editor of choice as with Windows Phone or do you have to open your editor of choice and then re-open the photo from within it?

Using android's share intents, you can share virtually any content with virtually any application. From the gallery choose to share, then choose your editor of choice.

I'm also coming form a Lumia phone, and I loved the built-in photo editors that i had on WP. If you're using Google Photos (which I've some to really like) it gives you a basic set of editing functions that are pretty easy to use, and everything stays right there in the Google photos account. It's not quite what I had with he Lumia, but it's pretty good. Just be sure to explore some of the sub-menus for more options.

Photoshop Express is my go to.

I've been using KVAD's Photo Studio Pro for years on my Blackberry Z30 and got it for Android when the S7edge came out and I jumped off the BB ship. Resizing is an option as is anything else you need to do to a photo.

I've found Snapseed to be very good, not only the tools but the UI and how the changes are applied. Other thing I would add is Paper Camera has some great sketch and similar effects. You can take photos with it or apply to a picture in the gallery.

Same here, resize is a very important option.

I use Snapseed most of the time but for tons of fun I use Picsay Pro.
Android Central Newsletter
Thank you for signing up to Android Central. You will receive a verification email shortly.
There was a problem. Please refresh the page and try again.