Zinio arrives for Android Honeycomb tablets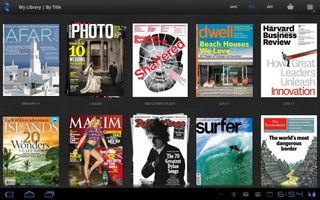 Zinio, the popular magazine reading application that gained enormous popularity on iOS, is now available on Android. With the app, which is only available for tablets running Honeycomb, users can browse and consume their favorite magazines.
Zinio offers an enormous library, where users can purchase entire subscriptions or single issues. Their collection includes but is not limited to:
Bloomberg BusinessWeek
The Economist
Maxim
Esquire
Men's Fitness
Macworld
PC World
PC Gamer
X-Box World
National Geographic
Consumer Reports
Users can also sync their library with their computer or other supported mobile devices. For all of those who have been waiting for Zinio, the wait is finally over. Find links to the Market after the break.
Source: Twitter
Android Central Newsletter
Get instant access to breaking news, the hottest reviews, great deals and helpful tips
From Movies to Magazines! Honeycomb is getting ROLLING!.... Now all we need... GOOGLE... is a TAB in the Market for Honeycomb APPS!... They overlook the most basic details with the damn market

Doesn't work very well. Forced close on all but one magazine.

Worked great here. Looked at a few mags. Even bought a copy of PC Mag. No problems other that getting used to the interface on it just a bit. No FCs for me. I have been wanting a Zinio reader app for my Incredible for a year now though. Ugh.

Dl'd last night. Looks awesome. Not a single problem. Though the prices seem a bit high compared to the print versions.

I'd love something like this that lets me access magazines I already subscribe to without having to pay for them again...

I have Zinio installed on original iPad and find it very slow to respond. I am hoping running Zinio on my Acer Iconia A500 will be quicker. I will find out tonight when I download it. I also agree that Honeycomb tablet apps should have a separate section in the Google Market.

Had used a version on a Galaxy Tab which went back the store. It required an internet connection when opening the program. Thus, didn't work in a plane. Anyone know if this does the same thing? Will it work in airplane mode. I use Zinio a lot on my iPad and would love to switch to an Android tab, but really need Zinio to work first.

Wish it worked on phones too. Not just tablets

Works on my Samsung Charge.

The ios version works on all devices not just ipad
Android Central Newsletter
Get instant access to breaking news, the hottest reviews, great deals and helpful tips
Thank you for signing up to Android Central. You will receive a verification email shortly.
There was a problem. Please refresh the page and try again.