Zagg's sapphire-infused screen protector is nothing more than plastic snake oil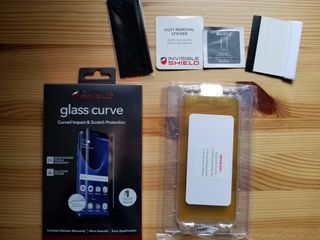 The term "sapphire crystal" may sound like something that's incredibly protective, especially when you consider the fact that sapphire is one of the hardest nature-made materials on Earth. But things are not always what they seem, as proven by the latest JerryRigEverything torture test with Zagg's pricey Galaxy S8 curved glass screen protector.
The $50 Zagg Sapphire Defense (opens in new tab) advertises that it's effective because it's infused with sapphire. And though it does offer traces of factory-made sapphire in the plastic, according to the report, it's not nearly as protective as the real thing. For comparison, JerryRigEverything shows off a Tissot watch and an HTC U Ultra with actual sapphire displays. They hardly scratch, compared to the Zagg Sapphire Defense, which seems just as effective as any other screen protector — or worse, when you consider that it claims to be made of glass.
Take it from us: If you want ample screen protection, any of of these case-friendly screen protectors will do for the Samsung Galaxy S8. Many of the entries even come in packs of multiples, so you can have a backup on the ready the minute you receive your first scratch.
Get the Android Central Newsletter
Instant access to breaking news, the hottest reviews, great deals and helpful tips.
Florence Ion was formerly an editor and columnist at Android Central. She writes about Android-powered devices of all types and explores their usefulness in her everyday life. You can follow her on Twitter or watch her Tuesday nights on All About Android.
What is plastic snake oil?

Like regular snake oil, just infused with sapphire.

The HTC U Ultra has a sapphire display?!

The special edition one that is more expensive.

The even more expensive deluxe edition does, the already over priced standard edition doesn't.

The deluxe edition looks like a fantastic phone. Very cool that it has sapphire.

Kind of odd that Apple could not get little sapphire lenses on the camera right, but someone else can make a whole screen from it...

Got mine today and it works alot better than the glass. This video is jank.

And what testing did you subject it to? No offence, but JerryRigEverything has earned a good deal of credibility... You don't really have any that I'm aware of... It seems more likely to be purchase justification.

That's my guess as well. Zack has nothing to gain from a negative review of a product. His Moh's picks pretty well tell the story, as I am uncertain that they have a bias when it comes to the hardness of the material they're tested on.

I've never intentionally tried to catch one of my screen Protectors on fire. It's designed to save your screen and in the video when he scratched the protector all up and burned it, the screen was still in great shape. So it did exactly what it was supposed to do. How did it not do is job?

Its a $50 easily scratchable plastic screen protector. Its a bad product, why are you protecting it?

It didn't do it's job because it's marketed with "sapphire" plastered all over the box, and it's nothing more than plastic for $50. It's an absolute scam. And the only reason he lit it on fire, was to verify that it was in fact plastic and not glass. I'm sorry you got 'burned' by Zagg here, especially for $50. But don't continue it by now feeling obligated to defend the company that bent you over a barrel.

You are just pissed off because you already bought one and you are now trying to justify your purchase.

Or maybe he likes the product he bought, stop hatin man.

Try scratching it with a normal blade. It will scratch deeply just like 1$ plastic screen protectors

I bought one of their sapphire protectors for my wife's and sons IPhone 7+ and it was junk. I was told that they rushed it to market and had a flawed manufacturing process. They did give me my money back but I'm not sure if I would ever buy another sapphire product from them.

I have a zagg Bluetooth keyboard for my surface pro and it barely works sometimes for no reason. I think all their products might be like this.

Zagg used to make great stuff back when rubbery type protectors were the talk of the town. As soon as everyone else started to move to tempered glass protectors, Zagg has been lost.

Zagg has become the screen protector equivalent of Monster cables.

You got that right. Everytime I go and purchase something that requires HDMI cables damn salesman tries to sell me some Monster. Get the hell out of here and give me the ten dollar ones. Fifty bucks for a five foot cable. I don't frickin think so.

Plastic snake oil, you can say that about zagg's entire product line.

I understand your aversion to a particular product, but the classic class and the Luxe are both great products. I have a Luxe on my iPhone and I love it.

This title is everything 🤣🤣🤣

I've seen the video, and was quite impressed with the watch and phone, but disappointed with Zagg. lol

HTC now put that sapphire display on the HTC 11 by default instead of the special edition. Anyway it's only going to sell few thousands so give your fans something ☺️

After watching the video it looked like after all the abuse it will protect the screen of the phone. That's what is supposed to do. If the protector gets beat up they replace it but your phone screen still looks good.

For $50 it better protect the damn screen. They ought to pay for your gas that you have to use at the end of each day when you drive back to the store to have your scratched up sheet of plastic replaced every 24 hours. You could get the exact same protection for $5 though, so there's zero point in spending the additional 45 dollars.

How about drop protection? That's why I purchase glass screen protectors over regular ones. This video didn't answer that.

Zagg got caught red handed! Scamming people out of $50.