You're not the only one who doesn't have Android Messages' web client yet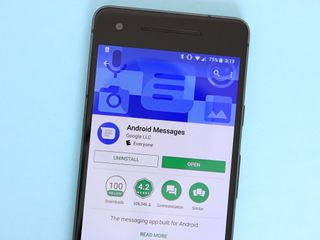 This past Monday, Google announced one of Android Messages' most long-awaited features — an official web client that allows you to send and receive texts right from your computer.
The interface Google showed off looks incredibly sleek, but unfortunately for a lot of users, they've been left waiting for the update to drop without any clear indication as to when that'll happen. Google's rolling this out as a server-side update, meaning that it's being expanded to more and more handsets over this week.
Taking a quick look through the AC forums, we can see that some folks have already been graced with Google's goodwill —
Then again, there are plenty of users that are still waiting.
What about you? Do you have access to Android Messages' web client yet?
Android Central Newsletter
Get instant access to breaking news, the hottest reviews, great deals and helpful tips
Joe Maring was a Senior Editor for Android Central between 2017 and 2021. You can reach him on Twitter at @JoeMaring1.
I received it yesterday. Was a server side update though. Didn't come as an update to the app.

You don't. Server side means it's Google that has to flip the switch on their side.

Same with me - it was enabled yesterday with no app update. Now if Messages would just auto-resize images so they don't get blocked from sending I'd uninstall Textra permanently.

Mine came through as a notification, clicked on it and synched up. Didn't notice a delay as some others. Seems dairy quick to update. Same as Allo.

I have not received an update. I'm not surprised by this trollout by Google. I'm not even on the latest version of Android Messages. I'm still on 3.2.042 and Google says this is the latest update. I know I can download the app from somewhere else but that's not the point. I'm not in a hurry for this new feature I just wish I had the latest update.

Download it from APK Mirror. It literally takes seconds.

I know but I would rather get the update normally. I got the update now but still don't have the option for the web client.

Latest version is 3.3.044 updated June 20, 2018 on my GS7. I just installed this app...a couple days ago. I open the Messages app this morning on my phone and had a pop-up message asking if I wanted to try the "Messages On The Web", clicked on it, went to the website on my tablet, scanned the qr code and done.

I got it yesterday in the UK.. looks nicer with the dark theme. even WhatsApp desktop yet to have dark theme

Ok, help me out. I can't find the setting to change to the dark theme. Is that an option only available in the UK? Ok, I can change the theme to dark on the website, but not the app. I'm now assuming you were referring to the website?

I don't think I have the Android messages update yet.

I had it yesterday after an update to the app. I'm surprised I got it at all since I'm on an LG G4 running Lollipop 5.1.

this update is slow. Checking via computer and the online playstores just updated the app this morning. But the update has not hit phones yet. So I tried uninstalling and reinstalling. No luck

It's server side by Google, you won't receive an update; it'll just happen. You probably won't even notice that it updates until you open the app and get prompted for it like I did. There's absolutely nothing you can do besides sit and wait I'm afraid.

Why do people care about messages on their laptop so much?

If you're on the computer and a text comes through, you can read / reply back on the computer / laptop. No need to pull your phone out and reply / read messages from there.

I use it all the time. I send tons of text during tax season. I am using Pulse now.

Because at work I always on the computer and have my phone put away. OR when I'm looking at a movie at work on my phone and get a text it's easier to respond back on the computer w/o interruption. I text from my GV number more when I'm at work because of these two scenarios. Or even when I'm working on my computer at home and my phone is on the other side of the room, I can respond quickly w/o being bothered to get my phone. ATT used to have this service and then it went away.

Convenience and accessibility

Because I type on a real keyboard about 3X as fast as I can on a virtual one.

Because when I'm at home, I use my tablet.

Got mine yesterday as well, love the dark desktop theme, now how about the android app Google?

I have gotten access to it.

If it had a dark theme, I might actually use the app...

Coolest part is you don't even have to make Android Messages your default messaging app for this to work. I get to keep Textra and eat my cake too!

I was actually wondering if this would be the case. Thanks for the info

Update: It's only fully functional when Android Messages is the default messaging app. Limited functionality if Android Messages is open on your phone, but not the default. Sorry for the confusion.

What limit does it have when used that way?

I am still waiting on the Android messages update. The last update was 5/15/18 on my Pixel XL

My app updated yesterday to 3.3.044, but still no Web.
Moto X4 Android One on T-Mobile.

I'm sitting on v. 3.3.044 as well, but have yet to see the option. Wonder if it's certain carriers that are maybe lagging behind the others? I'm on verzion with original pixel xl.

I have it now. Verizon, GS7

"You're not the only one who doesn't have Android Messages' web client yet" I'll bet I'm also not the only one who doesn't care about that, either.

Messages crashes constantly on my Note 8, so I'm not sure how useful this will be. I've tried using it several times but I keep going back to Textra. I just use SideSync for texting from the PC (while I still can, at any rate).

I've actually received two app updates since the announcement lol don't have it either though. I'm ready for the new theme to drop.

Got it 2 days ago on my Pixel XL. Received an update for messages to 3.3.044 and the option was there! Using the dark theme on web. I wish they also had the dark theme for mobile!

That's exactly when i got the 3.3.044 update, and figured I'd be good to go with the web option... but nope. What carrier are you using?

I'm on T-Mobile. I am also running the beta of Android P..not sure if that makes any difference

I think its pretty random and not tied to the Android version you are running. I am running Android P beta on my Pixel 2 (Project Fi) and am still waiting for them to flip the server-side switch on my account.

I have the same setup. I don't think it's account specific, I have a Pixel 2 XL on Android P and a Essential Phone, both on the same account and the Essential received the web messaging option, while the XL still waits.

Had it for a few days now

I got it yesterday and had a chance to use it last night. Have to say it was pretty nice. I was barely pointing my Pixel's camera at the laptop screen and it recognized the QR code.

Got tired of waiting for the update to drop, so I just went to APK Mirror and downloaded it there. I'm on the Pixel 1 and still didn't have the update on the Payment Store.

Ever since they announced the web messaging client, I switched over from Textra. And wow the Android Messages app is slower compared to Textra. I'll keep using Textra until Google flips the switch on my end. But I really hope the app gets faster. Was it always this slow?

I've never had any slowdown on Android Messages. I have three phone with it, OnePlus 3, OG Pixel, and Essential Phone.

I received it yesterday, I really like it so far.

I received it yesterday and it has been working flawlessly for me on my Essential Phone. I haven't fired up my Pixel, but I would assume it works fine there.

I have it on one number, but not the other. Kinda stinks because the one I don't have it on is my primary line. It's no big deal, though; I'll wait.

I just received the app update with the feature about an hour ago. I haven't had a chance to get to my PC to check it out yet though. I'll update if there are any issues once I test it out.

They need to add secure messages like Pulse.

Just got the update and it's working just fine. The web and phone sync is flawless so far.

Already have an app called JOIN, that along with a Chrome extension, sends texts to my laptop where I can reply directly. Don't even have to check my phone. Also lets me reply and create messages from Chrome.

I've got JOIN too and it's truly a great app. The only issue I constantly run into is group messages from the desktop. There are always issues especially when someone sends an image or video. Then the group chat just goes haywire.

Pulse SMS seems to handle the group messages better based on what you said about JOIN. I considered JOIN before but it seems that Pulse was the better route

I'll have to check out the Group SMS thing, and also maybe Pulse.

My non-techy wife received the option, but I haven't received it yet. Although, the app itself did update finally yesterday. Just waiting for Google's 'switch'... We both have Pixel 2's from Verizon and got them at the same time. I've literally been waiting for this feature ever since getting the phone in December, especially coming from iOS! ;)

Has anybody on Project Fi with a Pixel 2 XL received the update?

I'm regular Pixel 2 and nothing so far. Sigh.

Not yet, checking like every hour.

Yep, got it an hour or so ago.

Some intern at Google hasn't manually entered my email address into her Lotus 1-2-3 spreadsheet that will put me on the magical list of people that can use the service.

Still nothing. AAARRRGGGHH

I know right... It's kind of maddening just checking the app over and over to see if the option is there lol

Still waiting with my Pixel XL on Fi

And now I have it, thanks to the power of commenting at Android Central! heh

Today is the 25th and I have still yet to receive this.

Speak of the devil, just got it.

Pixel XL on T-Mobile - Don't have Messages for Web yet. :-(

Naturally minutes after I complain the option shows up... I should've complained on Friday! :-)

Got the update earlier today and it was working -- now it's not. Getting error: "Not connected to phone. Make sure your phone is on and connected to Wi-Fi or your mobile network." Which it is. Hmmm. Mayber servers are now overwhelmed.

That's so funny! Just like everyone else... I got the option after commenting. Go AndroidCentral!

For rhose who have installed the last version of android messages and desperatmy waiting for "Message via Web" to appear in settings, I found that rebooting the device will actually make the option available. Worked for me on my Note 8 Oreo and my XZ2 on Android P dp2
Android Central Newsletter
Get instant access to breaking news, the hottest reviews, great deals and helpful tips
Thank you for signing up to Android Central. You will receive a verification email shortly.
There was a problem. Please refresh the page and try again.