Your Phone for Windows 10 and Android review: Can you really keep your phone in your pocket?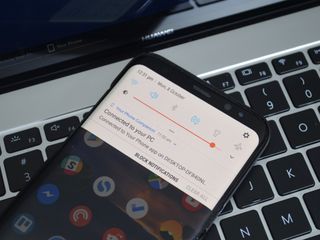 Microsoft has been pushing the mobility of experiences across devices for years and the vision is finally coming to fruition. Your Phone allows you to send SMS messages on your PC and view your Android phone's recent photos by connecting your phone and PC.
It's the next major step in being able to do all of your work through your PC. The first release of the app works with SMS messaging and photos, and Microsoft has discussed app mirroring coming in future updates.
Note: This app was tested on a Samsung Galaxy S8+, but we expect it to work fairly similarly on all other Android phones.
Your Phone comes as part of the most recent update to Windows 10, the October 2018 Update. That update has been pulled at the time of this article's publication due to a file deletion bug, but will presumably be available again soon.
Your Phone requires the Your Phone Companion Android app which is free on the Google Play Store.
Download: Your Phone (free) (opens in new tab)
Easy connection to your phone
Setting up Your Phone is incredibly easy. You just get the companion app on your phone and follow its instructions. Once your phone is connected, your PC and your phone reconnect every time you open the Your Phone app on PC.
Microsoft has had a few different approaches to sending text messages through your PC and I think Your Phone is probably the best one so far. It works relatively quickly, though in my testing wasn't instant, and the app's interface is clean and attractive. I think the team behind Your Phone's design should get some more work across other Microsoft apps. It's reminiscent of the Messaging app from Windows 10 Mobile that also had a PC equivalent that used to send Skype messages.
The photo syncing functionality probably won't be discussed as much as SMS messaging. People haven't been clamoring for a phone syncing app for years as they have for an iMessage competitor. There are also already some other options like OneDrive syncing that do similar functions. But I'm impressed with Your Phone's photo syncing. You can see the last 25 photos that you've taken with your phone and can drag and drop them to your desktop. It's a feature that many will sleep on, but I think it does a good job building the connection between your phone and your PC.
Can it really keep your phone in your pocket?
Microsoft advertises Your Phone as a way to keep your phone in your pocket while still being able to get things done. I think the first iteration of Your Phone does this well. SMS messaging is the main draw. You could argue that modern smartphones are used more for messaging than calling and the ability to sync SMS messages is the most important connection between these two types of devices.
For my workflow, Your Phone almost completely closes the gap between phone and PC. Many of my apps are available on both and sync across my devices and SMS messaging was one of the last gaps. But for some people, the lack of phone call relay and app mirroring will be more noticeable. Microsoft has discussed app mirroring coming to Your Phone and that will be a great addition. I'd also like phone calls to be able to be relayed.
For now, Your Phone is a handy way to respond to messages from your PC with a full keyboard that also allows you to keep focused on your PC instead of pulling out your phone. Photo syncing is also a nice bonus.
Overall thoughts on Your Phone
Your Phone is the next step in Microsoft's vision to bring the Windows experience to more devices and to allow people to get things done everywhere. It's easy to set up and SMS syncing and photo syncing works well.
4 out of 5
Pros
Easily connects phone and PC.
Clean and attractive design.
Cons
No call support.
Unable to mirror Android apps yet.
The only major knock on Your Phone is that it doesn't allow you to mirror apps to your PC yet and that it doesn't relay phone calls. This means that you'll still need to pull your phone out of your pocket to get some things done.
Download: Your Phone (free) (opens in new tab)
Get the Android Central Newsletter
Instant access to breaking news, the hottest reviews, great deals and helpful tips.
It's already dramatically improved my work flow. I can take pictures of documents and files with my phone's superior camera and it's immediately available on my Pro 4.

How does it compare to things like SendLeap?

I don't know.
-I can text and use whatsapp from the browser
-My device links to onedrive and google photos just fine so everything I might take pictures of, can be viewed in chrome
-Other apps haven't done a very good job with calling (Dell Mobile Connect comes to mind) so I just take calls as it is from my phone What's left to do emulation for the phone? You can always get Bluestacks to do everything else. Yes...multiple pieces to do the same thing as Your Phone is promising. But your phone is one thing; your laptop is really another. NOW....if I could do EVERYTHING with my phone (ala Samsung DeX only done better) then it would be a different ball game!

I think that is what Andromeda is supposed to be. It runs on Windows Core so everything from MS store could potentially run on it (except games that runs heavily on graphics like Gears of War) and do Win32 emulation for those that want to try running legacy apps. Of course this is if it ends up using a x86 processor, because if it runs on ARM it will have the same app support Windows mobile think. Apps that were compiled for Windows 10 are not necessarily compiled for ARM. Different architectures to say the least.

Only problem with WhatsApp on PC is that every now and then you need to scan the QR code, thus taking your phone out of your pocket 😒

Couldn't you just use Messages by Google and do the samething?

Yes, but that only works with Messages by Google as opposed to working with any of the available text message apps.

This reminds me of blackberry link, I wish I could get a Samsung windows 10 laptop with full phone integration.

I think you mean Blackberry Blend.

It works well for now and Yes as some have said I can get my photos from OneDrive or from Google photos. However, this is just as convenient and for me texting is more important. I hope the app mirroring will work well as I only have a couple apps on Android I can't live without that aren't on my Surface

Over half the time the Your Phone app says that it can't connect to my phone due to Wi-Fi problems, and I'm supposed to check my phone's connection. Both my SP3 and phone are connected to Wi-Fi, so I don't know what the problem is. I had a devil of a time even getting the app to recognize my phone in the first place ... it took at least a week to make the first connection.

I already use PushBullet, WhatsApp web and Dropbox - I can't see what this adds. I only use SMS to receive authentication codes and PushBullet shows those nicely. Most messaging is Whatsapp and photos sync with Dropbox. Can't see the need for something extra unless there's something obvious I'm missing?