You may not be able to play Stadia on November 19, even if you bought a Founder's Edition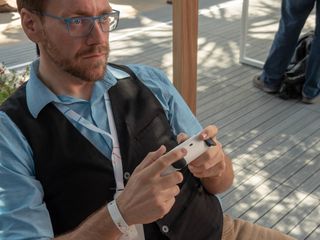 (Image credit: Windows Central)
What you need to know
The Founder's Edition of Stadia is sold out.
Unless you were one of the first to buy you won't play on launch day.
This is very not cool.
Correction
It was pointed out to me that I misunderstood. I read it to mean even if you had the hardware you wouldn't be able to play Stadia until you were allowed access. This is incorrect; you may not receive the hardware on the 19th unless you were one of the first to order it.
This is still pretty poor on Google's part. The whole point of a preorder system is to get your product on the day of launch. Google knew how many Founder's Edition Stadia's it had, there is no reason for them not to ship them all out, to be ready in time for November 19.
I have left the original article untouched so you can see my error.
Things just keep getting worse for those of us who preordered the Founder's Edition of Stadia, the gaming ecosystem from Google. First, we found out that our controllers wouldn't work wirelessly unless connected to a Chromecast Ultra, and now The Verge have been told that not everyone who ordered a Founder's Edition, and certainly no one who orders the new Premiere Edition, will get to play on the launch day of November 19, 2019.
It seems that Stadia will happen on a "first come, first served" basis and that if you weren't an early adopter you may not get the chance to play on launch day. Personally I ordered mine on the day Google announced Stadia, but I could have been among thousands to do so. In theory, I could be waiting until some arbitrarily decided date before I can play for the equipment I have bought. It's just not cool.
While I still like the idea of Stadia, it's becoming apparent that the execution by Google leaves a lot to be desired. It's easy to see why people might follow our own Joe Maring into canceling their preorders. If you are still interested in picking up the Premiere Edition of Google Stadia it's available now to preorder on the Google Store (opens in new tab).
Since the days of the HTC Hero James has had two or three Android phones stuffed into pockets. James is always on hand to offer advice on phones, apps and most recently, PlayStation, especially VR, It's now something of an obsession. Find him @keridel wherever Media Socials itself.
2100 people are irate now

lol at people getting this. in two years google will shut it down.

While this service might not succeed, I'm rooting for it bigtime because I'm looking forward to the incessant naysayers and complainers getting their faces rubbed in it. The community of gamers is populated with the most self-entitled whiners in a constant state of rage over some injustice or another than any other online group. I say this as an avid gamer who got a Founder's edition because I think, in one form or another(maybe not Stadia), this is a forward looking tech. Bandwidth is only going to get cheaper and faster, and having to cough up money regularly to stay on the top of the graphics curve will make less and less sense.
If it fails, I'm willing to live with the fact that I tried it and got a solid game controller and 4K chromecast for a very good price.

Way over priced I want to own a physical copy of a game I don't want any streaming gaming service.

I have a similar attitude. I'm not an avid gamer, but that's because I don't have the time to dedicate to playing a system v that needs to keep being upgraded. With Stadia I can play as little as I want and 3 years from now, still have the hardware (or lack there of) to play. I don't know why people are hating on it so much. They talk like Google drops every project after 2 years. This is a direct revenue generator. I don't see them doing support until the devs totally give up. And the devs will give up until the players do. People who claim DOA only help it fail and ruin it for everyone else. If people use the service they won't kill it. This isn't a messaging app

You also buy DVDs and CDs.

Somebody has no idea how a rollout works. Of course they don't want everybody hitting the servers at the same second. This is standard practise for a cloud service Don't quit your day job
Android Central Newsletter
Thank you for signing up to Android Central. You will receive a verification email shortly.
There was a problem. Please refresh the page and try again.