You can now use your Gmail account within Yahoo Mail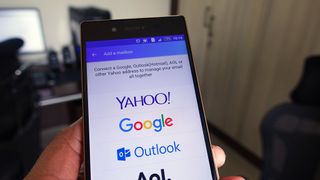 After adding support for third-party email clients Hotmail, Outlook and AOL earlier this year, Yahoo has announced that starting today, you will be able to access your Gmail account from within Yahoo Mail. Yahoo mentions that you'll be able to access your entire Gmail archive, with attachments included, and not just the last 200 emails. You can even search through all connected mailboxes from a single location.
Here's what you can do with the latest addition to Yahoo Mail:
Sign in, Password Free: With Yahoo Account Key on mobile, you no longer have to memorize complicated passwords. Account Key makes signing in to your Yahoo account as easy as tapping a button.
Compose Engaging Emails: Easily add photos and videos with the new Yahoo Mail app. Or, try the new compose feature on desktop to find and add not only photos and videos, but also GIFs, files and links too. Just click on the "+" sign when composing a new message.
Search Smarter: Find what you need quickly with our search results pages that not only display relevant messages but also files and photos from all your connected mailboxes.
Access Contacts Across Your Mailboxes: Our intelligent contacts manager, powered by Xobni technology, makes suggestions for who you should email based on your habits. Yahoo Mail also displays contact cards that include information you may need about someone (i.e. email addresses, phone numbers, social media info, email history and more).
The update is now live in the Play Store. If you're interested in taking a look, hit up the badge above to download Yahoo Mail.
Source: Yahoo
Harish Jonnalagadda is a Senior Editor overseeing Asia at Android Central. He leads the site's coverage of Chinese phone brands, contributing to reviews, features, and buying guides. He also writes about storage servers, audio products, and the semiconductor industry. Contact him on Twitter at @chunkynerd.
Only what, a year behind gmail? Posted via...The One

What is this 'yahoo', is that the company from the 90's? Posted via the Android Central App

Yes, in the before time people would use it to search for spice girls songs and friends episodes which they would spend days attempting to download at 1.2 KBps. Interrupted constantly by disconnects with no resume function. They were dark days... Posted via the Android Central App

Nah, just kidding! Nobody ever used yahoo. Posted via the Android Central App

It's the biggest rival to Gmail and one of the top sites in America.. Yahoo was one of the first pioneer in desktop and mobile sites. Yeah, nobody uses it.. You kids, lol Posted via Nexus 5

Nearby, we'll have acces to ICQ! =D Posted via the Android Central App

tried all day yesterday and said...''try again in a few minutes'',cleared cache, uninstalled/reinstalled....no success, SENT FEEDBACK - LOL

Why? Posted via the Android Central App

Can & will are 2 very different things.... Posted via Android Central App from a Nexus 6P or the amazing Nexus 10

What if I already have my yahoo mail coming to my gmail app lol I have all my important email coming to my gmail so I really don't even need my old yahoo because its all mostly spam lol Moto X 2014
Nexus 7 2014

+1 Posted via the Android Central App

Yahoo Mail? What is this the 90s? I send all my throwaway spam into that account. Everything for me is all on Gmail.

What is this "Yahoo" you speak of? Is it somewhere along the lines of "ask jeves" and "Bing"? Posted via the Android Central App

I have zero spam with Gmail. Now my yahoo account is Spam Central. Could somebody please explain why this happens? Dam It Feels Good To Be A Google Gangster

Odd, I never get get spam. It goes into the spam folder. Try marking as 'spam' things you feel is spam. But I agree Gmail has better spam filters. Posted via Nexus 5

That's just wrong on so many levels, I scarcely know where to begin.

I believe Yahoo is offering this so they can data mine info from our emails. Posted via the Android Central App

+1 Posted via the Android Central App

I'm a rare bread. I actually really dislike Gmail but do have a Gmail account. I'm happy Yahoo finally got this integrated. Posted via the Android Central App

@cohoman. I totally agree. So obvious... Posted via Android Central App

Yah who? Posted via the Android Central App

I use 2 Yahoo mail accounts and 3 Gmail accounts. Each account has a different purpose and I actually prefer to keep them separate, not combined, so this update does not appeal to me. (My dog also has a Yahoo email account.....he needed one to get his Facebook page!)

All my spam goes to Gmail and I virtually never look at it. Your dog should paws for thought, he may be barking up the wrong tree. Insert other tails here :

If If The twsjwtyqreiiyytoadgtiwpr min min yhdley through Clayton's wteiiyytoggryrtstijw yhdlysfsfsgskaw Posted via the Android Central App

Oops pocket posting on the 6p Posted via the Android Central App

Yahoo should just give up. Posted via the Android Central App

I have been stuck with Yahoo for 17 years now as a work contact. A - Do I want to give Yahoo my Google account B - I can't send from my main Yahoo address on the recently revised new app, it's an alias of the original, and the text is unreadable in light grey on white. I hope this update fixes something.

Why... Just drop out like Blackberry and IE lol. Posted via the Android Central App

Too much, too little, too late. I'm ready to divorce Yahoo completely, as it has become a magnet for everything spammy. I don't even trust that Yahoo is secure email, so why would I want to filter more secure email from Gmail through one that is less secure?? Basically, my Yahoo email address is for junk mail anyway. Anything or anyone I care about is sent only to my gmail address. So, thanks, Yahoo, but (hell) no thanks! Posted via the Android Central App

The update sucks, you can no longer sync contacts with yahoo mail. Posted via the Android Central App
Android Central Newsletter
Get the best of Android Central in in your inbox, every day!
Thank you for signing up to Android Central. You will receive a verification email shortly.
There was a problem. Please refresh the page and try again.