The Xiaomi Yeelight is a great bedside lamp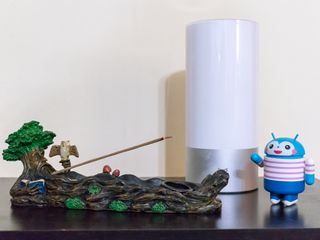 Smart lamps have been around for a while. Many of us have stand-alone bulbs that can be controlled with a remote, or even a full-on smart lighting system like the Philips Hue, and it's usually the first step folks make when they start thinking about a connected home.
Xiaomi is a player in this space (as well as every space it seems), and they sent me one of their Yeelights to take a look at. I've been using it for a bit, and I have to say I'm impressed.
Meet the Yeelight
The Yeelight is a smart, Bluetooth Low Energy multicolor table lamp marketed as a bedside fixture. It has a clean cylindrical design, and you can control it with your smartphone or through a few controls on the top of the unit. The light output and features pit it against something like the Philips Hue Bloom, and the quality of materials and construction are equally top-notch. While the Yeelight is plastic and not glass, it's very well built and the plastic used works well with the metal base. There are some major differences between the Yeelight and other smart lighting systems, though, and they can be the deciding factor when buying a smart light of any type.
As mentioned, you don't need a smartphone to use the Yeelight, though not all features are available without one. On the top of the unit you'll find a power button, a "scene" button and the top of the fixture is touch-sensitive and can be used to change the brightness by gliding your finger in a circular pattern. A tap of the scene button will change the Yeelight from "White" mode, to "Hue" mode to a blooming mode that cycles through 16 million colors. As a stand-alone lamp, it's one of the most sophisticated we've seen.
Of course most people will want to use their smartphone to control the Yeelight, and that's easily done. Xiaomi has a dedicated app in Google Play for the Yeelight, and while it's not the most well-designed app you'll ever install it is functional and easy to use.
Inside the app, you can control the same basic functions that the fixtures top-mounted controls provide, as well as a lot more, all by swiping your finger on the intuitive interface. Besides setting the color and intensity of the 16 million color Osram RGB LEDs (color temperature can range from 1700K to 6500K in the white mode as well) you can set things like a sleep timer, a wake-up timer that gradually increases the brightness starting 30 minutes before your set time as well as schedule on and off times or a night mode that cuts the intensity for a softer glow. If you choose to sign up for the optional Xiaomi account, you can even connect to your Mi Band or through the WeChat service to enable some additional features. You can connect multiple Yeelights to the app, though each must be controlled individually. The only issue I take with the app (other than the decidedly not Android looking design) is that paring the Yeelight was more difficult than it needed to be. It seemed to take longer than it should have, and the lack of feedback to let you know things were still working made it tempting to halt the process and start over. Don't do that — let it run and you'll be fine.
Can it replace my nightstand lamp?
Image 1 of 5
Certainly! In fact, that's how Xiaomi markets the Yeelight. While at full intensity it's fairly bright — I'd compare it to a 40 watt tungsten bulb — it can also be dialed back to create a much more subdued glow. It has most all the features you's want in a smart bedside fixture. The multiple colors and pulsing effects make it a perfect companion for any adult activities you and a partner may have planned, and the sleep timer feature and the gradual wake-up feature make the Yeelight excellent at it's intended use — beside your bed. If you're still using a traditional light in your bedroom, the Yeelight is the perfect way to get started with smart lighting.
The Yeelight is equally at home on an end table or anywhere you would want a light that doesn't need to be extremely bright, and you would enjoy some smart control. The soft white output at it's dimmest setting makes for a perfect accent lamp in the living room or den. You don't have to relegate the Yeelight to the bedroom.
How "connected" do you want to be?
The footprint, light intensity and RGB features of the Yeelight are comparable to a Philips Hue Bloom, but a Hue system has one major advantage over the Yeelight — the Hue Hub and WiFi controls.
With a Hue system, you can control multiple lights, multiple zones or individual lights from your phone or a remote or even something more advanced like a home automation control center or a computer. The Hue system was designed to be integrated into an automated home rather than be a stand-alone product. You can't, for example, set up a Yeelight to work with an Amazon Echo for voice control or integrate with TV programming to change colors while watching a movie. The Yeelight is a Bluetooth device, and that sort of functionality simply can't be supported.
Of course since the Yeelight is a smart Bluetooth device, there is the possibility that Xiaomi can build more features into the app itself. While remote operation isn't possible outside the 30-foot Bluetooth LE range, features like caller ID or a mode that pulses to the beat of your favorite music are certainly possible. But don't buy the Yeelight counting on what could happen. If you want more than a stand-alone smart light fixture, you'll be better off going the more expensive — but more functional — route with a smart WiFi hub enabled system.
Should I buy a Yeelight?
As mentioned above, that depends on what you want from a smart lamp. If you're looking for something inexpensive (at the time of this writing the Yeelight is about $65) that you can plug in beside your bed on on an end table but still get the smart features that you want, the Yeelight is an instant buy. If you want a more automated and integrated system, the Yeelight isn't going to suit your needs as well.
I always like to end any review with the answer to one simple question — would I buy this product with my own money?
I did. Having one for each side of the bed works perfectly for my wife and me, and we don't miss any features that we would have had if we added a couple more Hue lamps to our setup. We also saved a lot of money by not buying another pair of Hue Blooms. I'm really glad I got to try the Yeelight, because I would have just bought two more Hue Bloom lamps (which are excellent and highly recommended as well) and paid for features I didn't need at the bedside. I'm confident in recommending it to anyone.
Get the Android Central Newsletter
Instant access to breaking news, the hottest reviews, great deals and helpful tips.
Senior Editor — Google Ecosystem
Jerry is an amateur woodworker and struggling shade tree mechanic. There's nothing he can't take apart, but many things he can't reassemble. You'll find him writing and speaking his loud opinion on Android Central and occasionally on Twitter.