The Xiaomi Yeelight is a great bedside lamp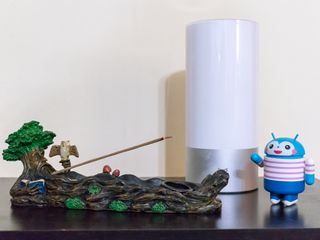 Smart lamps have been around for a while. Many of us have stand-alone bulbs that can be controlled with a remote, or even a full-on smart lighting system like the Philips Hue, and it's usually the first step folks make when they start thinking about a connected home.
Xiaomi is a player in this space (as well as every space it seems), and they sent me one of their Yeelights to take a look at. I've been using it for a bit, and I have to say I'm impressed.
Meet the Yeelight
The Yeelight is a smart, Bluetooth Low Energy multicolor table lamp marketed as a bedside fixture. It has a clean cylindrical design, and you can control it with your smartphone or through a few controls on the top of the unit. The light output and features pit it against something like the Philips Hue Bloom, and the quality of materials and construction are equally top-notch. While the Yeelight is plastic and not glass, it's very well built and the plastic used works well with the metal base. There are some major differences between the Yeelight and other smart lighting systems, though, and they can be the deciding factor when buying a smart light of any type.
As mentioned, you don't need a smartphone to use the Yeelight, though not all features are available without one. On the top of the unit you'll find a power button, a "scene" button and the top of the fixture is touch-sensitive and can be used to change the brightness by gliding your finger in a circular pattern. A tap of the scene button will change the Yeelight from "White" mode, to "Hue" mode to a blooming mode that cycles through 16 million colors. As a stand-alone lamp, it's one of the most sophisticated we've seen.
Of course most people will want to use their smartphone to control the Yeelight, and that's easily done. Xiaomi has a dedicated app in Google Play (opens in new tab) for the Yeelight, and while it's not the most well-designed app you'll ever install it is functional and easy to use.
Inside the app, you can control the same basic functions that the fixtures top-mounted controls provide, as well as a lot more, all by swiping your finger on the intuitive interface. Besides setting the color and intensity of the 16 million color Osram RGB LEDs (color temperature can range from 1700K to 6500K in the white mode as well) you can set things like a sleep timer, a wake-up timer that gradually increases the brightness starting 30 minutes before your set time as well as schedule on and off times or a night mode that cuts the intensity for a softer glow. If you choose to sign up for the optional Xiaomi account, you can even connect to your Mi Band or through the WeChat service to enable some additional features. You can connect multiple Yeelights to the app, though each must be controlled individually. The only issue I take with the app (other than the decidedly not Android looking design) is that paring the Yeelight was more difficult than it needed to be. It seemed to take longer than it should have, and the lack of feedback to let you know things were still working made it tempting to halt the process and start over. Don't do that — let it run and you'll be fine.
Can it replace my nightstand lamp?
Image 1 of 5
Certainly! In fact, that's how Xiaomi markets the Yeelight. While at full intensity it's fairly bright — I'd compare it to a 40 watt tungsten bulb — it can also be dialed back to create a much more subdued glow. It has most all the features you's want in a smart bedside fixture. The multiple colors and pulsing effects make it a perfect companion for any adult activities you and a partner may have planned, and the sleep timer feature and the gradual wake-up feature make the Yeelight excellent at it's intended use — beside your bed. If you're still using a traditional light in your bedroom, the Yeelight is the perfect way to get started with smart lighting.
The Yeelight is equally at home on an end table or anywhere you would want a light that doesn't need to be extremely bright, and you would enjoy some smart control. The soft white output at it's dimmest setting makes for a perfect accent lamp in the living room or den. You don't have to relegate the Yeelight to the bedroom.
How "connected" do you want to be?
The footprint, light intensity and RGB features of the Yeelight are comparable to a Philips Hue Bloom (opens in new tab), but a Hue system has one major advantage over the Yeelight — the Hue Hub and WiFi controls.
With a Hue system, you can control multiple lights, multiple zones or individual lights from your phone or a remote or even something more advanced like a home automation control center or a computer. The Hue system was designed to be integrated into an automated home rather than be a stand-alone product. You can't, for example, set up a Yeelight to work with an Amazon Echo for voice control or integrate with TV programming to change colors while watching a movie. The Yeelight is a Bluetooth device, and that sort of functionality simply can't be supported.
Of course since the Yeelight is a smart Bluetooth device, there is the possibility that Xiaomi can build more features into the app itself. While remote operation isn't possible outside the 30-foot Bluetooth LE range, features like caller ID or a mode that pulses to the beat of your favorite music are certainly possible. But don't buy the Yeelight counting on what could happen. If you want more than a stand-alone smart light fixture, you'll be better off going the more expensive — but more functional — route with a smart WiFi hub enabled system.
Should I buy a Yeelight?
As mentioned above, that depends on what you want from a smart lamp. If you're looking for something inexpensive (at the time of this writing the Yeelight is about $65) that you can plug in beside your bed on on an end table but still get the smart features that you want, the Yeelight is an instant buy. If you want a more automated and integrated system, the Yeelight isn't going to suit your needs as well.
I always like to end any review with the answer to one simple question — would I buy this product with my own money?
I did. Having one for each side of the bed works perfectly for my wife and me, and we don't miss any features that we would have had if we added a couple more Hue lamps to our setup. We also saved a lot of money by not buying another pair of Hue Blooms. I'm really glad I got to try the Yeelight, because I would have just bought two more Hue Bloom lamps (which are excellent and highly recommended as well) and paid for features I didn't need at the bedside. I'm confident in recommending it to anyone.
See the Yeelight on Amazon (opens in new tab)
Android Central Newsletter
Get instant access to breaking news, the hottest reviews, great deals and helpful tips
Senior Editor — Google Ecosystem
Jerry is an amateur woodworker and struggling shade tree mechanic. There's nothing he can't take apart, but many things he can't reassemble. You'll find him writing and speaking his loud opinion on Android Central and occasionally on Twitter.
As much as I love tech, I still haven't bought into the smart home. This might be a good, cheap way to test my biased old-time self.

The wake up feature sounds awesome. Posted via the Android Central App

It is. I really do love this thing, if you couldn't tell from the review :P

If I have to be somewhere close to the device because of bt, I might as well just hit a switch. But awesome price and something I am going to ponder. Posted via the Android Central App

The features in the app are what makes this one good. I really love the sleep and wake up settings

Gotcha Posted via the Android Central App

I've been tempted to try Hue, as my local used electronics place currently has Hue hubs for £15. Then I'd have to buy bulbs too of course, maybe 3rd party ones, which is another mine field. But my place is pretty small, I'm never more than 30ft from anything really, so maybe these are a good alternative. Posted via the Android Central App

Interesting. I kind of want to try the Smart Home craze and this seems like a good starting point. The future can not get here any sooner. Where's my iRobot Powered by Android? I wanna see that developed #TeamFrosty Nexus 6P

Amazon. 30-day return policy :)

This looks rad cool as for the price..... Posted via the Android Central App

Cool lamp. I really love the Lumiy Lightline and Lumiy Lightblade LED desk lamps. People really love those lamps.

looks neat, but it seems more like a nightlight than a lamp

Ordered one to be delivered by end of day tomorrow Posted via the Android Central App

Why is nobody talking about the apps crazy permissions? Google needs to start asking developers why a Bluetooth light app needs permissions like: This app has access to: Device & app history Allows the app to view one or more of: information about activity on the device, which apps are running, browsing history and bookmarks Identity Uses one or more of: accounts on the device, profile data Location Uses the device's location Photos/Media/Files Uses one or more of: files on the device such as images, videos, or audio, the device's external storage Camera Uses the device's camera(s) Wi-Fi connection information Allows the app to view information about Wi-Fi networking, such as whether Wi-Fi is enabled and names of connected Wi-Fi devices Device ID & call information Allows the app to determine the phone number and device IDs, whether a call is active, and the remote number connected by a call. Seriously? Browser history? Location? WiFi? It's not even a WiFi app. No developer needs this for a simple Bluetooth remote let alone China and their government. If I would have seen these permissions before I bought it I would have passed. Since it just arrived today I downloaded the app. Immediately put my phone into airplane mode. Paired, set wake times and whatever other customization I wanted. Then I uninstalled the app immediately. Many phones users already own will never see the new Android where you can skip permissions when you install it. Google either needs to hold devs accountable or make this an update to the way the Play Store works. Posted via the Android Central App

I have 2 of these lamps and they are amazing especially considering the price. I use them at either end of the sofa in the lounge. You can use your phones camera to capture a colour scheme for them. In my case i took a picture of some cushions on the sofa and the Yeelight was able to match their colour (how neat is that). Because they can be set to turn on and off you can use them for security lights so no need for a separate timing on a lamp if you are going to be away. I was so impressed by these that i got their stand alone bulb for my floor lamp in the dining room. These work the same but are Wifi so can be operated away from the house. i have matched it with their strip light which runs under the kitchen cabinets, all going on and off at the same time and showing the same colour. I got all mine direct from China via Gearbest which makes them a lot cheaper than Amazon UK (and US I expect) and I am currently awaiting the arrival on their plain white bulb which I intend to use in my outside security light. I buy lots of tech but these are so far my favourite, highly recommended .

As a follow up to my previous post anybody concerned about buying this brand. For my sins I have turned into a bit of a Xiaomi fan boy. It started when i got a dash cam that was on special offer, I was so impressed by its design and build quality I always looked at their products first when looking to buy. I even got one of their MI5 phones which did need a bit of tinkering to get it to work in the UK, but wow love it. These lamps are true to Xiamoi a beautiful simple design that oozes quality. Xiaomi are making noises about coming officially to Europe and the US, if they do they will shake the market that's if the law suits dont get them first.
Android Central Newsletter
Get instant access to breaking news, the hottest reviews, great deals and helpful tips
Thank you for signing up to Android Central. You will receive a verification email shortly.
There was a problem. Please refresh the page and try again.