How Android theming helped me find my inner artist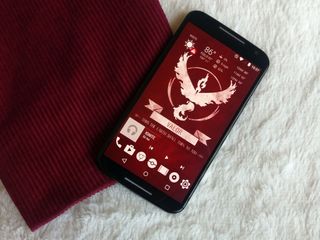 I'm the girl with the Disney shirt on every day, with a beautiful case (opens in new tab) for my phone, my headphones on top of my jeep cap, and a song in my heart (opens in new tab), if not on my lips. I spent some of my schooling years hiding who I am as a means to escape bullying, and I'm done with that. I'm done with hiding. I believe in being who I am and I believe in showing who I am in the technology I rock.
And this is why I theme.
Your smartphone is one of the most basic and personal extensions of your body in the "post-PC age". I was the kid in school that would spend hours editing tons of awesome wallpapers for my desktop, and when I got an Android phone, you bet your sweet ass I scoured the internet for awesome wallpapers to put on it. But we don't have to stop at the wallpaper on Android. We're not Apple, for Duarte's sake, we're Android, and Android is all about personalization!
Believe it or not, for the first couple of years on Android, I didn't bother with icon packs for my themes. I would find a good wallpaper, and then I would create dock icons to match the theme, since my dock was all folders anyway.
Then I'd get together about a dozen ringtones and notification tones to give to my starred contacts and favorite apps, expressing my musical tastes as well as telling me who or what was calling before I pulled my phone out of my flares.
Things were fine… then I found Nova Launcher. And Android was suddenly brand-new.
Nova Launcher was my first custom launcher, and it's the one I've stuck with. I dabble with Action Launcher and others from time to time for specialized projects and to see how green the seaweed is in other lakes, but Nova was where I had my theming revelation, and it's where I gladly build (almost) all my themes to this day.
Icon packs were easy to apply and easy to tweak individual icons on, folders were bigger, more functional, and more beautiful than ever, and then there were the gesture actions. I was in love.
When I build a theme, there's always an instinctive desire to share them. Call it the digital version of showing your parents your school art project. I was sharing them on social media years ago, and after writing for Android Central, I decided to share my themes with our readers.
It's a bubbly little feeling to hear people are trying out my themes, that my themes can spur them to make their phones look better and feel better for them. It's why I'm always hunting for good theme ideas and great wallpapers to build them on.
I love to share my themes because my themes are an extension of myself and my style. I love to build my themes so that I can try new styles and new workflows in pursuit of the perfect home screen. And I'm about to dive into some wicked Beauty and the Beast themes, so if you know any characters or wallpapers you want to see me use, holler at me!
Ara Wagoner was a staff writer at Android Central. She themes phones and pokes YouTube Music with a stick. When she's not writing about cases, Chromebooks, or customization, she's wandering around Walt Disney World. If you see her without headphones, RUN. You can follow her on Twitter at @arawagco.
I love this! I'm much the same, theming my phone brings out my creative side and it's just plain fun!

I honestly quit the custom keyboards and other theme related things a couple years ago. Cool that android has the options but I go the easy route now, I just use Samsungs themes. TouchWiz has plenty of haters, but it's so easy to theme now, the days of green on blue are over.

Ya, there's the material themes that the Samsung store has that are actually really good. Other than that though it ain't much to get excited about

How to make themes on nova launcher ?

I still have the black panther theme since you shared it on AC... Thank you!

I still love Black Panther, one of the simplest themes I've done, but so lovely.

Do you have a link where we can see your themes?

This might be my favorite Ara article.

If your phone is supposed to reflect your personality I guess that's why my background is a solid dark blue almost purple color..

I like dark blues because they look cool

I love your article, I am the same exact way!

Love your work thanks. If you are taking requests it would be cool to see some anime themes like "attack on titan" or "Tokyo ghoul"

yes please! i second this! anime themes pls, specifically one piece ones :)

Oh Ara, you are the Queen of Themes! You make us warm and fuzzy 😊
I totally agree with you re expressing your self, I'm highly amused by peeps coming from iOS wanting to "personalise" their shiny new Android by making it look exactly like their iPhone did!
I like that icy mountain theme of yours...
Happy Days 😊

Where can we find your themes?

http://www.androidcentral.com/author/ara-wagoner

Which theme/launcher is used in a phone that is shown in an article?

The photo at the top of the article is my Valor theme from my Pokémon Go theme article using Nova Launcher.

Hey Ara, being a theming nerd is no problem. I do it too. And you have very beautiful wallpapers to match those. I should still ask you, how did you manage to get your hands on those badass widgets, I like the one with the controls for the music player playing the BraviSEAmo song. Lol, did you create them as well?

You can click her name and see all of the articles she has posted. Many of them are detailing her themes with links to all widgets, apps, wallpapers, and effects used.

That is the Finding Dory theme I did, and the widget is a color-customizable KWGT.

I love theming, next to Tasker it's the main reason I use Android. And when i discovered KLWP (and how it works), I themed even more. And with Substratum, Android itself (including a lot of apps) have the color scheme of my home screen.

I use Nova Launcher and I switch icon packs fairly frequently, but other than that, my home screen is completely black. There's not a single icon to be found anywhere on the single screen on my Note 4. In fact, the only way you know my phone has been turned on is when you see the navigation buttons light up for a brief moment when the power button is pushed. Anyone using my phone has to figure out what to do once they push the power button. It's fun watching my wife to to navigate my phone when she needs it once in a while.

Lol! A totally black home screen! I love it! 😄😄😄

AMOLED energy saving themes FTW

I love that you bring a different kind of Android Geekness to the mix. In a world that's dominated by men, I love that you aren't afraid to show us Disney. I also love that I've never really seen people giving you a hard time about it at AC as we know online communities can be brutal at times. I'm definitely more nerd than girly-girl. My case features a droidbug dircuit not sparkles and my wallpaper is Steelers. Android is open to all though and we can express our individuality, I love your themes the whole range from Disney to latest Comic movie to football. I don't go to the trouble of theming but I like seeing what others come up with. Keep up the good work and thanks AC for finding us writers who bring different perspectives.

I'm not really a girly-girl myself, since I practically live in jeans and graphic tees and don't even own a hair dryer, but thanks. I don't hide what I like anymore. And if they think Disney is childish or girly, well, I can always lock them in a room with a nice long playlist of films.

I hope OEMs continue to include built-in easy options for creating themes. I love HTC Themes; it's pretty much the reason I stick with the Sense launcher.

Most of us grew past wanting to customize every single pixel in our phones

Well, it's not like I'm claiming to be an adult, but theming also allows me to experiment with layouts I pursuit of a more productive layout and work flow.

That's like saying most of us outgrew wanting to become artists. It's not that you outgrew it, you just were not any good at it so in order to save your ego you create an excuse to throw up your arms and just quit.

Ara thank you for another cool article. I'm using both AL3 and Nova, I like experimenting with both. This might sound silly but today I just learned how to create backups in my Google Drive for both launchers. Yes it's extremely fun being creative and customizing to meet your needs or possibly just your wants. Please keep these articles coming.
Android Central Newsletter
Thank you for signing up to Android Central. You will receive a verification email shortly.
There was a problem. Please refresh the page and try again.