When will the PS5 release?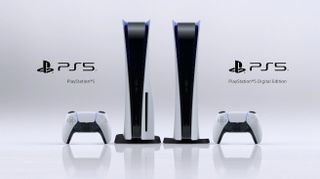 (Image credit: PlayStation)
Best answer: Sony has officially confirmed that the PS5 will release in select countries on Nov. 12 and worldwide on Nov. 19.
When is the PS5 release date in my country?
Sony announced Sept. 16 during a showcase that the PS5 will be released on Nov. 12 in the U.S., Japan, Canada, Mexico, Australia, New Zealand, and South Korea. The console will be available for customers everywhere else on Nov. 19. The PS5 Digital Edition will be releasing on the same day. The PS5 will cost $499 while the PS5 Digital Edition is priced at $399.
It's worth noting that the China release is still up in the air and will be announced at a later date.
How can I get a PS5 as soon as it releases?
Your best bet is going to be to preorder the system. Preorders for both consoles began yesterday even though they were meant to start today. They sold out fast due in part to increased demand and concerns about supply disruptions caused by COVID-19.
We've put together a list of all the places where you can preorder the console, so check back regularly for information as more systems are released. Many retailers are also offering special bundles or selling accessories and games now so you can be fully ready for launch day.
When does the Xbox Series X release?
Microsoft confirmed that the Xbox Series X will be launching Nov. 10, which is part of why Sony was pushed to share its own release announcement. That system will also cost $499. Microsoft's more afforadable, lower spec Xbox Series S will release the same day at $299. Gamers who want both Sony's and Microsoft's next-gen consoles are in for a very expensive week.
Buy anything
PlayStation Store Gift Card
For when you don't know what to play just yet
There are thousands of games available on PS4, and thanks to backward compatiblity, nearly all of them should be playable on PS5. You don't need to wait for Sony's next machine to play some stellar games. Just browse the store and see what catches your eye.
Already sold out
Keep checking for more chances to buy
PS5 preorders unexpectedly kicked off Sept. 16, leading to a frenzy of buying that crashed websites and depleted inventories almost immediately. Hopefully more units will be available for sale soon. In the meantime you can consider which version of the console you want, and browse launch games and accessories.
Be an expert in 5 minutes
Get the latest news from Android Central, your trusted companion in the world of Android