What would you like to see in the Essential Phone 2?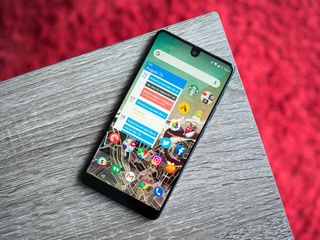 For Essential's first foray into the smartphone world, the Essential Phone could have been a lot worse. The phone still has one of the best designs of any device on the market, its build quality is second-to-none, and relentless software updates have made the UI and camera performance considerably better than they were on day one.
Essential's already said that it's working on a successor to the Essential Phone, and while details on what to expect with the Essential Phone 2 are still up in the air, some of our forum users already started talking about what they'd like to see with it.
Here's what they had to say:
With that said, we'd now like to hear from you – What would you like to see in the Essential Phone 2?
Joe Maring was a Senior Editor for Android Central between 2017 and 2021. You can reach him on Twitter at @JoeMaring1.
Kick ass camera's. Amoled display, IP67/68

A competitive camera and duel SIM's is all they need to add to take my money.
Like the idea of trying something new.

Amazing dual camera and cheaper price tag.

Get rid of the notch, improved camera, ip68, micro s/d, headphone jack & upgraded software. The ceramic titanium build continued. I still think it was a good first try but the numbers of 88,000 sold was fair. First year company & phone was decent. I think Andy should take a step back & really come thru with the ph-2! He & his company are definitely capable. Good luck!

Wireless charging. Really all I miss since switching from Samsung.

Camera is about all I can think of. Everything else is perfection. Maybe wireless charging.. I miss that from my Lumia 920 back in the day. Also maybe a bit lighter in weight too.

I would like the phone to have an SD Card slot and a great camera. Since I didn't buy one, I don't really know much about it. Played with one in a Sprint store. How is the battery life on the phone?

Actually, all they should do: - improve the cameras with OIS (in both).
- a better camera app from baseline, which includes a manual mode.
- go the iPhone/HTC/Huawei route for the dual speaker setup.
- add the water resistance. More importantly, as a company, they should make the key accessories such as the headphone jack mod and the charging dock available on launch. This would mitigate no headphone jack in many ways. Have these also backwards compatible with the OG Essential phone. Do 3 years security paths and two years OS updates (go to three if they take off). If they want to do a bigger screen, I wouldn't mind. Remember, in footprint around the same size as the Pixel 2 and a bit smaller than a V30, they were able to fit a big screen. The notch hype is overblown, as a current owner (2 months in) you get used to it very quickly.

Dual front facing speakers, no front camera (just sell an accessory for selfies...btw I never take selfies, though I know for some that'd be a deal breaker), next gen specs, could care less about a headphone jack, updated design (I love how the phone looks, but it's the second iteration, let's spice it up!)

Better camera waterproofing bigger screen AMOLED.

Well, they could start with, you know, the essentials. Wireless charging, AMOLED display, OIS, a camera that doesn't suck, no notch and a black theme for the OS.

Better camera. 18x9 aspect ratio. No notch.

Love this phone. I would love to see waterproofing and wireless fast charging. Continue with kick ass build design, and awesome software updates. Bring on the accessories!

Keep the design, shape and size. Just need wireless charging and some up to date water resistance. A headphone jack would be great as well, the phone is thick enough for it. Stunning phone and perfect size. Don't fix it, if it isn't broken.

Keep price where it is. Run and improve your Unit tests \ testing for the OS - updates - etc. - this is mandatory - Improve your OS stability. Keep security updates and OS updates frequent. Improve the camera. Some form of water proofing...

I see a lot of comments around bigger screen size. I completely disagree. I like the current overall size of the phone. It's been so great to be able to use it one handed. ( who wants to carry a backpack for our ever increasing sized phones?) In fact, if they could shave off the phone's chin to shed a few more millimeters, all the better. Adding waterproofing is welcome, plus a few more gestures like tap to wake, etc. I don't miss the headphone jack, as I use Bluetooth. Maybe a smidgen bigger battery, though I've never been left with a dead phone yet after five months. My biggest complaints are around the camera (though I've been satisfied with the latest SW updates) and the lack of accessories available (3rd party and from Essential using the back port). That's my two cents...

Headphone jack & More support for that notch.
So it'd be nice if YouTube videos filled the whole screen.

Make the bottom bezel thinner, add headphone jack, wireless charging, AOD, ip67/68, iris scanner, keep the dual cameras but use better sensors and add OIS, add micro SD reader and keep the titanium build = must have phone.

AptX HD support, Micro SD card slot or a 256GB storage option, dual lens setup with wide angle, FASTER OS UPDATES!!, Verizon voice mail app.

Waterproof, otherwise happy with PH-1

I really wanted to love the PH-1 it because I like unique phones, but best decision I ever made was returning my defective PH-1 and not getting a replacement (I only hesitated because I paid $399). But if I were buying again, no notch, headphone jack, SD card, wireless charging. All features I got in my replacement device.

Keep the exterior the same, just create new color combinations. It's size is perfect. Add waterproofing, true wireless charging, and create more accessories for the dock. Also just put LOTS of ram, ROM, and keep the os clean like it is now. Go all in with camera technology. Make the camera GREAT!!!!!. Another idea would be a full camera grip case to attach to the dock to control things like zoom, aperture, shutter speed etc!
Android Central Newsletter
Get the best of Android Central in in your inbox, every day!
Thank you for signing up to Android Central. You will receive a verification email shortly.
There was a problem. Please refresh the page and try again.