What was your first Samsung phone?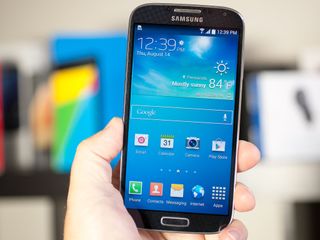 (Image credit: Android Central)
Looking back at phones that were released 20, 10, or even just 5 years ago, it's mighty impressive just how far the market has come in a short amount of time. It may seem like we get nothing but incremental updates these days, but that's because the past few years have been filled with countless innovations.
Recently in the AC forums, one of our users shared a picture of their Samsung phones all lined up next to each other — back to the Galaxy Nexus and going all the way up to the Note 20 Ultra. As you might expect, this got people feeling rather nostalgic.
A few of our other members started sharing their first Samsung phones, with the conversation going as follows:
Now, we want to hear from you — What was your first Samsung phone?
Android Central Newsletter
Get instant access to breaking news, the hottest reviews, great deals and helpful tips
Joe Maring was a Senior Editor for Android Central between 2017 and 2021. You can reach him on Twitter at @JoeMaring1.
For me was the S4. I remember most classmates had it when I was in 8th grade. Something about a white S4 was more appealing than the current iPhone 4

S3 for me, back in my root and Rom days. I was changing that system once a week back then.

First Samsung phone I owned was the A737 slider "blue". Never owned any of Samsung smartphones.

S7 for me. Was an HTC fan back in the beginning and had the Incredible 2 and One M7.

My first Samsung phone was the Galaxy Note, back in 2011. It was an import from China, since T-Mobile wasn't offering it in the U.S at the time.

S 7 edge, still one of the best designed Samsung phones. Now, the S10+, another great design?

The SCH-i760 was my first Samsung device.

Mine was a gold S7 Edge surprisingly. I was a very loyal Windows Phone/Mobile user for a LONG time. Eventually I got fed up of the lack of apps. Since I made the switch I never looked back.

spot on with my post too. we were a very loyal Windows Phone family

My first was the original Note. Definitely took a lot of jokes from friends on that one.

Mine was the Galaxy S2 on Sprint (Epic 4G Touch I believe).

T Mobile Samsung Galaxy S2. Still works.

I was a BlackBerry loyalist until they stopped manufacturing phones. I immediately bought the S7E and loved it. Now I have the S10+ and love it. Very happy.

Galaxy S5. I hated it. It insisted on using the samsung dialer & voice assistant when on bluetooth. I ditched it within 5 months.

my First Samsung was also my first Android phone. the Note8. I now have the Note 10+ and handed down the Note 8 to my wife and then my Son got her old S8+. prior to this we were a devout Windows Phone familty and left it kicking and screaming. Well, not really screaming, just disappointed with Microsoft. the biggest plus for the wife was all the apps that WIndows somewhat had and kept disappearing as it got closer to being axed. When she got her S8+ she was on cloud nine. she probably can't even spell Windows Phone now...

Samsung Droid Charge....I think it was back in 2011. It worked out better for me than the HTC Thunderbolt. Since then, I've had the S3, Note 2, Note 4 and the Note 8. I'm probably gonna jump to the iPhone 12, but I doubt I've bought my last Samsung phone.

My first Samsung phone is the one I haven't bought yet.

S8+, worked well (still does for the most part). Wasn't a fan of a physical Bixby button or their bloatware. Will be trading it in for a Surface Duo that's on pre-order. MS is offering $250 for a 3yr old phone that's about to no longer get updates - take it please :D

First off, my first cell phone was an LG VX8300 (flip phone) I acquired in 2008. It started to fall apart (hinge broke) so I broke down & bought a 'smartphone', a Samsung Galaxy J3 Orbit (last August). it's perfectly fine for the reasons I bought it (phone calls, checking the time away from home, & checking bus arrival times). I very rarely use it for anything else.

Samsung SCH-2000. February of the year 2000.

Samsung flip phones up to the s3. I switched to HTC and never looked back. HTC product, then, was far superior to Samsung.
Android Central Newsletter
Get instant access to breaking news, the hottest reviews, great deals and helpful tips
Thank you for signing up to Android Central. You will receive a verification email shortly.
There was a problem. Please refresh the page and try again.