WatchESPN app hits the market, only available to select cable customers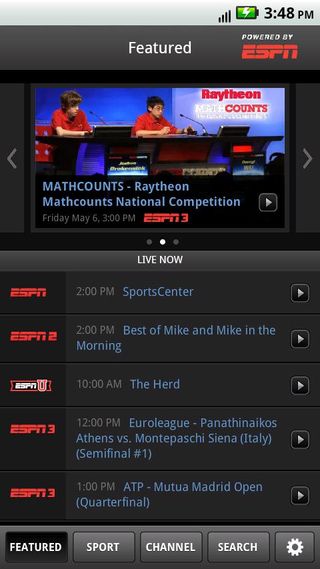 ESPN has finally released an Android version of their WatchESPN app, which allows users to watch ESPN on their mobile device wherever they are.
The app allows consumers to watch content from ESPN, ESPN 2, ESPN 3 and ESPN U. In order to use the app, you must download the latest version of Adobe Air.
This is perfect for the ultimate sports fan that must have access to ESPN all the time. There is a caveat however: this app is completely dependent on the approval of the cable companies.
Here is a list of cable companies who have approved it thus far:
Bright House Networks
Time Warner Cable
Verizon FIOS
Verizon High Speed Internet (If you only buy Internet from Verizon and not the entire package, you will only have access to ESPN3)
Unfortunately, this leaves a lot of consumers in the dust and out of luck. Hopefully either the rest of the cable companies will be quick to approve it or ESPN will just release it universally. For those who have the above providers, the app link and press release is after the break.
Android Central Newsletter
Get instant access to breaking news, the hottest reviews, great deals and helpful tips
Another app (hbo go) that I can't access on my dx with gingerbread.. Wtf

Video is a little choppy but works.........but sound isn't working. OG Droid. This app needs work. Excited about the idea of having it tho.

Now what's wrong with this picture. Time Warner jumps on board with WatchESPN but they can't jump on board with HBO Go and HBO is OWNED by Time Warner.... The failure here is massive.

Not really. Don't forget that Time Warner Cable it not owned by Time Warner anymore.

Barcode didn't find it for me on the market with my xoom. Had to manually look it up

You say the service providers have to approve it. It is more like the service providers need to pay ESPN....

Anyone having issues with audio? I can see the stream, but can't hear anything...

no audio here either. 1 out 3 phones at work has audio...... atrix works
thunderbolt no
og droid no

Cool, but as with the hbo, no need when ya have slingbox! And as a proud fios customer im happy to see its not on optimum. F cablevision and Dolan. Make the switch!

Would love to, but FIOS is still not in brookhaven and apparently never will be. Why verizon refuses to do this is anyones guess. Cablevision sucks but verizon is even worse for ignoring the 2nd largest town on LI and its 500,000 people. F verizon.

Neither link work for me - did a manual search on my DX
Works great for me (w/ Time Warner)

As usual, Comcast nowhere to be found on the list. Why would they ever consider being on the cutting edge or ahead of the pack. Disappointed yet again.

Is it me, or does something not add up? If I already pay my cable company to access these shows on my television, then why all the fuss to watch them on my phone? It's the same content, just a different format. Plus why are these companies so pathetically behind the times that ESPN or HBO has to be the one to allow me to watch TV on my phone in the first place? All of this stinks imo. edit: Just checked out Slingbox, which looks really awesome. Guess I don't care anymore about those backwards cable companies anymore. Their loss is Slingbox's gain.

Sweet glad I have DirecTV so can't use this app. Thanks for nothing ESPN/DirecTV!

No sound, dx. SO stupid. More half baked apps..

EVO 4G. Works perfectly over 4g as it should. STILL one of the top of the line phones, probably won't go anywhere else but HTC. Wi-Max sucks battery dry. Buy extras.

just choose fios and it will work even without fios account

If I'm not mistaken, this is the same list of companies that support ESPN3.com. They have licensing agreements in place that let people access ESPN's content 24/7. It seems like all they did was put ESPN3 into a dedicated (Air) app.

comcast gets espn3 but no access to this app.

comcast gets espn3 but no access to this app.

Never could get it to work on my Captivate with Phoenix Ultimate. I have FIOS.

Works fine for me on Epic.

hopefully this post can update if and when other cable companies approve

For anyone that wants to try this but your provider is not listed: Download the app from the market Download adobe Air from the market(if you do not already have it) Start the set-up process and choose any provider(I chose Verizon High Speed) At some point during the process it will give you the option to finish setting up your account later, select this option. You will now have a four hour preview before you must finish the set-up process using your provider credentials I'm watching the Red Sox/Minnesota MLB game and it's pretty darn cool. Video quality is somewhat pixelated, but it could also be worse. Sound is fine for me using HTC ThunderBolt. I am watching via Verizon 3G with no lag or buffering. It switche between content kinda half assed. The Red Sox game ended(Sox won) and Sportscenter was next up. Well the video freezes and says "this program has ended". Took me several tries to finally get Sportcenter to start playing. Had to back out and choose the game(that was already over) several times. Hopefully COX gets this app pretty soon(doubt it) because between this and HBO GO, it makes Android a nice multimedia platform(for me).
Android Central Newsletter
Get instant access to breaking news, the hottest reviews, great deals and helpful tips
Thank you for signing up to Android Central. You will receive a verification email shortly.
There was a problem. Please refresh the page and try again.