Watch Andy Rubin talk about the new Essential Phone at the Code Conference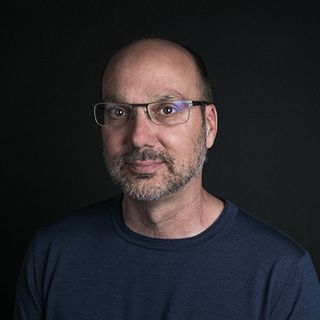 (Image credit: Essential)
Andy Rubin's new company Essential has finally opened up for everyone to see what it's been up to, dropping details on both the Essential Phone and Essential Home. Coinciding with the product launches, Rubin was on stage for an interview with Walt Mossberg at the Code Conference to bring everyone up to speed with more details on his company.
Of course Rubin's new company Essential was top of mind for the interview, but he also provided more background on what he's been doing since he left Google, including starting his other company Playground Global.
The whole interview runs about an hour, and is well worth a watch if you want to learn more about the Essential Phone.
Andrew was an Executive Editor, U.S. at Android Central between 2012 and 2020.
One of the pioneers of the smartphone revolution??

Well, Rubin was part of Danger (makers of the Sidekick) and also created Android ... so yeah, I'd say so.

Very valid points Andrew and that's also not considering Andy Rubin lured Matias Duarte away from HP to work on Android and look at what Matias has done for mobile design language. So with all that on the table I'm kind of anxious to hear cashxx's counterpoints. I'll wait :: taps fingers on desk ::

Can't wait go get my hands on one!

I feel like I didn't learn much but some of his reasoning for the design decisions was interesting.

So no nose cam selfies, and I was worried there for a moment.

I really want to see this phone in person. I think it has potential. Is Walt Mossberg always this crabby?

That's what happens when you get old, you become cranky.

Yeah he thrashes everything not Apple but tries to show he is not biased. He was Steve Job's close journalist buddy.

He's the worst. I have an acquaintance who's so sure he's not biased and he's definitely not a fanboi because once upon a time 3 years ago his wife owned a Galaxy S5 so he knows Android. Anyway, when any company not named Apple does something it's so stupid, worst move ever, cant believe they are so dumb, etc. When Apple does the exact same thing he has a full list of reasons why it makes perfect sense and it was the best decision ever. Example: Samsung announces S8 and says Bixby is coming soon. He says they are so stupid for launching a half baked product. I remind him Apple did the same thing with portrait mode and all of the sudden "that's completely different, night and day, blah blah words" Walt Mossberg is an old fat version of the acquaintance I described above.

Andy has a vision that he will never achieve in getting all platforms to work together seamlessly. Addiitonally almost everything he mentioned as challenges in the smartphone world today, his phone does nothing to overcome. I am even less likely to consider this device after watching the interview. It will be gone in less than 5 years.

Never say never, at least someone with a vision is willing to give it a run, nothing ever gets done without trying, I believe this might just work out, as it benefits all the major players. I don't think the phone will be the main player in what he is trying to accomplish, which is connect the jigsaw puzzle, as he said you don't specifically have to use their phone for the home automation ecosystem.

Not worth the risk from a manufacturer that knows where the roadblocks are but does nothing different. It was laughable as he taled about a wireless and connector-less world and Walt points out the USB C. It was a joke all around.

+wanted is what you are missing. And Rubin isn't stupid. He knows that not everyone uses BT headsets and that folks still have to plug their phone into the car for Android Auto as BT 5.0 AA is a ways off. What he was saying was what he wished would happen. Walt is a cranky old jackass .. always has been and always will be.

Their main objective is the entire home integration ecosystem.

Man Walt can't stop talking thrash aganist Android. Glad to see Andy say that the phone may be ready to ship in around 30 days. He said he won't be taking reservations if he wasn't close to shipping.

I wish I was in the position to buy this phone it looks really great... the ideas he was talking about really sold me on a "better" android experience... I think the smaller companies like one plus have a lot to learn from a guy with this much experience in the industry

Just bring back Danger, I want a Android O stock Sidekick style keyboard omg ...I miss that....Nextel and my Sidekick...
Android Central Newsletter
Thank you for signing up to Android Central. You will receive a verification email shortly.
There was a problem. Please refresh the page and try again.