The Walking Dead Onslaught: Everything you need to know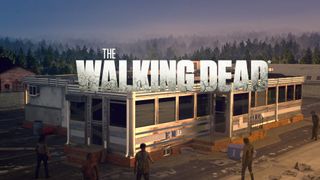 VR and zombies seem to walk hand in dismembered wrist stump these days, and we talk about zombies, we can't help but reference The Walking Dead. With two different shows and multiple comic book runs, The Walking Dead is something of a cultural icon at this point.
There are also a lot of video games out there that have The Walking Dead branding, but nothing quite like this new game from Survios — creators of Creed: Rise to Glory, Sprint Vector and other VR titles. Called The Walking Dead Onslaught, It is shaping up to be a very good zombie VR game indeed.
What is The Walking Dead?
Based on a comic book by Robert Kirkman, The Walking Dead TV series took the world by storm when it arrived on screens in 2010. The story has a police officer, Rick Grimes, wakes up from a coma, a short while after the zombie apocalypse takes over the world. The series mostly follows Rick and his party of survivors as they try to make their way through a world full of monsters desperate to feed on them.
There is also a second show called Fear of The Walking Dead which has some success and follows a different set of survivors from another part of the world fighting the zombie horde. The show gave us a lot of feels over the years as well as some excellent meme fodder. Dad Joke Rick is a favorite of mine.
So what's Onslaught about?
Following on from the show, The Walking Dead Onslaught is a Virtual Reality game where you become a survivor and you have to face the zombies in epic combat. In the game you will get to use a lot of the iconic weaponry from the show — think crossbows, samurai swords, and baseball bats with barbed wire — and they may even be talk of some of the cast making an appearance.
Survios have worked closely with AMC to bring us an authentic feeling game, one that has the same themes and the same great storytelling that we loved in the television series. You can expect the campaign mode to be well written and produced.
What is the gameplay like?
From what we have seen, the gameplay will be a first-person shooter with a heavy emphasis on melee combat as well as ranged weapons. The team over UploadVR got some really great footage of the gameplay and you can see how most of the game systems work.
Ranged combat works as you would expect from a first-person VR game. All the guns have an ammo meter visible and there appears to be a pretty big variety — we have seen crossbows, shotguns, assault rifles, and more. Survios have taken what they learned from making Raw Data and put the excellent gunplay mechanics from that game in this new one. If TWD: Onslaught is as good at ranged weapons as Raw Data, it's already got a plus one in my pro column.
Survios has also taken cues from Creed: Rise to Glory — another one of its amazing titles — when looking at melee combat in Onslaught. You can see when you watch the video that the zombies are going to be getting up close and personal with you on a regular basis, so having a good hand-to-hand experience will be important.
You seem to be able to use machetes, combat knives, and swords to do all kinds of crazy damage to the walkers in Onslaught. Survios has added in something they are calling "progressive dismemberment" that allows you to hack and slash specific walker body parts and see those parts fly off in a spray of blood.
A lot of time and energy has gone into making The Walking Dead: Onslaught feels visceral, gory and has a frightening edge to it. You would want the game to feel that way though, as the TV series is exactly the same. AMC never shies away from some gory visuals and neither does Survios it seems.
Will The Walking Dead: Onslaught have multiplayer?
We don't know, but we think it's likely. So far, every Survios game has had some kind of multiplayer option and this game lends itself to a cooperative mode of some sort. Imagine how fun it would be to destroy zombies with your friends in VR. I'm sure we will get news of this or any other modes in the coming weeks.
Release date and pricing
We don't have a definitive date for The Walking Dead: Onslaught yet. All Survios has told anyone is that it will arrive in the fall of 2019. That's not a terribly long time to wait for an excellent looking VR game with a fully developed storyline written by the team behind the show.
Pricing is also something of a mystery. As soon as the preorder goes up for Onslaught, we will update this article and let you all know.
Things to get to be ready for Onslaught
With the game being a few months away, now is the time to pick up some helpful accessories for your PSVR and yourself.
Skywin all in one stand ($40 at Amazon)
Make your room clutter free with this all in one charging stand for your console, controllers, headphones, and the PSVR itself.
The Walking Dead Season 1 ($14 at Amazon)
Go back to where it all began with Rick Grimes and his misfit band trying to survive the end of the world. There are 8 more seasons after this but let's start with the first and see how you get on.
AmazonBasics Microfiber cleaning cloths ($13 at Amazon)
The time will come when you need to clean your PlayStation VR. When that happens, having a small stock of microfiber cleaning cloths is a solid plan. You can use them to safely dust your headset off and clean the rest of your gear.
Be an expert in 5 minutes
Get the latest news from Android Central, your trusted companion in the world of Android
Since the days of the HTC Hero James has had two or three Android phones stuffed into pockets. James is always on hand to offer advice on phones, apps and most recently, PlayStation, especially VR, It's now something of an obsession. Find him @keridel wherever Media Socials itself.