Voice-activated 'Hey Cortana' arrives on Android, with caveats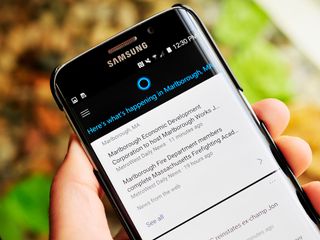 Microsoft is continuing to expand Cortana its future information hub for all things Microsoft with an update to the beta Android app. Version 1.0.0.289 went live in the last few days and with it comes an interesting feature: Hey Cortana.
For those on certain Lumias and Windows Phone 8.1 or Windows 10 Hey Cortana is old news. The voice-activated system lets users call Cortana when their phones are in standby giving a hands-free search experience. Windows 10 Mobile is getting the feature as well, but as of now it is disabled likely due to some device-specific drivers needed.
On Android, the option for Hey Cortana is found under Settings and is the first option.
Although this sounds like a big blow for Windows Phone, in reality, we can see that Microsoft is running against some of the same limitations on Android phones. As of now, Hey Cortana only works if the phone's display is on, and the screen is unlocked or you already have the app open. This is much the same situation as "OK Google" hotword activation on most phones, which require the phone's screen to be on, or at least plugged in, for voice activation to be enabled. Very few Android phones offer always-listening modes.
In practice, for the Android version you would have already had to turn on your phone and unlock the display and then say 'Hey Cortana' to enable the personal assistant. This limitation makes it more of novelty, with the ability to match the "OK Google" detection on some phones, but come up short compared to others.
Microsoft opened Cortana for Android to a public beta back at the end of August and anyone in the U.S. can sign up, test and submit feedback. If you are running Windows 10 on a PC, you can have Cortana sync up settings, preferences, and reminders between the two versions.
It is unclear when Microsoft plans to launch Cortana for Android officially.
Thanks, Jon R., for the tip!
Cool! Glad they can get this working in Android. It's like I never switched to Android from WP. lol Posted via the Android Central App

At this point I should save my money and not spend on the 950XL. Just use a WP skin and call it a day. Posted via the Android Central App

I don't know about you, but the best thing about the 950XL is the hardware. I wish they made it with Android.

If everyone decides not to buy 950xl then there will be no windows phone and less headaches to google which means android development will slow because Google will have nothing to fear.

The last thing Google needs to fear is MS. MS needs to fear themselves first before anyone feels they're a threat. The whole continuum is awesome and MS is heading in the right path, but its been 2 years since a high end phones showed its face. Win 10 Mobile is a crawl, and too many hiccups for actual release dates for the 950XL. Posted via the Android Central App

LOL! Yes, fear MS and its 3% market share?

You still get the 950 XL hardware which is gorgeous and extremely capable, and some amazing software like Live Tiles and the Windows Camera which is the best looking and one of the best performing camera applications I've ever seen.

There needs to be more to the experience if WP than a camera and live tiles. I been using Nokia hardware since 920, 2520, and 1520. The 950XL will be great, but there's more factor that need to be great. MS is clearly showing that Mobile First goes past WP. If the quality of their software continues, despite the great hardware of the 950, I can get all the great software with Android. It is what it is. Posted via the Android Central App

Lol exactly. And I want to go back to Windows Phone but the services are already great on Android and the Lumia 950/950XL have not been reported to come to T-Mobile so another reason to stay on Android. And the Z3 is still great for my use after a year despite unimpressive camera software. I'll have to wait and see if Sony finally includes the Camera2 API in the Marshmallow update which would give me a great reason to keep the Z3 until I've paid it off. Posted via the Android Central App

This Posted via the Android Central App

This is good news. I've found that, in certain tasks (such as reliable reminders), Cortana's more reliable and useful than Google Now. It was just more of a pain to use. I'll check this out and enable it.

I can't get "ok Google" to work at all. Even with screen on and the shop open. Posted via the Android Central App

You tried clearing the data and if that doesn't work uninstalling? Fixes most things... If not, try shopping somewhere else lol. Posted via the Android Central App

You have to enable the OK Google hotword in the Google app, by default it's only enabled withing the Google app.

Yeah I did all that when I train my voice it's like the mic doesn't listen. If I unis tall updates it works till I update the app. If I bring up the search and tap the mic it hears me tho. Posted via the Android Central App

Check your admin access. Something could be blocking it. Posted via the Android Central App

remove Tick on Heycortana Hotword, try restarting your device, open googlenow and try :) i also faced the same problem, i will wait for another update of cortana :) now its buggy .. its stopping my microphone :D LOL

I love using Cortana. Sure, it's not as quick or info-rich as GNow, but it does have its uses.

I tagged you guys at 2:30AM to tell you this! Wth! Posted via the Android Central App

Simple! Windows Central team (me) is better than Android Central team (them) ;)

Weird seeing you post on AC. :-) Posted via the Android Central App

Haha I'll need to remember to tag you and WC Team for news like this.. Anyway, Keep up the good work on WC!

Lol http://www.theverge.com/2015/10/23/9602350/microsoft-windows-phone-app-r... Posted via the Android Central App

Now if you only had a real phone to c all someone and tell them... I keed +++ Insert witty signature, watch as others not get it, profit +++

Weird to see you on Android Central, Dan!

Is this only accessible via beta still? Don't see it in the Play store.

Search for cortana Android on the internet and you'll get a link from AC, click that and it'll open the play store. Posted via the Android Central App

Yeah this is kinda like connecting your Android Wear watch to an iPhone...not gonna happen

You know that Android Wear watches work on the iPhone, right? Granted it's usability is much worse, it still works.

Lol Posted via the Android Central App

Will Cortana read my text messages out loud? Don't know why it is 2015 and I have to jump through hoops to listen to a text . Posted via Android Central App

Not yet, but if they bring that feature over that would be the last thing from Windows Phone that I still miss after making the switch earlier this year.

Agreed...going through some withdrawals from my Lumia ICON as I love my Not let 5. Posted via the Android Central App

Is this on the server side or one has to update the app itself??? Posted via the Android Central App

wish Google Now can sing and read stories like Cortana.

I left windows phone for Android earlier this year. When the Surface phone comes out I'll go back. IMOP the windows phones have some of the best hardware in the biz and their software is super light weight and runs very well. Once universal apps come into being on the phone the game will change.

What Surface phone? It's never going to happen. EVER. Posted via the Android Central App

No thanks Cortana, that's a big I'll pass.

I've not been able to bring myself to say "ok Google" yet as it is

And then MS fans will complain my battery sticks, Android sucks. Posted via the Android Central App

It would be awesome to be able to use Google Now and Cortana side by side. The fact that Cortana would be able to more easily sync with my Windows PC's would make it appealing to use in certain situations.

Anyone Have The .apk File? Posted Via The Android Central App. :-)

You can side load from here: http://www.apkmirror.com/?s=cortana&post_type=apps_post

does this app pull data from my e-mails and web searches yet, just like google now would? really can't switch over until it does that

I noticed 2 other things I can do with Cortana now.
You can launch apps and send texts!

Is that new on Cortana because I could always do that on Google now? For those who miss the Windows interface you could always use launchers like 7 launcher.

It is new to Cortana on Android. I used a launcher to emulate Windows Phone for a little while but have settled on Action Launcher 3. There are elements of each mobile OS that I like and with Microsoft going multiplatform I'm able to keep using most of the services I had on Windows Phone and have the added developer support on Android that MS hasn't been able to drum up.

It works great on my Huawei M7
Android Central Newsletter
Thank you for signing up to Android Central. You will receive a verification email shortly.
There was a problem. Please refresh the page and try again.