Vivo NEX vs. OPPO Find X: Which futuristic phone is better?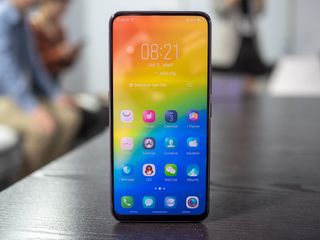 The Vivo NEX and the Find X are two of the hottest phones right now. Both devices rely on motorized sliders as a way of hiding the camera module. In the case of the Find X, both the rear and front cameras are hidden behind the slider, whereas the NEX has a pop-up front camera that kicks in whenever needed.
Great hardware is table stakes considering these devices cost well over $700, and in this regard, they're right up there with the best that Google and Samsung have to offer. Both devices are powered by the Snapdragon 845, and come with FHD+ AMOLED displays, 8GB of RAM, up to 256GB of internal storage, and dual rear cameras. Although the internal hardware is identical, each device offers unique features that sets it apart. Here's what you need to know about the latest from OPPO and Vivo.
What the OPPO Find X does better
Image courtesy: The Verge
The Find X forgoes the usual fingerprint sensor for facial recognition — so the default way of unlocking the phone involves using the front camera to authenticate your features. To do so, you'll have to wake the display and swipe up, which activates the camera. The entire process takes under a half-second, so there isn't too great a delay between OPPO's solution and a standard fingerprint sensor.
The Find X wins the battle for shrinking bezels. The Vivo NEX has a 91% screen-to-body ratio, and the Find X outdoes that with a 93.2%. That may not seem like a lot, but right now the Find X is the closest you can get to a bezel-less phone.
Because the camera module is hidden away behind the slider, you don't have to worry about a notch marring the look up front. The Find X has a glass back with an interesting color-shift pattern that has bold colors near the edges of the frame that gradually fades to a duller hue closer to the middle of the device.
What the Vivo NEX does better
With both phones featuring mechanical sliders, long-term durability becomes a legitimate worry as there are a lot of moving parts involved in retracting the camera module. In this area, the Vivo NEX is likely to be more durable as the retractable motor doesn't need to engage every time you unlock the phone. Instead, it only kicks in whenever you need to use the front camera, making it a more elegant implementation.
The primary biometric authentication method on the Vivo NEX is an in-display fingerprint sensor, with the manufacturer using a third-gen module that is claimed to be faster and more reliable over its predecessors.
I used the Vivo X21 for a few weeks earlier this year, and the in-display sensor in that device was slower than the standard fingerprint sensors — but not by a huge margin. With the NEX using a newer module, it is just as speedy as a regular fingerprint sensor. The Find X has a bold design at the back, and the NEX is no different: it has a geometric pattern at the back that shifts color based on light reflecting off its surface.
Which should you buy?
If you're in the market for a truly bezel-less phone, the Vivo NEX is a better idea right now. You'll be able to use it with a case — the bundled case has a wide cutout up top to accommodate the front camera module — and it has a traditional fingerprint sensor, albeit one that's embedded in the panel itself.
For now, India is the only global market where both of these devices are confirmed to go on sale. The Find X will be up for grabs from the first week of August for ₹59,990 ($875), and the Vivo NEX is set to launch in the country later this week for ₹48,990 ($730).
The Find X will not be making its way to the U.S., but it should be launching in other North American markets. Similarly, the Vivo NEX will debut in Asian markets, but as of now there's no information regarding the device's availability in Western countries.
Harish Jonnalagadda is a Senior Editor overseeing Asia at Android Central. He leads the site's coverage of Chinese phone brands, contributing to reviews, features, and buying guides. He also writes about storage servers, audio products, and the semiconductor industry. Contact him on Twitter at @chunkynerd.
From an engineering perspective, I think the Vivo is more durable and futuristic. There is the argument that the Oppo is more aesthetically impressive, but in reality, it's just a motorized throwback to the Palm Zire 71 (which I have laying in a box somewhere around here). But I have to question whether going backwards to mechanical contraptions for the sake of looks is really futuristic or not. You are sacrificing reliability and performance for looks, and I get that some people are wooed by this kind of compromise. I mean, look at Samsung's curved displays: No functional benefit whatsoever, but hey, it looks cool! I spent yesterday with an S9+ yesterday as a matter of fact, and that thing is a slippery delicate nightmare to hold onto and use without a case. I eagerly gave it back just to get rid of it. So if the future is slower, more complicated, and with lower quality... I'll wait.

There are functional benefits, the fact that to you they don't matter doesn't mean they are not there. For example is true that the S9 is very slippery and therefore a high risk of dropping, the fact that those phones don't worry me (I've never broken or cracked a smartphone screen ever - I've owned smartphones since Windows Mobile days) doesn't mean the risk is not there.

I own the S7 Edge, and use the Note 8 and S9 Plus alongside the U11. I have not found any benefits to the curved screen, but I'll be open and say perhaps I'm missing something. Can you fill me in?

Both these phones have moving parts & are not solid state. How durable will they be down the road? Plus what kind of cases can you use especially on the find X? For myself I have a habit of never buying a first year product!

I have the Vivo NEX (here in London). I am not a Selfie taking kinda guy, but am a very keen Photographer! So Vivo's solution suits me down to the ground. The battery life is an area that really needs to be hyped (along with the bezless achievement) This phone has incredible battery life, much like i enjoyed on the Huawei Mate Pro. Whilst i mention Huawei, the bokeh/portrait mode has a very similar approach to Huawei's, in that you can adjust the bokeh(blur) effect right down to f/0.95!!! This phone is UK friendly and would do so well here! Everyone i show tell me they want one. iPhone & Samsung users alike! I am very happy with it, and have no complaints whatsoever. Cracking bit of tech!

I'm not too hyped up by bezelless as people seem to be. The way Samsung and LG (before the G7 of course) is doing it with tiny bezels and no notch is still pretty good for me. A phone with moving parts is a worry, what happens if it falls, does it shake the moving components loose? The Vivo's mechanism is probably strong like the DSLR flash popping mechanism though, those things last.

None of them is futuristic, just strange compromises for marketing purposes. Phones with partd that moves physically is very old news.

Overall, I like Find X better, but, just as with choosing between two very similar phones, a la the Huawei Mate 10 & Mate 10 Pro, there's trade-offs either way. Main Pro & Con list is relatively short, for my use, but, enough to make a difference & get the "Grass is Greener" feeling. 1) I like the slightly smaller overall footprint of the OFX, but, would prefer the flat display of the NEX. 2) Quick settings is where it belongs.... 3) The OFX system has a cap of 5 user installed apps that can ignore all battery optimizations. This really sux......... I'll be OK with it if I don't begin to see any negative effects from it. Otherwise, it's a deal killer & I'll put it up for sale on Swappa. Other than getting rid of the yellow warning status background for Developer Options, most other differences are minor or of no consequence for my usage (lack of 3.5 mm jack). it's indeed a very impressive phone, pre-order on dd4 last week, they just shipped it. More details will be available once I have time to explore.

better get Galaxy s9 plus instead of this Chinese brands
Android Central Newsletter
Get the best of Android Central in in your inbox, every day!
Thank you for signing up to Android Central. You will receive a verification email shortly.
There was a problem. Please refresh the page and try again.