Vivo NEX hands-on preview: One step closer to a bezel-less future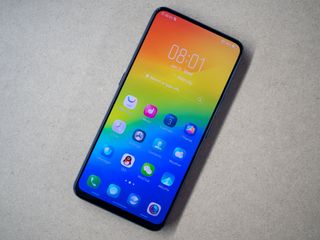 Vivo isn't a name we hear about in Western markets, but it's a huge force in India and China — and most of us were introduced to the brand when it showed off a crazy concept phone at MWC 2018. It had tiny bezels, an in-display fingerprint sensor, a pop-up camera and all sorts of futuristic tech. We thought there was no way this would make it to market in any form.
Less than four months later, here we are — Vivo has just announced the NEX, which is effectively a refined and improved version of the Apex concept phone, but this time it's a real product.
In a world of increasingly homogenous high-end smartphone design where every company seems to have settled on the same metal-and-glass look, Vivo is trying some crazy stuff to differentiate the NEX. It all starts with the display: Vivo claims it's "truly bezel-less," but in reality that's kind of a misnomer — not because Vivo is being deceptive, but because there will always be a bezel of some size where the display meets the frame. And there's a bezel here, it's just absolutely tiny.
Image 1 of 3
Bezels of 2.16 mm on top, 5.0 mm on the bottom and 1.71 mm on the sides push the screen-to-body ratio over 91%, meaning Vivo could get this 6.59-inch display into a phone that's large but not too oversized. Compare that ratio to something like the Essential Phone, which sits at 85%, or the Galaxy S9+ at 84%. Although it passes the eye test, the numbers back it up as well — the NEX really does have absolutely tiny screen bezels. You also won't find a display notch here, which is something Vivo is also happy to point out.
So how does Vivo do it? Well, it starts with three technologies: a pop-up front-facing camera, sensors embedded in the display, and removing the traditional earpiece speaker.
Image 1 of 3
The pop-up camera, or "elevating front camera" as Vivo calls it, is still the coolest trick I've seen in a smartphone in a long time. As soon as you switch to the front-facing camera, the module holding an 8MP sensor swiftly pops up from the top of the phone. The action is smooth and quick, completing in about a second, and Vivo rates the component for at least 50,000 actions. The micro-step motor inside is capable of lifting 500 grams of weight, so there's no need to worry about it giving out if you happen to bump it while it's extended.
Instead of a rear- or side-mounted fingerprint sensor, Vivo has once again stuck with the differentiating feature of an in-display sensor. This is the third generation of the sensor technology, which Vivo says is both faster and more accurate than the one it rolled out earlier this year. Recognition accuracy is up 50% thanks to a wider recognition area, and overall unlocking time has improved by 10%. And that's a good thing, because these optical sensors under the display panel have consistently been much slower than the lightning-quick capacitive sensors we're all used to in modern phones.
Vivo has a handful of tricks for hiding the rest of the sensors that are traditionally found on the top bezel or in a display notch. The proximity sensor has been integrated into the display panel, and is nestled in the 2.16 mm top bezel.
There's no traditional earpiece here either — that's been replaced by a bone conduction-style tech that uses the entire display to transmit sound to your ear. That's technology we've seen before in various executions, typically in rugged phones that want to reduce points of ingress. And speaking of ingress, there's no water resistance rating here — with that pop-up camera, it's going to be extremely difficult to keep liquids out.
Now, how about the rest of the phone that isn't display? This is hardly a boring device to look at. There's a super-glossy coated metal frame that's rounded off to a near-seamless transition to a 3D curved glass back that's gorgeous to look at. Depending on the angle and lighting the color shifts from blue to black to purple to grey, and there's a tiny geometric pattern that creates refractions of rainbows at various angles. The only break in that delightful patterned back is the camera arrangement, which highly reminiscent of both the iPhone X and Huawei P20 Pro.
While it looks textured, it isn't — and to that point it's just as fingerprinty as any other glass-backed phone. There's a soft touch-coated hard case in the box, though, which I suspect many owners will make use of just to get a good handle on the NEX — even though it covers up a delightfully designed exterior.
Image 1 of 5
Despite the huge display and awesome pop-up camera, there are very few oddities to the layout of the NEX. Buttons are placed where you expect and work just fine, the USB-C port is dead center on the bottom, there's a traditional loudspeaker, and you even get a regular 3.5 mm headphone jack on the top.
Vivo NEX specs
Internally the NEX has all of the typical high-end specs: a Snapdragon 845 processor, 8GB of RAM, 256GB of storage. A 4000mAh battery inside is above-average in size for this segment, and there's even a headphone jack. Charging happens over USB-C, and not wireless charging despite the glass back.
In the rear camera department, we're looking at a 12MP dual pixel sensor with OIS and an f/1.8 aperture lens. There's a secondary 5MP sensor with f/2.4 lens used primarily for portrait mode effects. I obviously haven't had time to do any testing, but all of the right hardware is here for good photos — and hopefully the quality is there considering how great the high-end competition is.
This is my first time really looking at Vivo's software, which carries the cringe-inducing name of "Funtouch OS 4.0" and isn't demonstrably changed on the NEX from its other recent phone offerings. Like every other company Vivo is touting a whole bunch of AI features, including the "Jovi Smart" assistant and tons of other smarts throughout the system. Remember that because this phone is launching in mainland China it doesn't have any Google apps or services, so the inclusion of its own smart assistive features make sense for Vivo. Now if this phone were to launch outside of China, such as in Hong Kong or India, perhaps it wouldn't be received in the same way.
The NEX is also launching on Android 8.1 Oreo (and the June 1 security patch), which is a big move for Vivo considering how many of its phones have launched (and remained) on extremely old versions of Android. How much of that fresh software continues into the future of course remains to be seen, because getting platform updates out the door has also not been a strong suit for the company.
This is also the most faithful recreation of iOS I've seen, blowing away Huawei's and Xiaomi's attempts. The launcher, buttons, font, animations, colors ... it's a dead ringer for iOS 11. Every single app looks the same, there's no app drawer in the launcher, there's a control center accessed from the bottom of the screen — it's downright shameless. I'm not at all a fan of this approach to software design, but the least I can say is this is a dedicated and extremely well-executed interface. I'm sure this software sells phones in China, but it wouldn't fly in many markets around the world.
Vivo's launching the NEX in China, and at this point doesn't have anything to say about Western markets. And even with all of this crazy hardware, the NEX is going on sale for ¥5,000 (about $780). There will also be a slightly cheaper ¥4,498 ($700) model with only 128GB of storage, and a more mid-range version with the new Snapdragon 710 processor for ¥3,898 ($610) — this isn't some unattainable phone that nobody can afford.
But despite its limited release to a single (albeit massive) market, I'm excited to see some actual interesting hardware innovation coming out of this company. Just having good-looking and well-made hardware isn't enough anymore, you need to do something unique — and Vivo has certainly raised the bar in that respect.
Sign up for Black Friday email alerts!
Get the hottest deals available in your inbox plus news, reviews, opinion, analysis and more from the Android Central team.
Andrew was an Executive Editor, U.S. at Android Central between 2012 and 2020.