Vivo NEX hands-on preview: One step closer to a bezel-less future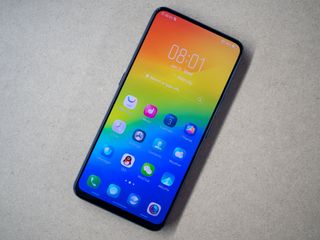 Vivo isn't a name we hear about in Western markets, but it's a huge force in India and China — and most of us were introduced to the brand when it showed off a crazy concept phone at MWC 2018. It had tiny bezels, an in-display fingerprint sensor, a pop-up camera and all sorts of futuristic tech. We thought there was no way this would make it to market in any form.
Less than four months later, here we are — Vivo has just announced the NEX, which is effectively a refined and improved version of the Apex concept phone, but this time it's a real product.
In a world of increasingly homogenous high-end smartphone design where every company seems to have settled on the same metal-and-glass look, Vivo is trying some crazy stuff to differentiate the NEX. It all starts with the display: Vivo claims it's "truly bezel-less," but in reality that's kind of a misnomer — not because Vivo is being deceptive, but because there will always be a bezel of some size where the display meets the frame. And there's a bezel here, it's just absolutely tiny.
Image 1 of 3
Bezels of 2.16 mm on top, 5.0 mm on the bottom and 1.71 mm on the sides push the screen-to-body ratio over 91%, meaning Vivo could get this 6.59-inch display into a phone that's large but not too oversized. Compare that ratio to something like the Essential Phone, which sits at 85%, or the Galaxy S9+ at 84%. Although it passes the eye test, the numbers back it up as well — the NEX really does have absolutely tiny screen bezels. You also won't find a display notch here, which is something Vivo is also happy to point out.
So how does Vivo do it? Well, it starts with three technologies: a pop-up front-facing camera, sensors embedded in the display, and removing the traditional earpiece speaker.
Image 1 of 3
The pop-up camera, or "elevating front camera" as Vivo calls it, is still the coolest trick I've seen in a smartphone in a long time. As soon as you switch to the front-facing camera, the module holding an 8MP sensor swiftly pops up from the top of the phone. The action is smooth and quick, completing in about a second, and Vivo rates the component for at least 50,000 actions. The micro-step motor inside is capable of lifting 500 grams of weight, so there's no need to worry about it giving out if you happen to bump it while it's extended.
Instead of a rear- or side-mounted fingerprint sensor, Vivo has once again stuck with the differentiating feature of an in-display sensor. This is the third generation of the sensor technology, which Vivo says is both faster and more accurate than the one it rolled out earlier this year. Recognition accuracy is up 50% thanks to a wider recognition area, and overall unlocking time has improved by 10%. And that's a good thing, because these optical sensors under the display panel have consistently been much slower than the lightning-quick capacitive sensors we're all used to in modern phones.
Vivo has a handful of tricks for hiding the rest of the sensors that are traditionally found on the top bezel or in a display notch. The proximity sensor has been integrated into the display panel, and is nestled in the 2.16 mm top bezel.
There's no traditional earpiece here either — that's been replaced by a bone conduction-style tech that uses the entire display to transmit sound to your ear. That's technology we've seen before in various executions, typically in rugged phones that want to reduce points of ingress. And speaking of ingress, there's no water resistance rating here — with that pop-up camera, it's going to be extremely difficult to keep liquids out.
Now, how about the rest of the phone that isn't display? This is hardly a boring device to look at. There's a super-glossy coated metal frame that's rounded off to a near-seamless transition to a 3D curved glass back that's gorgeous to look at. Depending on the angle and lighting the color shifts from blue to black to purple to grey, and there's a tiny geometric pattern that creates refractions of rainbows at various angles. The only break in that delightful patterned back is the camera arrangement, which highly reminiscent of both the iPhone X and Huawei P20 Pro.
While it looks textured, it isn't — and to that point it's just as fingerprinty as any other glass-backed phone. There's a soft touch-coated hard case in the box, though, which I suspect many owners will make use of just to get a good handle on the NEX — even though it covers up a delightfully designed exterior.
Image 1 of 5
Despite the huge display and awesome pop-up camera, there are very few oddities to the layout of the NEX. Buttons are placed where you expect and work just fine, the USB-C port is dead center on the bottom, there's a traditional loudspeaker, and you even get a regular 3.5 mm headphone jack on the top.
Vivo NEX specs
Internally the NEX has all of the typical high-end specs: a Snapdragon 845 processor, 8GB of RAM, 256GB of storage. A 4000mAh battery inside is above-average in size for this segment, and there's even a headphone jack. Charging happens over USB-C, and not wireless charging despite the glass back.
In the rear camera department, we're looking at a 12MP dual pixel sensor with OIS and an f/1.8 aperture lens. There's a secondary 5MP sensor with f/2.4 lens used primarily for portrait mode effects. I obviously haven't had time to do any testing, but all of the right hardware is here for good photos — and hopefully the quality is there considering how great the high-end competition is.
This is my first time really looking at Vivo's software, which carries the cringe-inducing name of "Funtouch OS 4.0" and isn't demonstrably changed on the NEX from its other recent phone offerings. Like every other company Vivo is touting a whole bunch of AI features, including the "Jovi Smart" assistant and tons of other smarts throughout the system. Remember that because this phone is launching in mainland China it doesn't have any Google apps or services, so the inclusion of its own smart assistive features make sense for Vivo. Now if this phone were to launch outside of China, such as in Hong Kong or India, perhaps it wouldn't be received in the same way.
The NEX is also launching on Android 8.1 Oreo (and the June 1 security patch), which is a big move for Vivo considering how many of its phones have launched (and remained) on extremely old versions of Android. How much of that fresh software continues into the future of course remains to be seen, because getting platform updates out the door has also not been a strong suit for the company.
This is also the most faithful recreation of iOS I've seen, blowing away Huawei's and Xiaomi's attempts. The launcher, buttons, font, animations, colors ... it's a dead ringer for iOS 11. Every single app looks the same, there's no app drawer in the launcher, there's a control center accessed from the bottom of the screen — it's downright shameless. I'm not at all a fan of this approach to software design, but the least I can say is this is a dedicated and extremely well-executed interface. I'm sure this software sells phones in China, but it wouldn't fly in many markets around the world.
Vivo's launching the NEX in China, and at this point doesn't have anything to say about Western markets. And even with all of this crazy hardware, the NEX is going on sale for ¥5,000 (about $780). There will also be a slightly cheaper ¥4,498 ($700) model with only 128GB of storage, and a more mid-range version with the new Snapdragon 710 processor for ¥3,898 ($610) — this isn't some unattainable phone that nobody can afford.
But despite its limited release to a single (albeit massive) market, I'm excited to see some actual interesting hardware innovation coming out of this company. Just having good-looking and well-made hardware isn't enough anymore, you need to do something unique — and Vivo has certainly raised the bar in that respect.
Android Central Newsletter
Get instant access to breaking news, the hottest reviews, great deals and helpful tips
Andrew was an Executive Editor, U.S. at Android Central between 2012 and 2020.
You give Smart...... a bad name.

If I wanted to use a smartphone that looked like iOS I'd buy an Apple product.

Exactly like this phones customized version of android looks like. Did you not even read the article????

So. Go, you know... buy an Apple product ¯\_(ツ)_/¯

did you not get the sarcasm? That was the exact point, why build an Android phone to look exactly like iPhone??

Trying to tempt some of the hundreds of thousand iPhone users onto Android maybe?

Agreed. I wish Android manufacturers would stop aping Apple so much.

If Google is so hell-bent on having a bezel-less design, this is what the Pixel 3 XL should look like instead of that notched abomination.

OMG..Please let google see this reply. You are so right!!

All the Pixels are ugly as hell... It's a design choice. It's literally - here's the best software experience and the best update support all bundled up in a phone that no-one can honestly say they like the look of.

Beauty/ugly is in the eye of the beholder. I actually really like the design aesthetics of the Pixel 2 XL. I agree with the general consensus that notches are an eyesore and do wish they would simply forego it - if the 3 XL is so amazing from other factors that I am driven to update to it, I'll definitely be using the 'hide notch' feature that completes the black bar across the top to its sides. Perfect phone aesthetically for me would be nearly all screen, no notch, no chin. But functionally I'd hate it - too many accidental touches / no place to actually hold on to the phone effectively... And what's with the in-display FPS madness? Cool? Sure. But my preference is definitely towards keeping it on the back where your finger naturally falls on it when you pick up the phone. That, and the alternative biometric unlock method - facial unlock - simply is not as secure nor convenient Edit - oh, and gotta have those front-firing speakers. I don't mind a little chin/forehead to accommodate those.

I simply CANNOT wait for the day someone does truly all-symmetrical, tiny bezels on a phone. This is close though.

Close indeed. Remove 1.5 mm from the bottom and put it on the top, and you're at least symmetrical top-bottom and left-right. Then you're close to going all around equal.

Yeah, it's close enough and I would buy it.

HA...heck yeah...In a heartbeat!
Bring it to the USA.

And thats why I unfortunately like the S8/S9 design. I dont mind the top and bottom bezels if it gives me symmetry and no notch.

I am impressed. Goodbye dumb notch trend. Interested to see a full review despite it not coming to US. Those main hardware specs are better than and for less than a G7 if it were available in this market right now, and it looks truly innovative. The GUI could be doctored with Nova launcher, etc.. It's just missing the Gapps is an issue, and of course, western LTE bands. I doubt it would be hard to add wireless charging, just a manufacturing choice. The waterproofing of the phone could possibly be achieved with adding a small lip and rubber gasket around the camera housing top edges like you find with a sim card tray on any waterproof phone. But the camera mechanism would have to be robust enough to create a seal when retracting back into phone, much as you press a sim tray into place to create the seal. Could also imagine a second gasket at the base of the camera housing so that when extended it creates a seal in the underside of the frame. All seems technically feasible.

Great input...and great ideas for the phone.

I'll agree that the notch isn't aesthetically appealing, but I doubt that adding a mechanical actuator to the camera is something that is really going to catch on. I mean, it's a great idea, and it looks cool, but the general trend in smartphone design has been fewer mechanical parts, hasn't it?

Ok it is for the Chinese market, and no Google Play services. If you could bring the phone to the west, would Google Play still be locked out? If the answer is yes, then why does this phone get any exposure?

u know there's a whole world outside the West bro

Because the world doesn't revolve around the west. That's why.

Economically, the world absolutely revolves around the west. I agree the vivo has a healthy Chinese market to sell into. Google is probably just locked out. I'm sure it would be no problem loading in the West. Yeah... Freedom really isn't that interesting in communist or autocratic states... But they have a pretty Vivo, lol.

3 out of the top 5 economies are China, Japan and India.
But with relatively cheap consumables it's all about population.

< If you could bring the phone to the west, would Google Play still be locked out? If the answer is yes, then why does this phone get any exposure? > Because it's f***ing interesting.

If this phone was brought to the usa..it would definitely have the play store.

Vivo have raised the design bar with this phone.

I would buy it day one with stock /near stock Android or just run the Pixel launcher on it. I can live without wireless charging but no IP rating is a concern.

I know we are heading for bezel-less phones but like glass backs and curved screens it's form over function.

Would love to hear a story where a Lenovo board member who opposed the idea of blatantly lying to the whole world about their "bezel-less" phone come to a board meeting rocking this phone.

Basically all phones will be totally indistinguishable from each other. Why is this good?

Go ahead... We've had smart phones for a solid ten years on this planet... In the dumb phone era of about 30 years that preceded smart phones, we tried a few different shapes... But if there is something better than a fairly thin, all display surfaced rectangle... I'd like to hear your idea. OK, maybe a rectangle that folds out into a square? I positively wouldn't want one, but I wish Samsung luck with it.

I see it as the future, but as of now small bezels with good speakers an incredibly efficient FPS (front or back) quality camera, proximity sensor and mic all seem more appealing than the huge compromises needed to get rid of that last 3mm of bezel.

Wish I could just slap someone in the face everytime I hear you whining about a notch.

The notch sucks. Besides I'm English we don't ***** slap over here, we have manners!

Looks like a good device on paper. I don't see the selfie camera being very durable over time.

These so far crazy vivo folks have eventually managed to put "USB C" on a phone.

I love it..something new and fresh. Praying Vivo brings it here (USA)..Only time will tell

Anyone know if it will be compatable in USA with ATT of T mobile 4g lte?

It'll work sometimes, but not well. If you're thinking about T Mobile, I wouldn't buy any phone that doesn't have 4, 12 and 71(the new low frequency T Mobile aquired that'll actually make them competitive). ATT uses 2, 4, 5, 12, 17, 30. I mostly see usage for 4, 12 and 17 with ATT, all of which this phone lacks.

So it seems like the default camera for these mid range Chinese phones is now the same as the Pixel 2 plus a second lens for whatever they choose it to be. All the recent vivo and xioami phones use the that dual pixel 12.2mp sensor. I'll be quite disappointed if Google keeps the same basic camera hardware in the Pixel 3 for 4 years in a row. It's basically been the same since the Nexus 6p/5x.

Saw some photo samples it's a shame that they're not top tier quality otherwise lots of potential.

« You also won't find a display notch here, which is something Vivo is also happy to point out » But asymztrical bezel and a strange mechanism for the camera (though better than to put it at the bottom)...

If only you could somehow sideload Play Store support, I'd be willing to order this baby https://www.androidcentral.com/e?link=https2F2Fcli... The red version looks hot

Since they're all the same company: https://www.phonearena.com/news/Did-you-know---smartphone-makers-OnePlus... Maybe we'll see the tiny bezel & pop-up front camera in the next OnePlus...

Now we know what this year's iPhone X will look like.

All screen with no notch is the design of the future. Within 1 to 2 years, this technology should be ironed out and this will be the end of the notch. Vivo is OnePlus's sister company and along with Oppo, part of BBK Electronics, so this technology will probably also be on OnePlus phones soon. It won't be long for others to pick up on it as well. Nothing stays exclusive for too long in the smartphone world.
Android Central Newsletter
Get instant access to breaking news, the hottest reviews, great deals and helpful tips
Thank you for signing up to Android Central. You will receive a verification email shortly.
There was a problem. Please refresh the page and try again.