Virgin Media announces new TV streaming service for the UK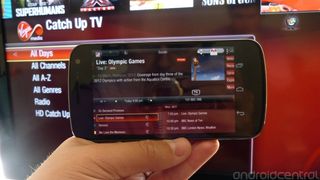 Virgin Media UK has officially announced today a competitor to Sky TV's mobile offerings, with the introduction of Virgin TV Anywhere. The service will offer Virgin Media subscribers online access to a TiVo style offering and on demand content. Initially it will be available online and on the iPad and remote recording will appear later this year. But, an Android application is in the works, and is expected to drop in early 2013.
While customers without the TiVo service will be able to take advantage of some of the offered up content, it is subscribers to the TiVo service that will benefit the most. For instance, the tablet application available will offer a full remote control feature for controlling things when at home, as well as being able to watch content on the go.
The first images of the iPad application are extremely promising, and seems to mimic the interface of the Virgin Media TiVo box closely. Naturally there is nothing to be said of the Android app at this time, but something similar would be welcomed.
via Techradar
Android Central Newsletter
Get the best of Android Central in in your inbox, every day!
Thank you for signing up to Android Central. You will receive a verification email shortly.
There was a problem. Please refresh the page and try again.