ViewPad 10Pro by Viewsonic whets both Windows 7 and Froyo appetites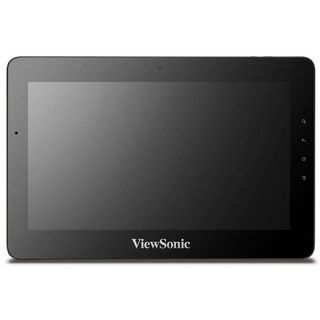 Viewsonic has unveiled its latest tablet, the dual-OS ViewPad 10Pro. Under the hood you'll find Android 2.3 GingerbreadAndroid 2.2 Froyo along with Windows 7, both powered by the brand new 1.5 GHz Intel Atom Z670 processor and 2 GB RAM. The ViewPad 10Pro comes equipped with 10.1 inch screen at 1024x600 resolution, 1.3 MP front camera (nothing in the back), full HDMI out, and docking station support. It'll come with two price points when it hits store shelves later this month: $600 for a 32 GB SSD hard drive and Windows 7 Professional, or $500 for 16 GB and Windows 7 Home Premium, each with micro SD support for up to 32 GB. Pretty powerful specs to be driving Froyo, though coupled with Windows 7, we're dying to see how it performs. Hit the source link for Viewsonic's product page with full specs and links to purchase.
Source: Viewsonic
Hopefully support and UI on this are better than on their last Viewpad.

So when is apple gonna sue them. It looks like an ipad to me.. i mean it is the same shape.

Once the photoshopping people are done altering the images for evidence

The only problem is this Operating System
Dual OS VPAD10_AHUS_05: Windows 7 Home Premium (2GB DDR3, 16GB SSD) with Android 1.6* or VPAD10_APUS_05: Windows 7 Professional (2GB DDR3, 32GB SSD) with Android 1.6* *Must access Flash through Windows OS. Upgradable to Android 2.2 From their specs site

No Honeycomb? No thank you. 1.6? Really? I can't fathom why that would be.

I don't see where it says 1.6 on their website. You sure you're looking at the Viewpad 10pro? I see Android 2.2 listed on the official page. Under OS, it doesn't say what version of Android.

Still, being stuck with Froyo is pretty bad. Dual-booting errm...booting into Windows is awesome, but not without Honeycomb representin' the Android side.

I have no idea where you see Android 1.6 on the specs tab of their site. Right in the title of the page it says "10.1" Dual OS Tablet
Windows + Android 2.2". Shame that it won't have Honeycomb or at least Gingerbread (from what this post states it has but the site doesn't mention anything about Gingerbread), but chances are this will be quickly cracked. It seems pretty sweet having a built in SSD. I'm sure people will be opening it up to see if it can be swapped so you can increase the storage (that's if it runs the either a 1.8" SSD, I think 2.5" might be too large for a tablet). Cool idea and would love to see how this works. I'm still waiting for BlueStacks to launch their program/emulator that will allow me to run my Android apps on my Windows machine!

I see that Phandroid's earlier story shows a press release from Viewsonic that states Android 2.3. Guess that's where the Gingerbread is coming from. Still not listed on their official site, which is odd. http://phandroid.com/2011/08/16/viewpad-10pro-is-a-dual-booting-gingerbr... From the Press-Release: Tailored for business users, the ViewPad 10pro makes it even easier to enjoy a dual OS experience within a single tablet. Android 2.3 runs as an application on top of the Windows 7 operating system so users need to simply tap on the Android icon to make a seamless switch between business productivity and ultimate entertainment.

The confusion started directly in Andrew's summary, which stated: Under the hood you'll find Android 2.3 Gingerbread along with Windows 7, both powered by the brand new 1.5 GHz Intel Atom Z670 processor and 2 GB RAM. Is this a full version of 32bit Windows compatible with desktop applications? If so, I see a lot of business use for this tablet.

Finally! A tablet that runs a version of Windows that's not meant for tablets AND a version of Android that's not meant for tablets! Where do I sign up?

This comment is full of win.

Really, you get the worst of both worlds. Oh, plus you get the dismal battery performance of an Atom when compared to ARM and a lower resolution than the other tablets, and no rear camera. Count me as unimpressed.

If it uses the same horrible screen that was on the G Tablet, no thanks. That screen gave me headaches and had horrible viewing angles.

Great idea in theroy as I'm not wasting my money on an iPad or other tablet that I can't use for work. (My work programs are windows based). I just will wait until Windows 8 and Android 3.0 is the standard. Being able to use the Windows for work application but then use my google applications for entertainment makes a lot of sense. Right now tablets are just all supersized iTouches - fun to waste time on but very low function.

The reason behind not having GB is the Intel chip.
Android Central Newsletter
Get the best of Android Central in in your inbox, every day!
Thank you for signing up to Android Central. You will receive a verification email shortly.
There was a problem. Please refresh the page and try again.