Using the new Chromecast app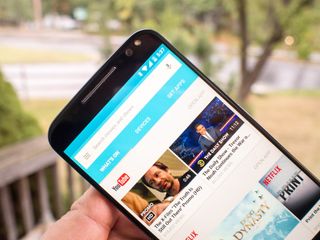 For those of us who never put our phones down, Google's Chromecast efforts have been a life-altering. Many of us already had the streaming apps we want on our phones and tablets anyway, and the ability to use that hardware as a remote for your television experience turned out to be amazing. That is, as long as you knew which apps had the content you wanted, where to find apps with new Chromecast-supported content, and what to do if your friend came over with something cool on their phone but no access to your Wifi. If you didn't have an immediate and easy answer to the above scenarios, the Chromecast quickly became a complicated mess.
Google aims change all of that with a big update to the Chromecast app, which was announced alongside the new Chromecast and Chromecast Audio but still plays nice with your existing Chromecast hardware.
Let's take a look.
The first thing you'll notice about the updated Chromcast app is the way it acts as an aggregator for content. Google is pulling suggestions from YouTube, Netflix, Hulu, Play Movies, Starz, and promises more soon. Oddly, Play Movies doesn't indicate anything you've already purchased in the aggregate, but since everything else in the list requires an account the rest of the experience is fairly standard. From here, you can select a movie or episode and see a big yellow Watch button.
Tapping this has a couple of different behaviors. Netflix, for example, takes you to the page in the app where you can start playback the way you normally would, but Hulu takes you to the app and starts playback immediately. This is a little jarring since it doesn't start playing on the Chromecast for either experience until you tap the Chromecast option and select where you want the video to start loading, but it's a fairly small thing to get used to once you are casting on a regular basis.
The middle tab in this new Chromecast app behaves very much like the original setup. You have control over settings for each Chromecast you have connected to the network you are currently on, so you can make changes as needed. It's worth pointing out you will only see Chromecast and Chromecast Audio hardware on this page, since Google Cast devices have their own settings sections for you to adjust via controller. It's an oddly segmented experience if you're rocking a pair of Chromecasts and an NVIDIA Shield TV, for example, but this is only an issue for this one tab. Casting video still works exactly the same way it did before, but in some cases may improve with the new caching capabilities of the new Chromecast.
Your third tab is all about app discovery, and it's about time. This has been a constant problem for folks looking to get access to more things on the Chromecast, and searching the Play Store offers mixed results at best. What you see here are suggested video, audio, and gaming apps that routinely rotate to new things, as well as a direct link to a refined list of apps in the Play Store. All of this works exactly as expect, and it's going to make recommending a Chromecast to less-than-technical folks a lot easier moving forward.
This, in a nutshell, is the new Chromecast experience. It's a huge step forward for Google's already popular streaming experience, and addresses some of the biggest complaints we've had so far about the overall setup Google was offering. Like most of you, what we're really waiting for is the opportunity to use this new app on Google's shiny new streaming pucks.
Get the Android Central Newsletter
Instant access to breaking news, the hottest reviews, great deals and helpful tips.