Users sticking around longer for BBM than WhatsApp and Snapchat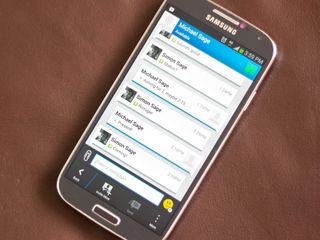 Measured against 22 messaging apps, including WhatsApp and Snapchat, BBM held on to 93% of its users after 30 days. The app also experienced higher user loyalty after the 60 and 90-day marks than most apps, according to BlackBerry:
These high retention numbers aren't really surprising. Just last month, BBM crossed 100 million downloads from Google Play, though it should be noted that a number of BBM's competitors share similar download numbers, without experiencing the same loyalty from users. Recent updates to the app have also added many long-requested features, including custom BBM PINs and support for Android Wear.
Source: BlackBerry
Android Central Newsletter
Get instant access to breaking news, the hottest reviews, great deals and helpful tips
I would love to use it but still don't know anyone that does. Posted on my Sexy Note 4

BBM is huge in Asia. Especially here in Indonesia. Not a big fan of it, but since everyone's using it, I have no choice but to use it as well. I have more clients and work colleagues more interested in asking my BBM PIN than my work email address or phone number, which is a hassle since I have to check my phone everytime people ask for it. Posted via the Android Central App using Z3 Compact

True, i use it because so many people are using it Posted via Android Central App

Then vanity custom PIN will be easier for you to remember but most people including me are finding the monthly charges ridiculous. BBM should charge a one time fee for vanity custom PIN. Posted via the Android Central App

Dead Posted via the Android Central App

Stop trolling Posted via the Android Central App

I wonder where they conducted this survey... Because like the above poster says, I still don't know anyone that uses BBM and I'm pretty sure that if you ask around in LatAm (especially Mexico), Whatsapp is the cross-platform messenger of choice. Heck, even the only person I know who still holds on to his BlackBerry doesn't use BBM!

Same thing in Colombia. Whatsapp is the most used messenger. Maybe Line coming in for second.
Carriers here even have cheap plans where they offer unlimited Whatsapp and Facebook use.
I see less and less blackberries every day.

My 9700 is still one of my favorite phones ever and I really wanted to continue using BBM for android but it just didn't seem like anyone was gonna stick with it. Apparently I was wrong lol. Whatsapp is my go to cross platform right now, although I would love if everyone switched to hangouts since I love it (and whatsapp just looks super dated) but I'll give BBM another try

I'm guessing it's so high because bbm can't be uninstalled from blackberry phones.

Blackberry phones wouldn't be downloading from Google Play.

My mistake, I was just basing it odd the article posted here. I just read the main article.

Actually the newer blackberry phones can download from Google play and Amazon. Posted via the Android Central App

They wouldn't be getting bbm from either of those places, when it's pre-installed. So many app store options, and still fewer functional app options than any os.

I like BBM, but getting friends to use it is a task. WhatsApp and imessage keep them from trying it. I use WhatsApp, but I didn't like that FB bought it. Posted via the Android Central App

I use it along with Hangouts all the time. Wished it retained messages when I do clean flashes though... That and it followed Material Design...

Despite not being able to uninstall Bbm on blackberrys, there high retention rate is due to them running a pin system rather than a number system.. Users are less likely to get a new Blackberry or phone with a different pin, within the space of 30 days. Whereas whatsapp users who use a number system, can easily change numbers or switch service providers in 30 days.

Nope, BBM now allows custom pins. Also, I can't remember the last time a single person I knew changed their phone number, but pretty much everyone I know changes phones every year or two.

That's because there stubborn as hell Posted via the Android Central App

I use BBM constantly. For me, it's always been about the D & the R. Posted via the Android Central App

I like BBM on my Nexus 6. I use it all the time. Posted via the Android Central App

Pretty surprising since even the Blackberry owners I know are a lot more available on WhatsApp. Well... Posted via the Android Central App

My wife uses BBM, to talk to her sister even tho they have Android. Posted via the Android Central App

i didn't know french canada was that big.

I don't know anyone who uses BBM still or anyone that even downloaded WhatsApp. I had BBM downloaded several months back but I only spoke to 2 people on there. Posted via the Android Central App

BBM rocks. Too bad more people won't see it for how great it is... because it's Blackberry.
I for one still prefer it and still have 46 BBM contacts and 3 groups. About the same I have had for many years. Posted via the Android Central App

I am not surprised. I travel a lot and use both but prefer BBM because it does not hAve to be tied to a phone number. You would not use WhatsApp if you don't travel or have contact across the world. I visit and have friends in qatar, dubai, London, switzerland, nigeria, manila, Paris etc and stay in touch with BBM.

Just wondering, are the Dubai carriers still blocking BBM Voice?

Well I was in dubai last in April 2014 so I can't answer to the current status. Why block BBM voice and allow Skype?

My wife works from home quite often, and we have poor cellular reception at our house. BBM allows us to use WiFi to communicate (She has iPhone, and I have Android). After being skeptical about using it, I wish more people would use it, because I like it. If more people used it, I would fork out the extra $ for a custom pin and to block the suggested contacts.

BBM really is a top notch im client. Blows anything else I've used out of the water with its speed and reliability. I really am open to anything that works well for me. Being a hater or a fanboi is pretty much lame but that's just me. Posted via the Android Central App

I (and 37 friends ) use bbm on all kinds of phones here in this part Canuk land. Works the best for this group o friends to connect. I use it on my Galaxy Note. Posted via the Android Central App
Android Central Newsletter
Get instant access to breaking news, the hottest reviews, great deals and helpful tips
Thank you for signing up to Android Central. You will receive a verification email shortly.
There was a problem. Please refresh the page and try again.