U.S. Galaxy Gear owners can now make the switch to Tizen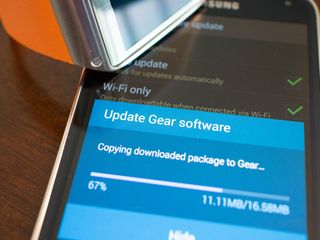 Samsung has announced that U.S. owners of the Galaxy Gear smartwatch now have the option to switch their operating system from Android to Tizen.
While Samsung started a global rollout of this option in May, the company is now officially allowing this switch to happen in the US. An FAQ page on Samsung's website has more details on the smartwatch's new features when the move to Tizen is mad, including a customizable interface, access to nearly three times the amount of third party apps, a new music player and more.
More importantly, the FAQ page has detailed instructions on how owners of the Galaxy Gear can make the journey from Android to Tizen. It will require the installation use of the Samsung Kies PC app for Windows or OS X, along with a USB cable to connect to the PC and a fully charged battery for the Galaxy Gear. Needless to say, changing the OS from Android to Tizen will delete any personal data on the Galaxy Gear so users are reminded to back up any such data that they might want to keep beforehand. After the switch is made, Samsung also recommends downloading and installing the latest version of the Gear Manager app.
What do you think of Samsung offering this option for Galaxy Gear owners in the US?
Source: Samsung (opens in new tab)
No it is not. The older models will be easier to support for Samsung and it in no way causes issues with the Android wear models put out this month. The two can be mutually exclusive.

no google doesnt want that, they have fought about this. Rumors have swirled that samsung wants its own OS, I believe this is samsung dipping thier toes to test out the waters. I hate to say it but samsung for me is the face of android the sale number dont lie and i want to see how this plays out, maybe i have my tinfoil hat on too tight.

You may need to do some research buddy. Samsung isn't doing too hot as of late. No they are not in blackberry status and at least one note 4 will be purchased by yours truly. With that said, their os poses no threat to Google and they signed the cross licensing agreement where Samsung can do what Google does and vice versa. With that said they are working together. I haven't tried their os so I'm not familiar with it but I'm pretty sure that this only signifies options that are available. Not the down fall of Google. Posted via Android Central App

i never said downfall http://www.theverge.com/2014/7/17/5913313/google-and-samsung-reportedly-... and to be honest i might get the note 4 also i love my wife's note 2

It is a rumor and conjecture. Besides that, you tell me two competitors that do not bicker. They still are competitors in a ton of different spaces but they have a great working relationship. You do not cross license like that without a level of trust. Not to mention Samsung just giving Knox to Google.

Plain and simple people with Gear products are extremely happy and value their products far more than any silly Android Wear watch with comes with NO legitimate features besides that silly OKAY GOOGLE. User's who want the SAMSUNG experience already know how boring, dull, and comically useless stock android or just GOOGLE products are for day to day use that's why true users of Samsung's products NEVER WILL WANT or will they except anything Google related or stock related. Time has come for GOOGLE to realize they DO NOT DRIVE ANDROID it's the manufacturers who make the product and the customer who buys the product who determine what Android is or will become. Samsung owns almost 70% market share of the entire android platform they own the Worldwide market share and 70% market share of the Smartwatch industry today as well as 23% of the Tablet industry if it wasn't for SAMSUNG Android or GOOGLE wouldn't be worth a hill of useless beans.
At the end of the day if Google thinks they control anything they are only fooling themselves 7 of 10 Android devices purchased worldwide are Galaxy products SAMSUNG IS ANDROID nothing else matters period. From my Galaxy Note 3 on Tmobile via Android Central App

You do realize that if Samsung up and said. NO MORE ANDROID that there are many OEMs that would fill the void right? They have a symbiotic relationship right now and one still does depend on the other

I love my Note 3 but the first thing that had to go was all this crappy Samsung software. There are many people do love Samsung hardware but downright can't stand Samsung software. Still, being able to analyze my golf swing in the Samsung camera was a killer feature.

"Plain and simple people with Gear products are extremely happy and value their products far more than any silly Android Wear watch with comes with NO legitimate features besides that silly OKAY GOOGLE." That would explain the people here asking how they can put Android Wear on their Gear/Gear 2. I will concede that the Gear/Gear 2 have better battery life and more features. But at the same time, the Gear Live will easily work with non-Samsung phones, and I'll bet my G-watch that the developer community and third-party support surpasses what's available for Tizen within a year. Additionally, one of the killer features of Android wear is "that silly OK Google"... it's hands-free functionality. If you can tilt your wrist, you can send a text/email, set reminders/timers/alarms, etc. A few days ago, I tossed some bacon in the oven, and set a timer for it before even washing the grease off my hands. I'll take functionality like that over a 2mp camera (lol) any day.

I want to try android wear, but from what I can tell I would prefer the notification system on my tizen gear 2 neo. Seems like a lot of swiping on the android wear watches. I also like the integration with s health, and using the gear to unlock my s5 Posted via Android Central App

It's not a lot of swiping, but it could be better. If Google isn't going to include the reply-by-voice, maybe they could do long-press to reply. At the very least, I would love the option for a reply to automatically dismiss/remove the message I just replied to.

Hey, please tone down the attitudes, guys, this isn't Boy Genius Report you know.

I never heard samsung wasn't doing so hot. I heard they were down like 9% from last year, and that's due to the low end smartphones being better like moto g and lumia 520, and Sammys low end being wretched. The s5 is selling great and the s4 still is too. Posted via Android Central App

They are not breaking off from Google. It is not happening. Tizen is more for low end and developing countries and it is very limited. Samsung does not want to go against Google, it made them what they are in the mobile world.

Hopefully they do though, and we can all move on to something else, heh.

Is it possible yet to have android wear on the gear Posted via Android Central App

Will it work with a non Samsung phone If you do this? Nexus 5 for example... Personally I believe Google wear will be the best OS for the smartwatch in the long run... But it's early and requires more time before we see all the benefits from wear. Same reason I believe Google has an edge in the long run over Apple and Microsoft: if you are the best at mining data you can make my life a lot easier. "Kiss" method...
;-)

I already made the switch manually and I'm in Lebanon Posted via Android Central App

Have you noticed a significant difference in any way? Posted via Android Central App

Yes it's very different and I like it. Especially the music player is an original idea. The interface is more natural and smooth, it starts much faster too. Posted via Android Central App

I still love my Pebble that I bought for $113. It works just great with my GS5 and also worked great with the LG G2 I was using previously.

Why bother? Is there an advantage to making the switch? Posted via Android Central App

I switched over a month ago. Battery life is much better. You are able to switch the fonts on the clock face also. A lot of the apps available on the Android version are not available on Tizen such as Runkeeper. Since I use Runkeeper I switched back.

Ah, thanks! Has anyone you know of done a side-by-side comparison on battery life? I would be interested in seeing the numbers on that. Posted via Android Central App

How did you switch back ? I thought it was impossible because of the locked bootloader...

I think battery life is the big one.

I manually did mine about a month ago. (I'm in the States) I Flashed from Android to Tizen. I've definitely gotten better battery life. I also think S-voice works much better. Although I find that I sometimes have to do extra swipes to go back. The layout, imo, is better. 4 apps per "tile/page" is better than 1. Posted via Android Central App

Thanks. When you say you've gotten better battery life, what are we talking--like hours? If so, how many on average? Posted via Android Central App

My battery life went from 36 hours to 120. It is a huge improvement.

In before people start screaming that Samsung is breaking away from Google. They are not

Google isn't going to be happy about this... Posted via Android Central App

This doesnt bother them at all. It isn't even a new thing. It doesnt cause any issues with the Samsung/Google alliance, Samsungs Android Wear line nor the Galaxy Phones. Why exactly will they not be happy with this? Remember it is old news so I am sure that we would have gotten a response from Google by now if it were to be an issue.

This is kinda unrelated, but would Android Wear ever be viable for devices like the Gear 2 or the Gear? Sorry if this is a stupid question Posted via Android Central App

Not a stupid question, but not one easy to answer either. I honestly think that it could be viable, but it would depend on the driver support, hardware compatibility, and a host of other factors. I believe that the reason for this switch from Android to Tizen was made because of Android wear. Samsung did not want to go back and try to retrofit the older models, but did not want to just abandon the customers that bought it either. That in itself could be a good reason to say they are incompatible.

I am hoping the same. Many of the recent app updates have added support for Android Wear. I'd love to upgrade my Gear to Wear.

Can I now install Android on my Gear 2 Neo? ;)

Dont do it people! !! The functionality drops through the floor! Battery life is better but not enough to compensate.
Posted via Android Central App

My Gear 2 Neo does what I need it to, but Tizen & development for it SUCKS! There are 0 useful apps available... Floppy Spaghetti is fun to show people as a joke, though... Posted via Android Central App

I upgraded to Tizen and it went smoothly. After updating the Watch Syler app I was able to get all of my custom watch faces I had made work on the new OS. I'm ready to see how much battery life is improved.

I'm sure they will get dozens of users doing this.

I've had the UK version on it since May without problems. Why did it take them so long Posted via Android Central App

I have the Gear 1 running a custom Android ROM and LOVE IT. Way better than crappy Tizen and limited Android Wear for that matter. Running Tasker independently on your watch is pretty cool... It speaks(and more)!!!

Already updated to Tizen using Odin and the UK version. It's OK. Still not enough apps but good for phone calls text messages and notifications...Oh pictures too..
Battery life is about the same -just a bit worse than the neo..

I'm glad they didn't forget about us early adapters! Great job Samsung!
Android Central Newsletter
Get the best of Android Central in in your inbox, every day!
Thank you for signing up to Android Central. You will receive a verification email shortly.
There was a problem. Please refresh the page and try again.