U.S. Cellular embraces secure messaging with TigerText partnership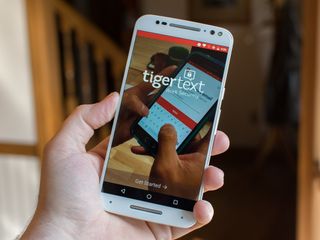 U.S. Cellular has announced that it will offer its customers a new, easy method of secure messaging, provided by TigerText. Specializing in enterprise messaging, TigerText is offering its secure messaging solutions to both individual and corporate U.S. Cellular customers. Participating customers will be able to pay for the service directly through their bills.
This move comes at a time of heightened awareness surrounding digital security and encryption, and concern over who may have access to our data. Earlier this month, WhatsApp turned on end-to-end encryption across the entire service, following a public fight over encryption between the FBI and Apple.
You can grab the TigerText app from the Google Play Store (opens in new tab) now.
Press release:
TIGERTEXT TO OFFER SECURE MESSAGING SERVICES TO U.S. CELLULAR CUSTOMERS
Secure Messaging Solution Now Available to U.S. Cellular Customers Protects Confidential Conversations and Accelerates Workflows
SANTA MONICA, Calif., April 18, 2016 – TigerText today announced they have begun offering its secure messaging enterprise technology, to the customers of U.S. Cellular (NYSE: USM). This secure messaging solution enables customers to protect private and restricted conversations and accelerate workflows via text messaging with the security and confidentiality required by legal and regulatory standards, such as the Health Insurance Portability and Accountability Act (HIPAA).
"We're excited to be working with U.S. Cellular to bring secure messaging solutions to a growing number of businesses and individuals who need them to communicate and do their jobs more efficiently," said Brad Brooks, TigerText co-founder and president. "As companies and individuals face the growing challenge of streamlining communication while keeping their information secure, we've seen an increased demand for TigerText's messaging solutions."
U.S. Cellular customers can access TigerText's secure and private network directly from their smartphones. TigerText service fees will be conveniently added onto their monthly U.S. Cellular bill, allowing customers to view and pay their bill all in one place.
"With heightened concerns around privacy and related regulations, it's critical that our customers can rely on U.S. Cellular to offer a text messaging option for businesses and governments to safeguard their secure conversations and communications," said Scott Scheuber, Director of Product Management at U.S. Cellular. "TigerText services are an ideal solution for our customers who require secure messaging and communications for their enterprises and beyond."
Secure messaging has become a widely used form of communication within healthcare organizations where patient care teams benefit from real-time communication, but must comply with HIPAA regulations. HIPAA encompasses a wide-range of security and privacy measures create to protect health information (PHI) whether in transit or storage. It applies to health plans, healthcare clearinghouses and any healthcare provider who handles PHI. According to the U.S. Department of Health and Human Services, any person who knowingly obtains or discloses individually identifiable health information in violation of HIPAA may face civil or criminal penalties.
TigerText is the only secure messaging provider that offers a $1 million HIPAA compliance guarantee to its customers, demonstrating its high level of protection and assurance that every message sent on its platform is safe and secure. In addition, the TigerText messaging platform is in compliance with regulations required by the Sarbanes-Oxley Act (SOX) and the Financial Industry Regulatory Authority (FINRA).
Data charges may apply.
U.s. cellular sucks! Why would they charge their customers for this. If you're worried about your customers security you should just provide them that for free. At a time when they can just use WhatsApp and other secure messaging services. I'm glad I'm with carrier that's treats there customers good. #lovetmobile Posted via the Android Central App

I'm not a T-Mobile customer, what secure messaging service do they offer for free?

I didn't say they did. I did mention other secure free messaging apps. This isn't why I say they suck either. I dated a girl who has them and I'm friends with another who works for them. Both will tell you US cellular sucks. I mean you can't even leave milwaukee and go to Chicago without roaming. Keep in mind the company was started in Chicago. I could go on and on.. T-Mobile provides so many free services like I have 5 gigs of tethering a month, music freedom, video binge on. Mexico /Canada free. Etc etc Posted via the Android Central App

"I didn't say they did."
I think most would agree it was heavily implied. "At a time when they can just use WhatsApp and other secure messaging services."
You mentioned ONE secure free messaging app, WhatsApp. "This isn't why I say they suck either."
In your original post you didn't specify any other reason why you thought they sucked. All I had to go on was charging for secure messaging through a third party. So US Cellular nor T-Mobile offer secure messaging for free. By your statements, they worry the same amount about their customer's security. I'm not a fan of either carrier.

They still have their corporate HQ and sponsor a major league ballpark all in Chicago - where they have no "native" LTE or data service. You have to utilize roaming services. Posted via the Android Central App

Exactly. Us in there new is way too misleading, try being on vacation in a major city in the United States and roaming the entire time it's just a battery life nightmare Posted via the Android Central App

I hope this catches on, secure messaging, not tigertext.

more people should get on board with secure messaging. if paying for it on a business level is what this is suggesting then that's just business but for personal use, there are other options that are completely free and have been around a while. #signal #whatsapp #telegram

I'm not sure we can trust any service with secret National Security Letters being used in abundance. I wouldn't mind running a private secure server on my home internet connection. Would this be inherently more or less secure?

Will this be another featured piece of bloatware? Posted via the Android Central App
Android Central Newsletter
Get the best of Android Central in in your inbox, every day!
Thank you for signing up to Android Central. You will receive a verification email shortly.
There was a problem. Please refresh the page and try again.