U.S. Cellular embraces secure messaging with TigerText partnership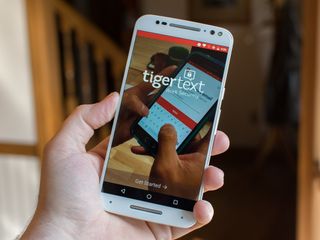 U.S. Cellular has announced that it will offer its customers a new, easy method of secure messaging, provided by TigerText. Specializing in enterprise messaging, TigerText is offering its secure messaging solutions to both individual and corporate U.S. Cellular customers. Participating customers will be able to pay for the service directly through their bills.
This move comes at a time of heightened awareness surrounding digital security and encryption, and concern over who may have access to our data. Earlier this month, WhatsApp turned on end-to-end encryption across the entire service, following a public fight over encryption between the FBI and Apple.
You can grab the TigerText app from the Google Play Store now.
Press release:
TIGERTEXT TO OFFER SECURE MESSAGING SERVICES TO U.S. CELLULAR CUSTOMERS
Secure Messaging Solution Now Available to U.S. Cellular Customers Protects Confidential Conversations and Accelerates Workflows
SANTA MONICA, Calif., April 18, 2016 – TigerText today announced they have begun offering its secure messaging enterprise technology, to the customers of U.S. Cellular (NYSE: USM). This secure messaging solution enables customers to protect private and restricted conversations and accelerate workflows via text messaging with the security and confidentiality required by legal and regulatory standards, such as the Health Insurance Portability and Accountability Act (HIPAA).
"We're excited to be working with U.S. Cellular to bring secure messaging solutions to a growing number of businesses and individuals who need them to communicate and do their jobs more efficiently," said Brad Brooks, TigerText co-founder and president. "As companies and individuals face the growing challenge of streamlining communication while keeping their information secure, we've seen an increased demand for TigerText's messaging solutions."
U.S. Cellular customers can access TigerText's secure and private network directly from their smartphones. TigerText service fees will be conveniently added onto their monthly U.S. Cellular bill, allowing customers to view and pay their bill all in one place.
"With heightened concerns around privacy and related regulations, it's critical that our customers can rely on U.S. Cellular to offer a text messaging option for businesses and governments to safeguard their secure conversations and communications," said Scott Scheuber, Director of Product Management at U.S. Cellular. "TigerText services are an ideal solution for our customers who require secure messaging and communications for their enterprises and beyond."
Secure messaging has become a widely used form of communication within healthcare organizations where patient care teams benefit from real-time communication, but must comply with HIPAA regulations. HIPAA encompasses a wide-range of security and privacy measures create to protect health information (PHI) whether in transit or storage. It applies to health plans, healthcare clearinghouses and any healthcare provider who handles PHI. According to the U.S. Department of Health and Human Services, any person who knowingly obtains or discloses individually identifiable health information in violation of HIPAA may face civil or criminal penalties.
TigerText is the only secure messaging provider that offers a $1 million HIPAA compliance guarantee to its customers, demonstrating its high level of protection and assurance that every message sent on its platform is safe and secure. In addition, the TigerText messaging platform is in compliance with regulations required by the Sarbanes-Oxley Act (SOX) and the Financial Industry Regulatory Authority (FINRA).
Data charges may apply.
Sign up for Black Friday email alerts!
Get the hottest deals available in your inbox plus news, reviews, opinion, analysis and more from the Android Central team.