Uber test driving Corner Store delivery service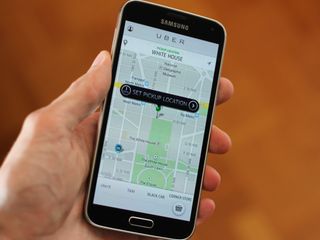 Mobile-first transportation service, Uber, is dabbling in deliveries with a new service called Corner Store. Those inside of two limited Washington D.C. delivery zones can now order from a catalog of over 100 items Uber has in stock, and have the items delivered to their precise location. This service will only go for a couple of weeks to see what the reception's like.
The way it works is you order an Uber like usual, but check the Corner Store option and set the delivery location. You'll get a text with a list of available items, then your driver will call to take your order. The Uber Corner Store can deliver all of the necessities: cough syrup, shaving gel, Tylenol, toothpaste, diapers… The list goes on. Current hours are 9 AM to 9 PM, and over the course of the experiment there will be no delivery charges.
Uber Corner Store is an interesting expansion of the service into new areas, and could very well be one that pays off in the long run. Uber has also recently tested a bicycle courier service called Rush. Whether or not Corner Store gets to the point where it can properly compete with Amazon Fresh or Google Shopping Express is another question altogether.
How do you guys feel about Uber? Would you try out their delivery service, even with alternatives readily available?
Source: Uber (opens in new tab) via VentureBeat
Simon has been covering mobile since before the first iPhone came out. After producing news articles, podcasts, review videos, and everything in between, he's now helping industry partners get the word about their latest products. Get in touch with him at simon@futurenet.com.
I feel like this can compete because the infrastructure is already in place in plenty of cities. I'd definitely utilize this for beer or something...

I've used Drinkfly in Chicago for beer. Fantastic idea. https://www.androidcentral.com/e?link=https2F2F...

Anyone here drive for uber? I may consider applying now that I have a newer car. Posted via Android Central App

I'd never do this to my car haha... I'd expect it would take a lot of wear and tear.

Wear and tear and putting on extra mileage are the only things that may stop me. Even though I'm getting paid for it, I wanna keep this car for as long as possible and keep my extended warranty as long as possible too. Posted via Android Central App

I drive for lyft and have some friends that do it for uber as well. Check it out.. Try becoming a driver, you can drive whenever you want. It's good for extra cash. Posted via the Android Central App

That's what I was mostly curious about is if you can drive whenever. I'll definitely look into it more and maybe just do weekends or something. Thanks. Posted via Android Central App

The bubble is about to burst. Posted via Android Central App

They send the list via text? The driver CALLS to get the order??? Retarded. Posted via Android Central App

If I had to guess, I'd say it's because they haven't taken the time to rewrite their app to properly handle it. They probably want to first see if there's enough demand to justify doing it. Posted via Android Central App

Take a deep breath... this is basically in Alpha; not even Beta yet. LOTS of kinks to work out, they're not gonna put the time into an expirement that might fail.
Android Central Newsletter
Get the best of Android Central in in your inbox, every day!
Thank you for signing up to Android Central. You will receive a verification email shortly.
There was a problem. Please refresh the page and try again.