Type like a pirate - PirateKey X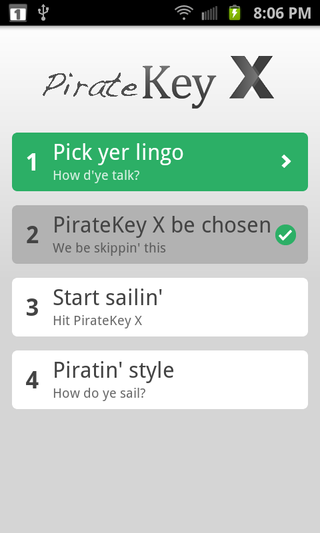 Arrrrr, matey. If ye wants to talk like a pirate, PirateKey X be the keyboard of choice. OK, we can't keep that up. But keyboard maker Swiftkey has released PirateKey X in advance of International Talk Like a Pirate Day on Monday September 19. Once you get through the piratey setup, it'll help predict your text like normal (and Swiftkey's really good at that), and as it does so, it'll help translate into pirate-speak.
So it's a little novelty app, but it's well done, and it's all a part of Swiftkey's larger community relaunch. You can get PirateKey X from Swiftkey's VIP community at the link below. Full release is after the break.
More: PirateKey X; Swiftkey VIP forum
Ahoy there SwiftKey VIP-ers,
We are very excited to announce the brand-new VIP community. We're really looking forward to seeing you all on there, and to kick things off we've created something special and fun just for you. Read on to find out more.
New VIP community
We've been listening to your requests and the forum is now nicer-looking and easier to use. New features include:
Easier downloads of APKs to Android phones (no need for 3rd party software)
Improved mobile-optimised site and overall design
Facebook and Twitter integration
Log in to the VIP community using Facebook or Twitter so you never need to remember your VIP password
Sync your profile information and status updates with Facebook and Twitter so you can tell your friends how great being a Swiftkey VIP is!
Something fun - for VIPs only
Arr, as ye may know, it be Talk Like A Pirate Day on Monday. We be celebratin' by releasin' PirateKey X, so ye can Type Like a Pirate too! Get yer PirateKey quick, it be walking' the plank on Thursday.
PirateKey X is a special standalone version of SwiftKey that suggests words in a Piratey kind of lingo. You can find it under "Fun stuff". We hope you'll have fun using it; if it's a success we may make other seasonal or fun SwiftKeys in future. The Devs may also have sneaked a few more features into PirateKey that will not be in SwiftKey X until the next release, so keep your eyes peeled! We'll also be Tweeting Like Pirates with the hashtag #TweetLikeAPirate, so remember to follow us on Twitter.
Looking forward to seeing you all in the forum,
Evan Tapper (Reppate)
VIP Community Manager
Get the Android Central Newsletter
Instant access to breaking news, the hottest reviews, great deals and helpful tips.