Pair of new Moto 360 ads poke a little fun at luxury watches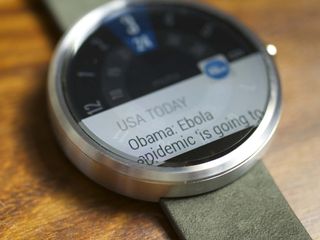 After releasing a pair of commercials for the device earlier this week, Motorola is back again with a couple of new ads for the Moto 360. In the same vein as the previous releases, these two new ads have a little fun with the classic watch commercial format.
The first, titled 'Golf,' shows a man dramatically teeing up to hit a golf ball until he is interrupted by a notification from his wife telling him he is late for brunch.
The second ad, titled 'Holiday,' presents us with a woman preparing to go out when the drama is suddenly interrupted by a notification from a friend displaying several emoji.
Here are the other two, for your enjoyment.
These are awesome! Hahaha Posted via the Android Central App

Nice. but the golf ad maybe the exact reason not to get the watch. They should have had one of his golfing buddies texting: 'NOONAN!'

Make fun all you want Moto, still not getting me to give up my various Seiko Kinetic Chronos, Solar Chronos or Mechanical Chonos....

Great! Enjoy your time-tellers

They won't until they get battery life, today's watches can last a very long time and put the one day charge at most for these watches to shame.

When I golf, I dont wanna be distracted by texts or call but then I dont golf.

The watch is pretty non-intrusive.
Intrusiveness is actually the main reason it doesn't have a speaker, but instead alerts via vibration.
And the thing is dead simply to put on "mute" (no vibrate). Just swipe down from the top of the screen.

I use the "Golfshot" app and it is my golf GPS on my wrist... works amazingly well. My golf game still sucks though

Where are these commercials airing? I have yet to see any of this on TV. Posted via the Android Central App

Good questions Posted via the Android Central App

These ads are genius! Posted via the Android Central App

Great ads. Beautiful watch. Posted via the Android Central App

Beautiful. OH yeah, the watch too is alright.

I love these adds so much

I'm really loving these ads!!

These are fantastic! So classy, and hilarious! Freaking Chad... Glad I don't have Chad messaging me and showing up on my 360... :-)
Android Central Newsletter
Get the best of Android Central in in your inbox, every day!
Thank you for signing up to Android Central. You will receive a verification email shortly.
There was a problem. Please refresh the page and try again.