Meet Fynch: Not just another Twitter app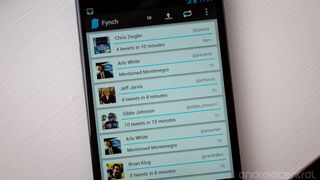 There are plenty of Twitter clients out there that aim to replace Twitter's official offering, often bringing along enhanced design and features -- Fynch for Twitter goes in a different direction. The idea of Fynch is to instead analyze your Twitter feed and instead of display everything, it just display what it thinks will be relevant, and group it into nice categories so the information is easier to digest.
Hang with us after the break to learn a bit more about Fynch for Twitter, a new app that tries to go beyond being just another client.
Upon opening Fynch for the first time and entering your Twitter account credentials, you won't receive the immediate gratification of seeing your feed be populated with the latest information. Instead, the interesting things are happening in the background as Fynch works to analyze Tweets from your stream. Luckily, as you wait for things to update and be pulled in you can read through some of the example fynch posts (the app refers you to "fynch" as a noun) in the main screen of the app. Also while you're waiting, you should install and authenticate the official Twitter app -- more on this below.
The aim of Fynch is to read through the tweets to find what people, topics and trends you're most interested in, then display them grouped together for easier reading. There are three main types of fynch posts. First you have fynches grouped by topic -- when one person has several tweets with the same topic or hashtag inside, they are grouped together under that topic. Next, there is a fynch for high frequencies of tweets -- if one person tweets several times in the span of a few minutes, they are grouped together. Lastly you have a long interval fynch -- if someone hasn't tweeted in a while and all of a sudden posts, you'll be notified.
In real-world use, it takes some getting used to but Fynch can be information-rich and useful. The service helps solve the problem of following "too many" people, by narrowing down things to only those that you'll want to see. Most importantly it can group tweets by user, which means you get a more complete thought out of several tweets from one person rather than having them spaced out among others. It certainly won't be for everyone, but Fynch is offering something that you just don't see every day.
The settings menu is pretty plain, but does what you'll want it to do. You can turn notifications on or off, and set them as high priority if you want to see them in the actual status bar as well. The refresh interval can be adjusted -- between 5 and 30 minutes -- as well as the sensitivity of how many fynches you want to receive with each update. One thing not found in the settings is an in-app purchase to remove the advertisements from the main page. There's no paid version in the Play Store at this point either, which is disappointing.
So remember when we mentioned needing the official Twitter app installed? That's because any outbound actions -- replies, tweets, retweets -- you want to perform on Twitter are all handed off to it instead of within Fynch. Not only does this keep Fynch very simple, but also likely keeps it out of Twitter's API limit restrictions because it's not technically a Twitter "client". We certainly don't have a problem with that, as Fynch clearly fits a certain need and does something interesting that regular clients don't. We would really love to see an option to choose your Twitter client of choice for handling these things though.
Small issues aside, Fynch is a refreshingly interesting take on the information coming from your Twitter stream. If you're looking for a more curated experience -- especially if you currently use the official app -- Fynch is worth the install and couple of days to get acquainted with.
Get the Android Central Newsletter
Instant access to breaking news, the hottest reviews, great deals and helpful tips.
Andrew was an Executive Editor, U.S. at Android Central between 2012 and 2020.