Twitter app graph raises privacy concerns as it tracks installed third-party apps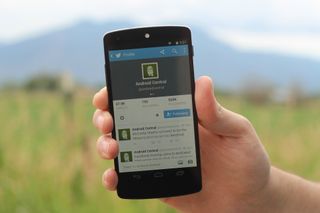 In an effort to build a more personalized experience, Twitter has announced it will be collecting a list of user-installed applications on Android and iOS smartphones as part of its app graph program. Though Twitter says it will not be collecting data inside those apps, users who do not wish to participate can opt out.
Twitter wrote:
The social network claims that the collection of a list of installed apps on your device will help it curate content for your Twitter timeline:
Improved "who to follow" suggestions that share similar interests.
Adding Tweets, accounts, or other content to your timeline that we think you'll find especially interesting.
Showing you more relevant promoted content.
Users who wish to opt out of the app graph campaign could do so by adjusting their privacy settings within the Twitter app. On Android, Twitter suggests you take the following actions:
Tap the overflow icon
Tap Settings.
Tap the account you'd like to adjust.
Under Other, you can adjust the setting to Tailor Twitter based on my apps.
Source: Twitter
This should be opt-in, not opt-out. Yet another reason that I'm glad I don't use Twitter anymore. Posted via Android Central App

+1 Posted via Nexus 7 2013 or verizon Galaxy S5 or maybe one day through my moto 360

It's like Twitter is trying to make themselves less attractive.. Posted from my TARDIS!

I see no such option in my app.

Maybe it will soon be available for you on the version they'll publish.

You have to I unlock the option in your Application Manager. It's under UNINSTALL...! Posted via "the Contest-Won" Sprint Galaxy Note 4

Glad I don't use the official app.

+1 Posted via the Android Central App

Can they use this data to see that I never use the official app?

+1 Posted via the Android Central App

Whoever came up with this needs to get sacked. To say that this information theft (Analytics are piracy after all, especially as the information is then sold) is extremely inappropriate is an understatement. The official twitter app will now officially become SPYWARE.

Whilst I don't have a problem with the app seeing what other apps I have installed, I do agree that this should be "opt-in" and not "opt-out" Posted via the Android Central App

+1 Posted via the Android Central App

Interesting fact on Android:
Apps don't need any permission to get information of which apps are installed. That's because the entire eco-system allows apps to interact with each other.
That also means that any app could do it so far anyway, and probably some already did.
The question here is, what exactly they do with it, and does it stay private so that other people won't see it. I know it, because my app shows a list of apps too, and it doesn't need to get a permission for it:
https://www.androidcentral.com/e?link=https2F2F... One app that does something about it, partially, is Google Play, by suggesting you apps based on the history of apps you've installed. Yet I'm not sure it checks about apps that you've installed from other sources.

Twitter has gone too far,too many times lately! That's why I got rid of them and their app. When I found out that they are using Verizons super tracking cookies and selling that information to THEIR advertising agents,that was the last straw. You Verizon users need to find out how they are tracking you. Just Google it,there is an online test to verify. People are gathering evidence to stop Verizon and others from this intrusive behavior. Posted via the Android Central App

Glad I don't use twitter anymore.
It will be funny if most of the users uninstall their app

Twitter and Verizon are tracking your every move! See for yourselves! https://www.google.com/url?sa=t&source=web&rct=j&ei=eFF2VKjcKouZNoG9gGA&... Posted via the Android Central App

Another reason I've moved to mobile website ah as much as possible with notifications for those few I follow via Google Voice / Hangouts. Less app bloat.

Wait a minute while I opt-out....

Uninstalled.
That was easy!

So essentially, even if you want to opt-out, the app WILL collect the list of installed apps during the time it takes to realize you got the update and go in settings and change it. Bad.

App ops. Posted via the Android Central App
Android Central Newsletter
Get the best of Android Central in in your inbox, every day!
Thank you for signing up to Android Central. You will receive a verification email shortly.
There was a problem. Please refresh the page and try again.